1. Where to Stay
Sleep where many locals wish they did: on a charming, tree-lined block in the increasingly desirable South End. Encore Bed and Breakfast (from $180) squeezes sleek Italian furniture into a traditional, brick-walled townhouse. Of the four guest quarters, opt for the top-floor Albee Room and enjoy skyline views from the private terrace.
Another option in the South End: Clarendon Square (from $165), a gut-renovated, nineteenth-century townhouse with all the requisite tech toys—flat-screen HD TVs, DVDs, surround sound, and wi-fi.
Across town, be among the first non-convicts to spend the night at the Liberty Hotel (from $295), which opens this month in the granite fortress of the former Charles Street Jail. A few preserved cells are tucked into the lobby, while original catwalks connect the upper floors. Rooms in the top nine stories of the crystalline tower—a new addition to the landmark building—have great views of surrounding Beacon Hill and the Charles River.
Take advantage of some outrageous extras—the complimentary chauffeured Lexus, for example—at Fifteen Beacon in Beacon Hill. The boutique hotel's sharply appointed rooms (from $325) have contemporary furniture by Dennis Miller and Eric Brand (plus flat-screens in the bathrooms), while the modernist, black lobby sits beneath a giant Jules Olitski abstract painting.
2. Where to Eat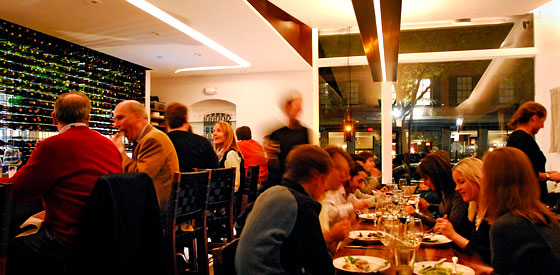 Fuel up for a day of gallery-hopping with the hot dog à la maison, a Gruyère-topped bratwurst, at South End's Butcher Shop. The boucherie-inspired restaurant has a curatorial respect for meat, filling three glass display cases with all manner of sides and slabs.
Tucked into an alley off Harrison Avenue, the new Rocca Kitchen & Bar pays homage to Italy's Liguria region, an aesthetic backed by the Duffy Design Group's interior of cork walls, slate floors, and hammered bronze. If the teal and goldenrod palette seems too heavy for a late-summer night, take your marinated sardines and twice-cooked artichokes out on the courtyard patio.
Across town, even staid Beacon Hill is getting an infusion of cool. Bin 26 Enoteca, designed by of-the-moment Office dA, serves homemade cocoa tagliatelle with porcini ragout in a room festooned with decoupaged wine labels and wine-cork coat pegs.
Nibble on French-Indian appetizers like the tandoori stuffed quail at Mantra, a Downtown Crossing boîte with a stylish, late-night bar scene. Most of the action revolves around the red-suede banquettes, chain-mail curtains, and twenty-foot, woven-wood cocktail den.
3. What to Do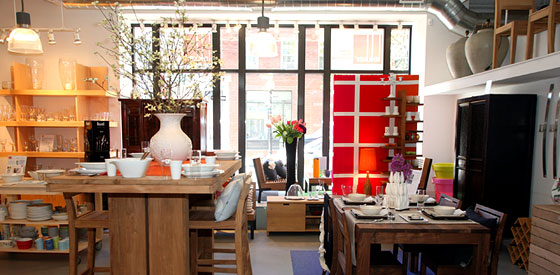 The South End has become a magnet for home design ever since Natalie van Dijk Carpenter opened Lekker here five years ago. The bastion of European goods (from firms like Pols Potten, Stelton, and Blomus) has spawned a clutch of competitors, starting with next-door neighbor Voilà and its collection of French, Italian, and German imports. On the Side opened last month just around the corner, selling Boxx's sleek glass and stainless-steel furniture and Simplemente Blanco's dainty textiles, china, and accessories.
A couple blocks south of Washington Street, the Dumbo-esque SoWa district is home to dozens of art galleries and studios. Compare the talents of veteran artists (Sandy Litchfield, Hisham Bizri) at Toale Gallery to those of emerging names like 22-year-old Mark Chariker at RHYS. (The latter's anime-influenced painting Weave of the Destroyers fetched $9,000 in a show earlier this summer.)
Follow the Harborwalk along South Boston's rapidly developing waterfront for a dramatic entry to the Diller Scofidio + Renfro–designed Institute of Contemporary Art. Before immersing yourself in the art—current exhibits include a Philip-Lorca diCorcia retrospective (through September 7) and a Louise Bourgeois installation (through February 2008)—head straight up to the top-floor Founders' Gallery. A ribbon-thin perch spans the entire width of the museum and affords view of sailboats drifting in the harbor and jets taxiing at Logan.
4. Insider's Tip
Leave the Freedom Trail to the tour buses, and venture over to a rarely visited but equally vital pocket of Boston: the Harbor Islands. Catch a ferry from the Institute of Contemporary Art to Georges Island where Office dA kicks off the ICA's Art on the Harbor Islands program (through October 8), with its installation Voromuro, an undulating geometric structure made of translucent acrylic. The exhibit continues on Spectacle Island, Lovells Island, and along the Harborwalk, where artists Teri Rueb, Anna Schuleit, and Ernesto Pujol use interactive soundscapes (headphones provided), large-scale drawings, and sculpture to riff off the unique natural landscape.
5. An Oddball Day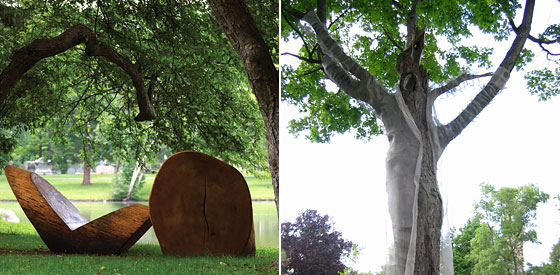 When you've had your fill of urban design, take the T to Jamaica Plain. Once a country resort for Boston blue bloods, the neighborhood now fosters an active artistic community. Start at the Contemporary Sculpture Path in the 250-acre Forest Hills Cemetery. After entering through a massive gate, you'll come across Andrea Thompson's Knock on Wood, a series of brass and iron knockers fastened to red cedar posts and placed alongside a group of tombstones.
Afterward, walk up the main drags of South and Centre Streets where dozens of brightly colored murals—like Rafael Rivera Garcia's Gods of the Taino Peoples at the corner of Perkins and Centre—offer a peek at the diverse neighborhood's history. Finish the day in classic American style: with a bit of shopping—Honeyspot (48 South St.; 617-524-2444) is a local favorite for vintage duds and housewares—followed by mac 'n' cheese and a homemade ice-cream sandwich from Zon's.
6. Related Links
Keep up on happenings in the South End, Boston's artistic neighborhood of the moment, at Southend.org.
Explore the waterfront on foot with maps from Boston HarborWalk.
Cross-reference restaurant reviews from Boston magazine and the less reverent Sick Meals.
Let interior consultant Holly Becker steer you to the city's best home-design shops from her Decor8 blog.