1. Where to Stay
The Mansion Inn (from $155) on New Hope's Main Street is centrally located for exploring the area's shops, restaurants, and bars. The elaborate Victorian manor house has seven rooms and suites; ask for one with a private porch or fireplace. The dining room's gourmet fare — seafood sausage in a calamari casing or veal Wellington — is the county's finest.
Visit with grazing sheep at the Barley Sheaf Farm Estate & Spa (from $275) in Holicong. The 1740s manor house, stone barn, and cottage are furnished with museum-quality antiques, from Art Deco cabinets to Chinese daybeds.
Guests at the intimate Bridgeton House (from $139) in Upper Black Eddy stay in one of twelve faux-painted rooms, some of which face the Delaware River. Stop by in the afternoon for tea and sherry. For privacy, the penthouse occupies almost the entire third floor and the boathouse is a separate cottage.
2. Where to Eat

Straying from her steak experience as franchisee of three area Ruth's Chris restaurants, Marsha Brown returned to the cookbook of her New Orleans childhood with her eponymous eatery. Order Louisiana favorites like sassy sautéed catfish and eggplant Ophelia in the unlikely setting of a restored stone church in New Hope.
After a day of wandering, try the sunset menu (served between 4 and 5:30 p.m.) at the Piper Tavern — sherry-laced snapper soup and tenderloin bleu max are standouts. Reserve the enclosed, private porch for a romantic dinner. Interested cooks should stay in the dining room to see the action of the open kitchen.
For a midday break, grab a fistful of paper napkins and claim a picnic bench at the family-run Dilly's Corner (Junction River Rd. and Rte. 263; 215-862-5333) in Centerbridge. Order a Dilly Dog (topped with peppers, onions, and French fries) or a juicy cheeseburger and pick up a playing card off the top of the deck. They'll call out your card when the order is ready.
3. What to Do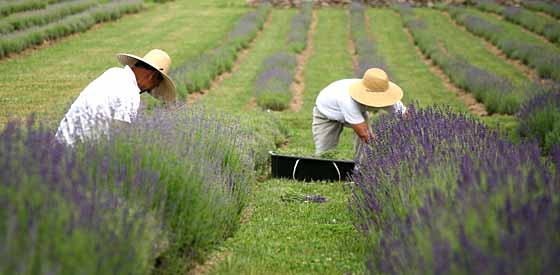 Follow the aroma of 15,000 organic lavender plants to Carousel Farm in Mechanicsville. Stop by on Saturdays to buy a plant or lavender-and-goat's-milk soap. Pick a pumpkin and sample fourteen varieties of home-grown apples (sun crisps, cameos) at Manoff Market Gardens in Solebury (closed Sundays). Call Betsy Jacobs (610-847-8452) to see what herb workshops (cooking, decorating) are scheduled at her Tinicum Herb Barn in Erwinna.
4. Insider's Tip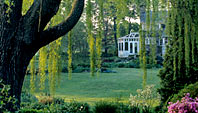 Make an appointment to view the grounds of Cedaridge Farm (215-766-2858), home of newspaper reporter turned prolific garden photographer-writer Derek Fell. Marvel at a rock garden, a cathedral garden inspired by Cézanne, and an unexpected tropical garden.






5. An Oddball Day
Bucks County landscapes inspired the artists of the Pennsylvania Impressionist school, and local works are still shown at Phillips Mill. The annual juried show, which runs through October, displays multimedia works by artists living within a 25-mile radius. The Inn at Phillips Mill has fine French country fare, but remember to BYO.
6. Links

Landscape photographer Kathleen Connally shoots within ten miles of her Bucks County home and posts the images on her photoblog, A Walk Through Durham Township, Pennsylvania.
Find a hotel, restaurant, or activity at Bucks County Travel.
Read the local paper, the Bucks County Courier Times.