1. Where to Stay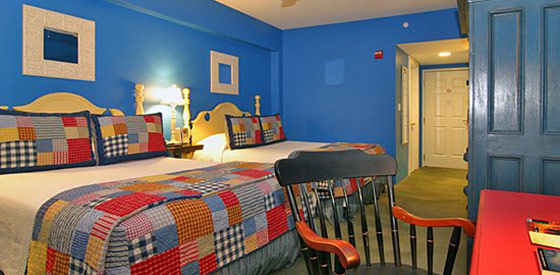 Immerse yourself in the old-meets-new vibe at the 77-room Kendall Hotel (from $129). Tucked among the glass-and-steel tech firms of Kendall Square, this Queen Anne–style building started life in 1895 as the Engine 7 Firehouse and now stands as the square's oldest structure. The firehouse was closed by 1993 and sat unused until 2000, when a local couple undertook a massive overhaul, including adding a new seven-story tower with a rooftop solarium. Rooms pair handmade quilts with crisp Ralph Lauren linens and prints by contemporary New England artists like Leonard Baskin and Jon Imber, while common spaces showcase ceramic pieces by Forsythe and collages by her son JJ. Pre-dinner, stop into the hotel's Black Sheep Restaurant & Bar (named for the ragtag reputation of the Engine 7 fire brigade) for a pint of local Ipswich oatmeal stout and the New England artisanal cheese board ($14).
Discover your inner explorer at Kimpton's sumptuous Hotel Marlowe (from $189). The hotel overlooks the Charles River, and nautical details are sprinkled throughout the 236 rooms, like a compass-rose-inspired chandelier in the lobby and telescopes in each suite (ideal for checking out the Boston skyline). It's tempting to stay in: Closets are stocked with cozy, custom-animal-print bathrobes, and free nightly wine tastings focus on community- or eco-minded wineries from around the globe (this month's selection, Australia's Banrock Station, donates to conservation funds). But don't get too comfortable inside: You'll also have access to complimentary kayaks and bicycles, perfect for a jaunt to the nearby Museum of Science or for a glide along the river. After a day out on the town, head back to the onsite Bambara restaurant for a warming cocktail, such as Dances With Wolves ($13), made with Buffalo Trace bourbon, King's Ginger liqueur, and blood orange.
Consider Harvard Square anew at the university-owned Harvard Square Hotel (from $179), which reopened in the spring of 2012 after a complete redesign. The functional brick facade may seem drab, but the newly remodeled interiors are bright and airy, thanks to floor-to-ceiling windows, fresh seasonal flowers in the lobby, and color-saturated, oversize photos of the Harvard campus (shot by local photographer Eric Roth) throughout. The 73 sleek rooms incorporate pops of Harvard's trademark crimson (without all that dark-wood paneling) in accent pieces like desk chairs and geometric honeycomb-pattern duvets, while aquamarine tiles line the spalike bathrooms. It's just a five-minute walk from the Yard, so book early if you're planning a stay during any major university event (such as commencement or fall welcome week).
2. Where to Eat
Taste the future of New England cooking at Inman Square's Puritan & Company. Chef Will Gilson reinvigorates forgotten regional classics like Irish boiled dinner (corned beef and cabbage), anadama bread (a nineteenth-century cornmeal-and-molasses bread from Cape Ann), and even Moxie soda, an 1870s Lowell invention that now shows up in his lamb-belly appetizer ($16). Locally caught fish get clever makeovers playing on the state's immigrant flavors, such as pastrami swordfish ($13) or Portuguese-inspired monkfish with chorizo, kale, and fennel ($26). Be sure to look around while you eat: The restaurant space was once the Puritan Cake Company, a popular bakery from the thirties to the fifties, and the current décor is artfully curated with nods to Gilson's farmhouse upbringing (taxidermic pheasants, a hostess stand made from his family's vintage Glenwood stove).
Sample the fusion of French and New English cuisines at West Bridge Restaurant, which opened in Kendall Square in 2012. Chef Matthew Gaudet (one of Food & Wine's Best New Chefs of 2013) trained at Eleven Madison Park and Jean-Georges, and his Gallic influences suffuse everything from the bistro chairs to the small plates, like Burgundy snails ($12) and seafood potage ($14). However, his talents are most apparent in the way he transforms humble local ingredients, which wouldn't have been out of place at the first Thanksgiving, in dishes like venison with squash, cranberry, and freekeh ($28), or quail with parsnips, apples, brandy, and rosemary ($16).
Order your fried chicken "Nashville hot" ($18) with a buttermilk chaser ($3) at Kendall Square's State Park. Opened in December, this Southern-inspired dive looks like it's been a townie hangout since the days of Bill Buckner, but that's by design: booths, neon beer signs, and tables (complete with, yes, polyurethane gum underneath) were salvaged from the Paddock Restaurant, rumored to be a favorite hangout of mobster Whitey Bulger. The regional dishes—Memphis BBQ spaghetti ($11), grilled pimento cheese ($8), Kentucky hot brown ($13)—come with a decidedly better pedigree, thanks to chef Barry Maiden, who also runs refined French-Appalachian restaurant Hungry Mother around the corner. Both spots take their name from Hungry Mother State Park in Maiden's native Virginia, and the team honored the place by crafting a six-foot-wide diorama, filled with mountains, black bears, and tiny canoers, for the State Park dining room.
3. What to Do
Catch future Broadway hits at the American Repertory Theater before they transfer to the Great White Way. In recent years, under Tony-winning artistic director Diane Paulus, the ART has hosted the starry pre–New York productions of The Gershwins' Porgy and Bess (with Audra McDonald, directed by Paulus herself), The Glass Menagerie (with Zachary Quinto), the Tony-grabbing revival of Pippin (also a Paulus joint), and LBJ drama All the Way (coming this spring, with Bryan Cranston). Experimental surprise successes like the immersive noir-Shakespeare fun house Sleep No More and the eight-hour Fitzgerald marathon Gatz got their start at the ART as well. The rest of this season is typically diverse, with Witness Uganda, a musical about an American volunteering in Africa; The Shape She Makes, a dance-theater piece about a child confronting her parents' demons; and a new production of Shakespeare's The Tempest, with magic by Teller, music by Tom Waits, and dance by Pilobolus.
Pull on your black skinny jeans and time-travel back to the sixties at Harvard Square's Beat Hôtel. The bar, brasserie, and live-music venue, open since September, takes its name (and mood) from a shabby spot in Paris's Latin Quarter that once housed the likes of William S. Burroughs and Allen Ginsberg. That bohemianism is evident in the lack of a cover charge and the nightly shows, which have included everything from Armenian jazz and Afro-Celtic funk to flamenco and New Orleans blues. In addition to sustainable, organic, and vegan wines on tap, the cocktail menu draws on Eastern influences just as the Beats once did: The Dharma Cocktail ($12) is made with kaffir lime vodka and aloe juice, while the Rum Cha Yen ($11) is a boozy take on the Thai iced tea, sweetened with condensed-milk simple syrup.
Wander Cambridge's newest mini–design district, Observatory Hill, situated around the intersection of Concord Avenue and Huron Avenue about one mile northwest of Harvard Square. Named for its location in the shadow of Harvard's historic astronomical research facility, the area is home to cheery Scandinavian design store Marimekko as well as a pair of boutiques with more local roots. In 2002, Pamela Watts debuted Reside, a gallery-worthy showroom of mid-century modern furnishings. Then, last June, her daughter, jeweler Nicole Rueda Watts, teamed with greenery designer Laura Jean Pecci to open Observatory just next door. Trained as a metalsmith, Watts crafts earrings, bracelets, and necklaces in an onsite studio, embellishing silver and bronze pieces with natural materials like peacock feathers, bone, moonstone, and freshwater pearls (earrings from $120); they're for sale at the shop, along with vintage jewelry and mid-century modern and Hollywood Regency furniture in a space lush with Laura Jean's floral displays, terrariums, and topiaries.
4. Insider's Tip
Harvard's three art museums—the Fogg, the Busch-Reisinger, and the Arthur M. Sackler—comprise one of America's finest collections, boasting more than 250,000 pieces from antiquity through today. But if you visit Cambridge this year, you won't see any of them: All three galleries are closed as they await unification in a brand-new facility designed by Renzo Piano, expected to debut this fall. Until then, head across town to MIT for your art fix. The I.M. Pei–designed List Visual Arts Center houses a rotating slate of contemporary exhibits, including Brooklyn-based photographer Kambui Olujimi's current interactive installation, in which visitors are asked to trade personal photos with the artist (January 21 to February 23; free). Outside, the MIT grounds offer a surprisingly stellar public-art collection, starting with Henry Moore's bronze Reclining Figure (1963) right outside the center, plus Alexander Calder's 40-foot-tall steel La Grande Voile (1965) in nearby McDermott Court and Pablo Picasso's cast-concrete Figure découpée (1975) on the southeastern corner of campus. Pick up a map at the List for a self-guided stroll or call ahead to schedule a free curator tour.
5. Oddball Day
The elegant Georgian and Federal architecture in Harvard Yard may serve as the de facto face of Cambridge, but the city is also home to several of the country's more challenging works of modernist and contemporary "starchitects." Begin an architecture-themed day with a Hi-Riser ($7.50), a grilled sandwich of smokehouse ham, Vermont Cheddar, and organic eggs on a potato bun, at the locally beloved Hi-Rise Bread Company. Then, cut through the Harvard Law School campus to reach the Harvard Science Center (1973), designed by Catalan architect and former dean of the Harvard Graduate School of Design, Josep Lluís Sert. The béton brut (unfinished concrete) facade is an eyesore to some, but it's also a testament to Sert's modernizing influence at the red-brick-centric university. From the Science Center, walk down Kirkland Street until you see the fifteen-story white William James Hall (1965), designed by Minoru Yamasaki of World Trade Center fame; then turn right on Quincy Street and head to the imposing Carpenter Center for the Visual Arts (1963), the only building in America by famed Swiss architect Le Corbusier. Follow the southern edge of campus along Massachusetts Avenue and make a left on Holyoke Street to grab a chickpea-fritter sandwich ($6) and molasses lemonade ($3) at Clover Food Lab. Walk off lunch on the way to Cambridge's other architectural powerhouse, MIT; it's a roughly 30-minute jaunt, though you can take a breather at Rodney's Bookstore, which has the city's largest collection of rare, used, and out-of-print books, like the ultra-rare 1959 promotional book of architectural renderings for Lincoln Center for the Performing Arts ($213.75). Continue along Massachusetts Avenue until you reach the MIT Museum ($10), where the Architecture & Design Collection has more than 15,000 student thesis drawings. Marvel at the campus's artfully designed dorms, like Steven Holl's waffle-iron-esque Simmons Hall (2002), modeled on the porous anatomy of a sea sponge, and Alvar Aalto's undulating brick Baker House (1947). Make your way to Kresge Oval, a green space flanked by two works by Eero Saarinen, the Finnish-American architect behind St. Louis's Gateway Arch: the MIT Chapel (1955), a windowless brick cylinder surrounded by a moat, and the copper-and-glass Kresge Auditorium (1955), whose domed roof is said to be inspired by a segment of grapefruit Saarinen was eating one morning for breakfast. Walk to the eastern side of campus to explore Frank Gehry's playful Ray and Maria Stata Center (2004), which incorporates corrugated metal, brushed aluminum, and vibrant yellow paint, as well as MIT grad I.M. Pei's 21-story Green Building (1964)—Cambridge's tallest tower, which student hackers turned into a massive playable Tetris board in 2012. Finish the night with dinner at Area Four, a favorite among MIT students. You've earned some carb-loading after all that walking, so dig into the simply dressed pies (clam and bacon, $17.50) and an orange chocolate s'more winter sundae ($7.50), and Al's Hot Toddy ($11) to end the night right.
6. Links
Cantabrigia, Wicked Local's Cambridge blog, offers up-to-the-minute stories on local politics, restaurant openings, and real estate deals—plus Peter Paul Payack's "Life on the Left Bank" cartoons.
The Cambridge Day website includes invaluable local cultural and dining reviews.
Harvard Magazine, an independent news source since 1898, combines student work with smart editorials and thoughtful arts coverage.