1. Where to Stay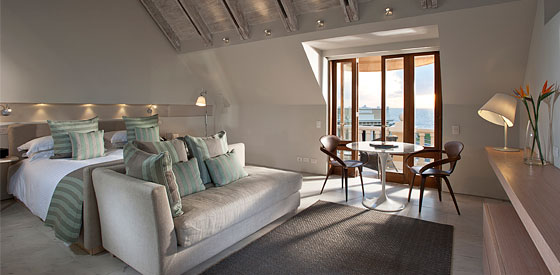 Join the party in Getsemaní, the city's center of culture and nightlife, where year-old Arsenal Boutique Hotel (from $140) offers 33 bright, spacious rooms that feature contemporary styling. In a city where hotel prices are notoriously hefty, Arsenal—with its rooftop pool and bar overlooking the Bay of Cartagena—is an affordable pick that still offers cachet.
Look for the resident toucan at Sofitel Santa Clara (from $320), a former seventeenth-century convent with terra-cotta walls and a lush courtyard. Though the property was renovated last summer, you should opt for the colonial suites in the oldest section of the building—with exposed-wood-beam ceilings, soft hues, and décor handcrafted in Colombia—since they have the most character.
Swim beneath a 300-year-old aqueduct in the pool at Casa San Agustin (from $380), a 31-room boutique hotel, housed in three seventeenth-century whitewashed mansions, that opened in 2012. Original frescoes and wood-beamed ceilings have been preserved to highlight the property's history, while the rooms are decorated in the hues of the Caribbean Sea and feature bathrooms lined with bright Moorish tiles; some even have private plunge pools.
2. Where to Eat
Taste the creations of a Colombian-born, San Sebastián–trained chef at Donjuán (reservations recommended), a bistro where guests can watch chefs through a window into the open kitchen. Expect some of Cartagena's most refined dishes from chef Juan Felipe Camacho, who cooked at the Michelin-rated Arzak, including tender grilled octopus with candied potato ($23) and lobster tails grilled with lemon butter served alongside plantains ($75).
Order Italian-influenced dishes made by Bogotá-born Daniel Castaño, a former protégé of Mario Batali, at Vera (reservations recommended). Designed by famed Colombian designer Silvia Tcherassi, this posh spot in a colonial mansion attracts locals scenesters; your reasons to dine here are snapper carpaccio ($15) and steak with gorgonzola and cherries ($23) served on tables next to a 250-year-old stone wall.
Book in advance for dinner at popular Maria (Centro Calle del Colegio 6A; 57-5660-5380), where chef-owner Alejandro Ramirez brings experience from London, Paris, and Tokyo to the kitchen. Whimsical paintings of tigers and chandeliers tower over long tables that are ideal for sharing small plates of oxtail tacos with guacamole and mango pico de gallo ($23) and lemon- and orange-cured ceviche with baby squid, black sea bass, and shrimp ($18).
3. What to Do
See local chefs during their morning trips to the Bazurto Market (Plaza de Mercado, Chino), a colorful and chaotic market just outside the walled city. Join a market tour ($50/person, four people maximum) to explore what was once a gritty, locals-only marketplace that has been cleaned up in recent years. A local expert will lead you beneath the brightly colored umbrellas to talk with vendors and explain the contents of stalls piled high with fish and tropical produce. For lunch, follow in the footsteps of Anthony Bourdain as the guide leads you to Ceci, a cook known for her aromatic seafood rice dishes.
Learn about South American wines at Restaurante 1621, where in-house sommelier Oscar Santos leads a weekly wine class (from $45). This restaurant, the recent winner of a Wine Spectator Award of Excellence, is located in a historic space with soaring ceilings, exposed beams, and soft chandeliers where nuns used to eat during the building's convent days. The tastings take place in the adjacent wine room, where the sommelier pours everything from wine to rum and whiskey while answering all of your questions.
Get your hands dirty with a cooking class at Donjuán, one of Cartagena's most beloved restaurants. Chef Juan Felipe Camacho leads the class (price varies; schedule based on availability) in excellent English, and you can customize classes to match your interests, whether you want to learn how to cook the basics of a three-course Colombian feast or re-create a favorite dish off his menu.
4. Insider's Tip
Freshly squeezed fruit juice is a popular treat all around Cartagena, but you won't experience it if you don't speak Spanish or are unfamiliar with exotic fruits. On the street or in juice bars, ask for lulo (a citrus fruit with a flavor often described as a combination of lime and rhubarb) or guanabana (a spiky, intimidating fruit with a flavor of pineapple and strawberry on the inside). Another local favorite pick-me-up is a limonada de coco, a mix of lemonade and coconut.
5. Oddball Day
Shift your focus from the city's culinary pleasures to its thriving art and design scene. Start out at the NH Galeria (free entry), a gallery with rotating exhibitions that features both Colombian and international artists. (The striking gold textiles of Olga de Amaral are especially captivating.) Next, wind your way through the pastel-colored streets of Cartagena's old walled city to browse the interior design and jewelry collection at Casa Chiqui (Calle de la Universidad 36-127, 57-5668-5429), a design-focused store with serious souvenir potential. Owner Chiqui de Echavarría is known in Cartagena for her refined taste, sourcing items from her travels in Colombia and beyond. For a light lunch, savor one of Cartagena's specialties at La Cevicheria (Calle Stuart No. 7-14, 57-5660-1492), a small restaurant known for its basil mojitos and ceviches made with fruit other than the typical lemon and lime. (Try the octopus, or ask about today's catch.) After lunch, awaken your artistic abilities with a photo tour of Cartagena, led by local Reuters photojournalist Joaquin Sarmiento. During the four-hour tour ($80; bring your own camera), he focuses on the most visually compelling and colorful districts of Cartagena while providing tips on composition and exposure to improve your shots. Wherever the photo tour ends up, it's worth heading back to the edge of the fortified wall in the old center to watch the sunset from Café del Mar, an open-air bar and café with a long list of cocktails and local beers. Return to the cultural district of Getsemaní for dinner at Karib, a stylish restaurant that serves the big flavors of Colombia on small plates. Sample a variety of Colombian staples masterfully prepared, such as fried red snapper. The rooftop pool bar is a lovely spot to spend the night finishing off a bottle of wine while overlooking the bay.
6. Links
This Is Cartagena offers up-to-date guides on everything from neighborhoods to fashion to things to do.
The tourism-board website features an events calendar as well as details on attractions, museums, and restaurants.
The biggest art festival of the year in Cartagena is the Hay Festival, a multiday event featuring literature, film, music, and visual art.
Localgastro.com has the latest details on the local culinary culture.