1. Where to Stay
Walk from the ferry straight to the Pavilion Hotel (from $250), an overhauled mid-century motel that reopened last year, sporting rooms filled with plush beds and French doors that open out onto semi-private lanai sitting areas (ground-floor rooms only). With an address on the main oceanfront strip in Avalon, the island's only town, it's the best option if you want to stay within walking distance of restaurants and bars.
Drive a golf cart to town from the Inn on Mount Ada (from $415), a sprawling Georgian colonial mansion that sits on a hill 350 feet above town. The house was built by William Wrigley Jr., who bought most of Catalina in 1919, but today it's a twelve-room guesthouse with fireplaces, sweeping Pacific-view balconies, and flat-panel TVs and iPod docks. Check online for 20 to 40 percent off rooms that aren't booked within three days of arrival.
Spend all weekend outdoors by booking a spot at one of five campgrounds spread across the island (from $16). All supplies, including tents, are available for rent (call 310-510-8368), and you can bike, hike, or take the Safari Bus (from $10) to any of the campsites. Wedged between palm groves, grassy hills, and a pristine aquamarine cove, Little Harbor campground is one of the most scenic spots on the island, and offers on-site kayak and snorkel rentals (July and August only; 310-510-2229), plus access to showers and toilets. For a more secluded adventure, book one of seventeen boat-in campsites set on pint-size sandy beaches that can only be reached by kayak or sailboat trip from Avalon.
2. Where to Eat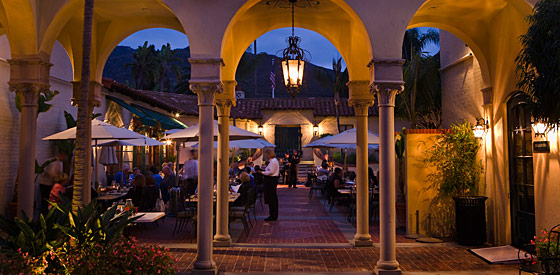 Walk uphill from the Avalon's seaside tourist strip to Catalina Country Club, a local favorite that isn't as exclusive as it sounds. The Spanish-colonial-style building offers a farm-to-table, all-organic menu featuring dishes like filet mignon with morel mushrooms ($38) and fried Pacific sand dabs, a Catalina specialty ($17) that's like a sweeter, more delicate flounder (and rated as a good sustainable alternative by Monterrey Bay Aquarium Seafood Watch).
Soak up a low-key version of L.A. life at CC Gallagher, an oceanfront café offering all the must-have Angeleno amenities—biodynamic wine bar, vegan sushi (from $8) rolled to order after 4:30 p.m., and local craft beers like Green Flash West Coast IPA ($8)—plus an on-site art gallery showcasing local painters, jewelry, and handmade pottery.
Barbecue under the stars at Descanso Beach Club, a beach bar set on a sandy strip at the edge of Avalon. The 25-foot-long open-air grill is fired up every Friday and Saturday from 6 to 9 p.m., from June through September ($19 per person). Pick up your protein of choice at Von's Grocery Store (123 Metropole Ave.; 310-510-0280), or buy items like mahi mahi ($10) or top sirloin steak ($11) on the beach and then grill them up yourself; a baked potato bar, corn on the cob, salads, and homemade pies are all provided.
3. What to Do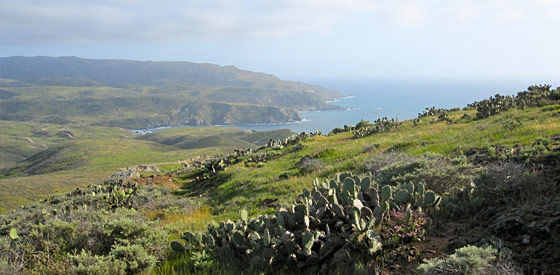 Choose your own adventure on the Trans-Catalina Trail, a 37.2-mile hiking and biking route through the island's interior that opened two years ago. Catch spectacular Pacific views and sightings of wild buffalos and bald eagles throughout this 43,000-acre nature preserve. For a day hike, the five-mile Hermit Gulch Loop just outside Avalon combines grassy ridges with a leisurely stroll through the Wrigley Botanic Gardens. Trail maps and free hiking permits (required) can be picked up at the Conservancy House (125 Claressa Ave.; 310-510-2595).
Trade trekking through palm trees for wading in a giant kelp forest with Sea Trek ($89 for 90 minutes), a program launched this month that outfits guests in special diving helmets that enable walking on the ocean floor up to 30 feet underwater. No diving certification is needed to get up close and personal with everything from schools of tropical fish to sea lions and bat rays.
Switch to the surface and learn stand-up paddle boarding along the island's eastern surf. Halfway between surfing and kayaking, it feels a little like walking on water once you get your sea legs—easy to do here as these are some of the calmest waters found in the region and ideal for beginners to learn on their own. Catalina Island Kayak Expeditions, walking distance from most hotels in Avalon, rents boards and paddles ($24 per hour; $60 per day).
Coast through the air on the year-old Catalina Zip Line Eco Tour ($109), which takes riders from 600 feet above sea level, down though a flora-filled canyon before landing on the beach. The two-hour ride includes five Zips, one of which is over 1,000 feet long, with stops along the way where nature guides point out the wide range of wildlife on the island. Advance reservations are usually required.
4. Insider's Tip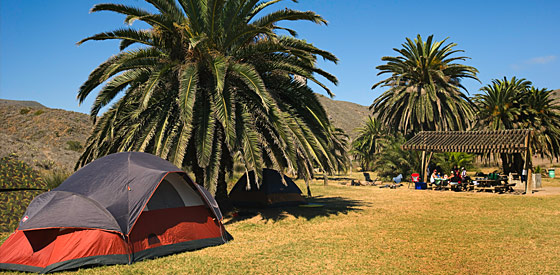 There are no car rentals on the island and golf carts aren't allowed outside of Avalon, so camping requires you to carry all your supplies, including food, with you. For a more convenient outdoor experience, contact Catalina Backcountry, a year-old island-based organization that makes hiking campsite-to-campsite significantly easier by offering gear transport, and even caters fireside dinners and breakfasts at each campground. If you'd prefer everything arranged before you land, they'll also custom design a weekend trip that can include ferry transportation to the island, hiking permits, activity bookings, and campsite and/or hotel reservations (pricing depends on package).
5. Oddball Day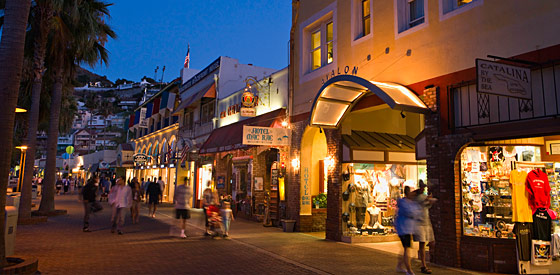 Fill up with a California-style breakfast at Original Jack's Country Kitchen—fresh avocado and salsa top everything from eggs Benedict ($14.95) to huevos rancheros ($10.95)—before leaving Avalon for less-populated parts of the island. Hop on the Safari Bus ($30, leaves at 10:30 a.m.) for a tour of the interior en route to the other side of the island, ending at tourist-free Two Harbors, a supremely laid-back village that's like the Montauk to Avalon's East Hampton. Rent a snorkel from the Two Harbors Dive and Recreation Center ($10 per day; 310-510-4272); they'll direct you toward the secluded coves surrounding the village, where visibility in the crystal-clear water can be as much as 100 feet. Back at the beach, grab a basket of fish and chips ($8.50) from West End Galley Snack Bar, plus a beach umbrella ($3 per hour) from the Dive Center and laze off the rest of the afternoon on the sandy shore. Head to the harbor office at the end of the pier (310-510-4253) and splurge on a scenic charter ride back to Avalon ($185 for up to six people), sailing past uninhabited island beaches to your right and panoramic views of the California coastline to the left. Most days you can just walk up and book a boat—although you'll want to call ahead of time if you're averse to taking the bus back. Spend the evening dining on ahi-tuna sashimi with edamame purée ($14) at the Avalon Grille, the most refined restaurant on Avalon's tourist-friendly seaside strip, then head a few doors down to Luau Larry's for a frothy glass of Buffalo Milk, the island's signature nightcap: a shake of bananas, milk, vodka, dark cocoa, and crème de banana ($6).
6. Links
Book your ferry to the island on Catalina Express, which sails from Long Beach to Avalon. Karmel Shuttle Service provides transportation to the ferry terminal from Long Beach Airport or LAX.
Download the Catalina Island Conservancy's new iPhone app, a GPS-based guide to the island's hiking trails.
Browse last-minute hotel and activity packages offered through the Catalina Chamber of Commerce.
Check out the views around the island beforehand—plus water temperature and dive conditions—via the Catalina Island Webcam.