1. Where to Stay
Ogle local art at the newly opened Hilton Downtown Columbus (from $169), which pairs an impressive collection of more than 200 works by Ohio artists—including a 31,000-crayon mosaic of the city skyline by Christian Faur—with a desirable location just south of the Short North, a once-gritty strip now populated by art galleries, boutiques, and restaurants. Each of the 532 rooms has contemporary good looks (wood paneling, neutral hues, overhead murals), but book one of the deluxe suites, which feature original collages by artists like Ryan Orewiler and Randy Jones.
Spread out in one of 44 rooms at the Lofts (from $169), a former plumbing-supply warehouse in the Arena District that reopened as the city's first boutique hotel in 1998. Following a recent refurbishment, the building's industrial bones—exposed pipes, massive picture windows, and soaring ceilings—are now tempered by mustard- and rust-colored accents, pillow-top mattresses, and Frette linens.
Avoid doilies or overbearing innkeepers at the German Village Guest House (from $175), a pair of converted homes—one Italianate, the other a turn-of-the-century shotgun—on a cobblestone street a few blocks from Schmidt's Sausage Haus, the go-to spot for brats and beer. All five rooms sport clean lines and conveniences like stereos, free WiFi, and a stockpile of local guidebooks and magazines, but the recently renovated Junior Suite, outfitted in gray, black, and red, is the sharpest of the bunch.
2. Where to Eat
Hang with tattooed hipsters and local musicians at Freshstreet, a months-old yakitori pop-up that stays open until midnight (Thursday–Saturday) in the back of the kitschy, Asian-themed bar Double Happiness. Chef-owners Kenny Kim and Misako Ohbahave serve a menu that might best be described as haute stoner food: paper-thin crepes stuffed with bacon, egg, and soba noodles ($7); bulgogi cheesesteaks ($7); and okonomiyaki fries ($4).
Bust your gut with plates of fried chicken and doughnuts ($9) at Till, a lofty new Victorian Village restaurant that is spare but cheery, with mismatched furnishings and pastel-hued walls. Two-time James Beard nominee Magdiale Wolmark, who made a name himself serving vegan fare, now oversees a menu with no shortage of meat, including the BD burger ($14), a biodynamic beef patty with anchovy mayo and radicchio on a housemade bun.
Grab a table on the deck at Harvest Pizzeria, a 28-seat eatery that channels franny's in Brooklyn and L.A.'s Pizzeria Mozza with a concise menu of seasonal salads, like a kale Caesar with pecorino and toasted hazelnuts ($9) and Neapolitan-style pizza (the mushroom-and-gouda is a favorite, $14). Linger after dinner at Curio, the adjacent speakeasy helmed by mixologist Travis Owens, whose expertly crafted, Southern-inspired cocktails ($10) incorporate local liquors and housemade syrups.
3. What to Do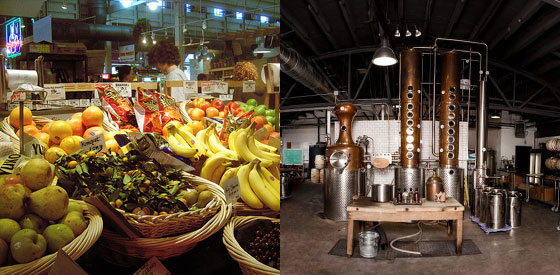 Get a taste of the city's food scene on a one-and-a-half-mile walking tour ($50) of the Short North, led by Columbus Food Adventures. Along the way, you'll hit the North Market, an indoor collective of small businesses and artisan producers that's been around since 1876; get a whiff of the 25-year-old sourdough starter at the Eleni Christina Bakery (641 N. High St.; 614-461-0021); and sample the gnocchi Bolognese at Rigsby's Kitchen, the restaurant that put this once-gritty neighborhood on the map.
Take a self-guided tour of the regional microbrew scene, now experiencing a second coming thanks to a handful of new entrants, including Hoof Hearted (outside the city, in Marengo), which uses a peddle-powered grain mill to make its silky, chocolaty porter, and Seventh Son, scheduled to open in November in a converted auto-body shop in Italian Village. Among the more established newcomers is Zauber, which introduced growler hours—with free tastings and a rotating roster of food trucks—for its German-style alts and kölsches in May and has plans to open a brewpub in early 2013. For a short day trip, pack picnic fare—meats and cheeses from Katzinger's Delicatessan and cannelès and macarons from Pistacia Vera—then drive 30 miles south to Rockmill Brewery, where former L.A. talent agent Matthew Barbee makes Belgian-style beers on a horse farm in Lancaster. Pair the Trippel with a marbled blue and the Dubbel with dark chocolate, then work off your buzz with a walk around the grounds.
Take a break from beer at Middle West Spirits, a two-year-old micro-distillery on the edge of the Short North with a hyperlocal ethos. Weekly tours (Fridays at 6 p.m. and by appointment; $10) run about 90 minutes and include a sampling of the outfit's craft vodkas and whiskey, all made from Ohio red winter wheat. Across town, test the wares at Watershed (tours every Thursday and some Sundays; $10), which makes its hooch from Ohio corn and is best known for its citrus-forward Four Peels Gin.
4. Insider's Tip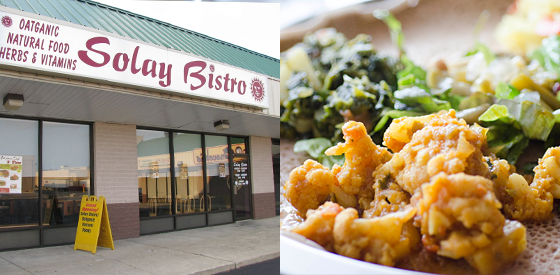 Some of the city's most interesting eats can't be found in the center of town, so make the twenty-minute drive to the Columbus Square Shopping Center, dubbed the "United Nations of Columbus" for its ethnic eateries. Of note are Solay Bistro, for authentic Somali fare, including goat stew and spongy injera bread, and Mi Li Café (5858 Emporium Sq.; 614-899-9202) a tidy, if somewhat spartan, Vietnamese restaurant with excellent banh mi—plus pho, beef stew, pork-stuffed crepes, and bubble teas.
5. Oddball Day
Shift your focus to Columbus's budding art scene for a day, but first start off at Skillet, a boite-size German Village joint known for its locally sourced, Southern-style grub (think biscuits and gravy and hearty hashes). Afterward, swing by Keny Galleries, which has an impressive collection of American art, including works by nationally recognized Ohio artists George Bellows, Edward Henry Potthast, and William Sommer. Next, make your way to the Short North, the city's designated arts district and the setting for the "Mini-Mural" project, a series of ten works that have been photographed, printed onto vinyl, and installed on the sides of buildings. The Pizzuti Collection, scheduled to open in its permanent Short North home this fall, is the city's most significant new art development and a must-see for its selection of contemporary works. If it's not open yet, try the Lindsay Gallery for outsider and folk art and Roy G Biv, which showcases emerging artists, many from Ohio. Nearby you'll find a handful of indie boutiques, including Milk Bar, which sells custom-painted motorcycle helmets and artsy tees, and Tigertree, which stocks clothing by Dear Creatures and quirky tabletop items like Areaware ceramic cargo containers ($30). Make a pit stop at Jeni's Ice Cream for a quick sugar fix (try the Yazoo Sue, a new flavor that marries cherry-wood smoked porter and rosemary bar nuts), before heading to the Wexner Center ($5), a one-exhibition gallery currently showing a 156-piece Annie Leibovitz retrospective (through December 30). After an hour or two there, line up for wood-smoked brisket, collard greens, and macaroni and cheese at Ray Ray's Hog Pit (2619 High St.; 614-753-1191), a pair of food trucks with a permanent location in the parking lot at the Ace of Cups. End the night at the Brothers Drake, a meadery-cum-bar with winelike meads made from local honey, mead-infused cocktails, live music, and a rotating art collection (currently on display: Dungeons & Dragons–like paintings by W. Ralph Waters).
6. Links
Read more on the ethnic-restaurant scene at alt.eats.columbus.
Columbus Underground covers food as well as local art, shopping, business, and politics.
For restaurant openings, closings, and updates, check out Columbus Crave, the city's official dining magazine.
Columbus Alive offers quirky, entertaining reviews of art, music, and food.
Find a comprehensive list of taco trucks, taco truck reviews, etiquette, and maps at Taco Trucks Columbus.