1. Where to Stay
Save up for dinner by staying at Danhostel Copenhagen City (beds from $21; linens $12), a contemporary sixteen-story hostel with rooms that accommodate four to twelve. The modern interior was furnished by GUBI, the same design firm that outfitted MoMA.
Book one of the 70 rooms (of 129) facing the quiet central garden at Axel Hotel Guldsmeden (from $107), a teak-and-bamboo-decked haven in the nightlife and red-light district of Vesterbro. The hotel provides organic products like handmade spa potions and a locally sourced vegan buffet.
Curl up in designer Arne Jacobsen's iconic Egg and Swan chairs—also on display at the Danish Museum of Art & Design—in the lobby of the Radisson SAS Royal (from $199). Though most rooms have been refurbished in blond wood and neon upholstery, room 606 retains its original Bauhaus-inspired fixtures, fabrics, and furnishings from the sixties.
2. Where to Eat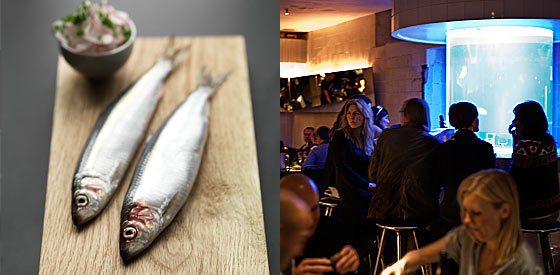 Make reservations a month in advance for the nine-course wine and tasting menu at AOC Aarø & Co. ($300), which won a Michelin Star last March. Try experimental seasonal dishes like Danish mussels with green strawberries in the vaulted cellar of a seventeenth-century palace.
Dig into Aamanns' modernized versions of the open-faced sandwiches known as smørrebrød: homemade rye loaded with pork rillettes, barrel-cured herring, and ox breast ($8 to $10). Owner Adam Aamann does all the smoking, salting, and pickling himself.
Sit at the bar beside the jellyfish tank for the best dining-room views at Fiskebaren, a year-old seafood restaurant housed in a former meat locker. The menu alters daily depending on the catch, but expect goodies like North Sea brill or Limfjord oysters ($14 to $19).
Watch chefs slow-cook deer in the three open kitchens at Brasserie, a 120-seat restaurant inside the Moorish-style Nimb Palace, which also includes an on-site dairy.
3. What to Do
Sip local brews at Nørrebro Bryghus, a multiple-medal winner at the 2010 World Beer Cup. Attend a tasting with beer ambassador Kasper Larsen ($16), then ascend to the second-floor dining room for North Sea–fish bouillabaisse and Pacific Summer Ale, a Danish malt ale made in collaboration with Brooklyn Brewery.
Order the seven-course "Picnicbox" ($25) a day in advance from Meyers Deli, a Gothersgade outpost just outside the city's oldest park, King's Garden. Find a spot on the lawn overlooking the seventeenth-century Rosenborg Castle and share Nordic snacks like salted salmon and liver pâté.
Wander among free ballet performances and classical musicians at Tivoli Gardens, a refined amusement park in the city center that dates back to 1843 ($15). Grab a gourmet hot dog from the Løgismose stall near Andersen Bakery—the organic pork sausage with chanterelle sauce on a marbled rye bun is a favorite ($6)—and find a seat for the 11:30 p.m. laser-light show over Tivoli Lake.
4. Insider's Tip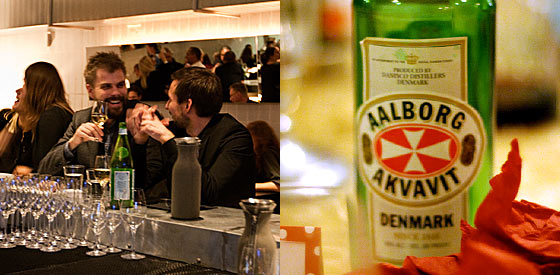 Danes drink akvavit—a Scandinavian liquor—and beer at most social occasions, so get their elaborate toasting ritual straight: Raise your glass; make eye contact with those around; say "skål" (pronounced "skull," the equivalent of "cheers"); let your host sip first, then you sip; and finally, lock eyes once more before setting down your glass. The tradition dates back to the Vikings, when warriors would dine opposite their enemies and make eye contact to anticipate danger.
5. Oddball Day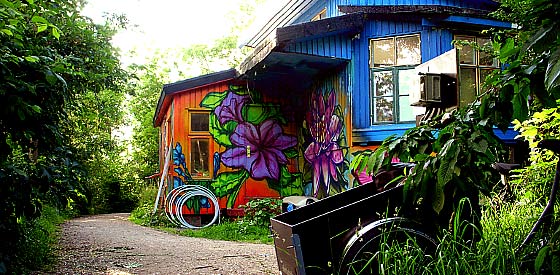 Cycle through the "Free Town" of Christiania, a tax-free, rent-free hippie commune on an 85-acre abandoned military barracks. Pick up a free city bike at Christianshavn Torv near the metro, the closest of 110 bicycle-parking locations. Before departing, pick up the dark rye bread called rugbrød ($6) at Lagkagehuset, the best bakery in Copenhagen, according to a poll by Danish daily Politiken. Enter on Prinsessegade Street to view the vivid painted murals of Mariana Rydvald. Pedal along the town's car-free streets, passing artist workshops and market stands selling bracelets, Buddha statues, and bongs. (Hashish is sold for around $7 a joint in this self-governed enclave, especially along Pusher Street.) Stop into Både-og on the ground floor of the opera building, where the bearded owner creates hand-carved pine and birch bowls. Then have your feet measured at Tata Sko, where shoemakers craft bespoke footwear in less than 70 hours (from $230). Find a spot in the pebbled garden at Morgenstedet house for a simply prepared vegetarian lunch. The chalkboard menu is vague ("hot meal and salad," $14) so ask for the day's specials. Then climb the stairs to the Loppen rock club at 9 p.m., when indie acts like Rhode Island's the Low Anthem take the stage, followed by D.J.'s ($12 to $33). Pedal back down Prinsessegade to get to the metro; you'll know you've left Christiania when you pass the sign that reads, "You are now entering the E.U."
6. Links
Local foodie Trine Lai posts reviews and mouthwatering images of Copenhagen's culinary scene on verygoodfood.dk.
Danish newspaper site politiken.dk organizes its English-language restaurant guide by price point.
Cphx.dk recommends podwalks and bicycle routes.
AOK.dk lists the top five beer bars, cheap hotels, Scandinavian spas, and more.
HelloCopenhagen.dk uncovers free or cheap cultural events.