1. Where to Stay
Plunge into the 92-degree indoor-outdoor pool at the pine- and stone-trimmed Tamarack Club (from $157), an Aspen-style fractional condo hotel that also features two roiling outdoor whirlpools and a cedar sauna. Studio rooms have full kitchens, gas fireplaces, leather sofas, and views of the neighboring Creekside slopes.
Stay in a vintage A-frame at the Edelweiss Lodge (from $190), an ideal property for small groups. Glass-walled chalet No. 2 offers two bedrooms plus a pull-out sofa, while chalet No. 3, a two-story unit, sports three bedrooms and a charming Swiss gingerbread-style balcony.
Choose between kitschy nickel slots and high-stakes gambling rooms at the tasteful four-diamond Seneca Allegany Casino & Hotel (from $105), just twenty minutes from Ellicottville. If the odds are against you, nurse your losses over a spicy Bloody Maria ($7), amped up with Sauza tequila and BBQ sauce, at the casino's Fire Lounge.
2. Where to Eat
Try the signature Black & Blue ($5), a mixed-beer concoction made with light blueberry wheat ale and bitter black porter, at Ellicottville Brewing Company, the town's social hub. Highlights of the eclectic menu include African peanut soup ($4), sea scallops ($21), and a heaping plate of fries topped with slow-cooked pork and cheddar ($9).
Load up on breakfast carbs with a plate of crusty corned-beef hash ($9) and maple-syrup-drenched raisin-bread French toast ($9) at Dina's, a cozy favorite of locals in the main village. Come back to the chatty bar in the evening for a slice of apple cranberry pecan crumb ($6) and a steamy White Out ($6), hot mocha spiked with vodka and Kahlúa.
Share a plate of smoked-chicken nachos ($9) and crispy eggplant and pesto flatbread pizza ($10) at John Harvards Brew House, a handsome upmarket pub inside Tamarack Club that overlooks the lifts. Try one of the craft beers on tap, or warm up after a few downhill runs with an upstate classic like beef on weck ($9), a savory pile of sliced roast beef layered on a horseradish-smeared kummelweck roll.
3. What to Do
Strap on your Anon goggles and check out Holiday Valley's newly rebuilt snowboard terrain park (four-hour weekend lift passes, $53; ski and snowboard equipment rental, $23 to $31). Two new trails bring the total count to over 50, plus there's a steep new snow-tubing park and high-speed quad chairlifts from the recent $4 million upgrade.
Roll with the Cattaraugus County Federation of Snowmobiles, which maintains 415 miles of groomed trails. Buy an annual membership with one of the nine clubs—the Tri-County Drifthoppers ($30) and the Enchanted Mountains Border Riders Club ($25) to name a few—for access to their fleet of vehicles, trails, and jointly hosted events.
Slush past sculpture by the likes of Dwayne Hatchett and Mehrdad Hadighi atGriffis Sculpture Park ($5 admission), a 425-acre mountainside park filled with contemporary installations. It closes up for most of the winter but offers occasional full-moon snowshoe excursions with live music and piping hot chili ($50; next one on February 7, 5–8 p.m.).
4. Insider's Tip
Holiday Valley Resort wants you to buy their overpriced burgers and snacks at Seven Headwalls Café, but peek downstairs and you'll see a hidden dining room with several dining tables and chairs and rows of electrical plug-ins where self-catered crock pot lunches simmer, carrying on a tradition that started here in the seventies. Buy a pound of chuck roast ($3.69/lb) at the sleek new Dom's Butcher Block on Washington Street and a bottle of sweet concord red ($10.50) at the new Winery of Ellicottville, just down the street. Plug in your crock pot, hit the slopes, and return to your very own stew.
5. Oddball Day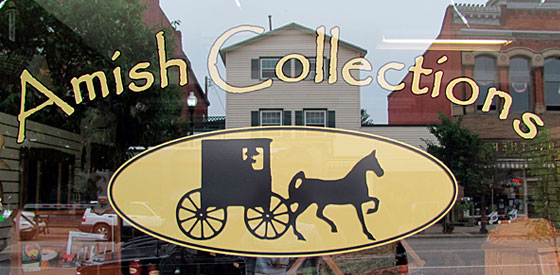 Abandon the slopes and go Amish for the day. Head an hour west for a hearty breakfast of wood-oven-baked Amish bread, blackberry jam, and Mennonite yogurt ($10, reservations required) at the 1860s Cherry Creek Inn, where period rooms are festooned with Amish quilts and wooden rockers. The innkeeper, Sharon, is an excellent source of info on New York's Amish community and food and arranges tours of the region (from $30 per person). DIY types should skip the tour and instead follow the detailed Amish Trail map, which reveals nearby locations where you can purchase cedar chests, quilts, and maple syrup direct from the sellers' homes. Amish sellers close on Sundays, so if you're shopping then, group shops are the next best way to get Amish goods. Head ten minutes south to Raber's Blacksmith Shop in Conewango at 6370 Route 62 between Eldridge Road and County Highway 6, a great spot to score handcrafted rugs and soap. Next, bag some Amish Niagara grape jelly, "all day" donuts, and homemade pickles at Randolph Peaches & Cream (19 Randolph St.; 716-358-2241). Amish Collections in Gowanda, 25 minutes north, is the best place to buy customized wooden Amish furniture and cabinets made from wormy maple, hickory, and ash (starting at $100 per item). Finally, settle in for a pot roast and applesauce dinner ($10) at Oregano's, 30 minutes north in Randolph, where all the Amish decorations in the restaurant are for sale.
6. Links
Buffalo Spree is Nickel City's main dining, parties, arts, and culture magazine, and regularly features info on events in the surrounding area.
Western New York's art community is well chronicled in Art Voice, which covers everything from theater to gallery openings to seasonal sports events.
The Ellicottville Chamber runs a comprehensive listing of area information, local events, a business directory, and detailed ski area info.
Get weather and ski reports and check out nine mountain cams to see conditions at the Holiday Valley website, which also lists frequent last-minute specials and deals.