1. Where to Stay
Capture a sense of Georgetown's eclectic tastes at Hotel Ariantze (from $55), part-yesteryear inn, part-recording studio, and part-Caribbean jazz club that serves as a cultural center of sorts. The old rickety building and cozy wood-paneled rooms show their age with grace, and it's by far the best deal in an expensive town.
Spot the elusive jaguar during your stay at the Iwokrama River Lodge and Research Centre (from $100 per person, plus transportation), located deep in the lush Iwokrama Rainforest. The rustic, eight-cabin wooden lodge, which shares facilities with a team of researchers, allows ample opportunity to explore the surrounding flora and fauna by foot, canoe, or 4X4.
Experience the traditional lifestyle while staying in rustic wooden bungalows at the Makushi indigenous community of Surama (from $148 per person, plus transportation) on the Rupununi Savannah. The well-trained Amerindian guides will give you the best chance of seeing extremely difficult-to-spot wildlife like harpy eagles, giant river otters, and the potoo.
2. Where to Eat
Grab lunch at no-frills Shanta's Puri Shop (225 New Market St.; no phone), for tasty, cheap Indo-Caribbean fare like dal and rice with Bhunjal mutton ($6) and pumpkin-stuffed roti ($2.50). The simple eatery has served Georgetown's East Indian community, which makes up more than 40 percent of the population, since 1955.
Head to Creole hotspot the Dutch Bottle Café for the wonderfully rich pepper pot ($15), an Amerindian beef stew made with cassareep, a spice-infused cassava-root cooking base. Set in a restored colonial house decorated with paintings by local artists, this is Georgetown's preeminent foodie spot, catering to a crowd of expats and tourists.
Stop into German's (8 New Market St.; 592-227-0079) for the legendary cow-heel soup. Locals eat the ($5) spicy mix of cassava, plantain, eddoes, and yam in a sauce of tripe, beef, and chicken as a hangover remedy. Recent renovations added track lighting and an LCD TV, but the Creole plates like cook-up rice ($3), made with coconut milk, are still classics.
3. What to Do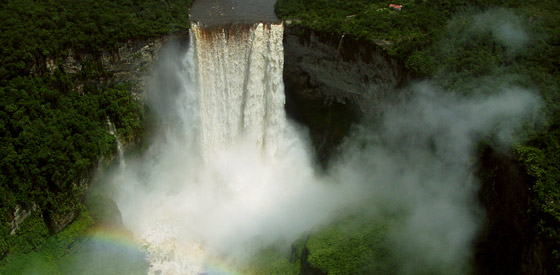 Rise early to go bird-watching with Guyana Feather Friends ($30 including transportation) along the east bank of the Demerara River, where large populations of red-bellied macaws, hummingbirds, and parrots can be seen. Of Guyana's 864 bird species, nearly 300 can be found here, among the eta palms, swamps, and grasslands.
You can forget Angel or Iguazu Falls after flying with Rainforest Tours directly over Kaieteur Falls ($220), where 30,000 gallons of water per second are shot out over a 820-foot drop in the middle of a misty jungle with no tourists in sight. If you want to see landmarks like the Cock of the Rock or Golden Frog while visiting the national park, you'll need to overnight there or, better yet, spring for owner Frank Singh's intensive four- to five-day overland trek ($795 per person).
Get inspired by cutting-edge rainforest ecotourism projects while sneaking across the treetops via 154 meters of elevated platforms at the Iwokrama Canopy Walkway ($24). Set in the midst of more than 900,000 acres of virgin rainforest, the walkway is owned and managed jointly by the surrounding Amerindian communities and ecolodges, and allows you to see wild orchids, tree boas, and the green aracari.
4. Insider's Tip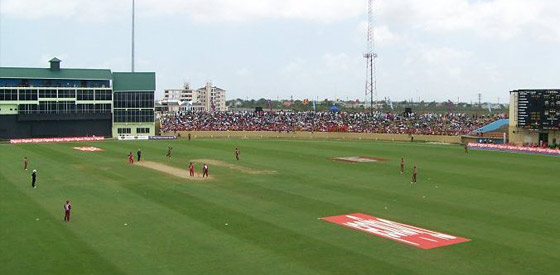 While the rest of South America has fútbol fever, Guyana is head over heels for cricket, another holdover from its colonial past. In 2007, when the Cricket World Cup was held in the Caribbean, Georgetown built a state-of-the-art cricket arena at Providence, on the outskirts of Georgetown, that's one of the most modern venues in the region. Check Guyana Cricket to find when national or local matches are scheduled.
5. Oddball Day
Stay out of the jungle for a day to explore Guyana's English-speaking, East Indian–influenced capital of Georgetown. Start off at Oasis Café with freshly baked muffins ($1) and mango smoothies ($3) before embarking on a boozy tour ($15) at Demerara Distillers, which produces one of the world's best rums, the 15-year-old El Dorado.After tasting a few reserve rums, wander over to Hack's Halal (5 Commerce St., Lacytown; 592-226-1844) to soak up your buzz with a fine Indian lunch ($5) followed by Chinese mooncakes ($1). Next, stop into Stabroek Market a few doors down to explore the cast-iron building that dates back to the late 1700s and houses everything from pigs to pineapples. Nearby at the Square of the Revolution, check out the monument to Cuffy, the famous leader and hero of the 1763 rebellion against the Berbice sugar estate. Grab a taxi ($2) to Roy Geddes's house (190 Roxanne Burnham Gardens, South Ruimveldt; 592-226-9844). Gold-chain-wearing Geddes is a Guyanese steel-pan legend and his informal home museum (free admission) remains the country's greatest connection to the art form that once dominated the music scene here. He'll give you a quick history lesson and even a short performance. Around sunset, head over to the seawall, the best spot to see the Atlantic. As night settles, stop by the New Thriving Chinese Restaurant (37 Main St., Georgetown; 592-225-0868) for West Indian–style Chinese fare like chow mein ($2.50) or cha chee kai (fried chicken in a ginger and garlic sauce; $5). Afterwards, don't miss Georgetown's vibrant nightlife, but skip the almost-lawless Sheriff's Café (10 Sheriff St., Campbellville; no phone) and popular club Buddy's (137 Sheriff St., Campbellville; 592-231-7260) for the more laid-back Sidewalk Café & Jazz Club (free admission) at 176 Middle St. for live jazz, Guyanese steel pan music, or films on most nights.
6. Links
Read up on local events by reading one of Georgetown's daily rags, like the Kaieteur News or the Stabroek News.
Most of the major guidebooks leave Guyana out, so you'll need to rely on independent online guides like Traveling Guyana, pieced together by two environmental scientists.
Guyana's Tourism Authority runs an unbiased website with basic travel information, an events calendar, and links to recent news and articles about the country.