1. Where to Stay
Book the Presidential Suite for a private deck and Jacuzzi at the luxurious Vsotel (800 W. Hill Ave.; 865-523-7773, from $299), a former inn completing major renovations this month. Each room comes with its own Mac.
Carbo-load in your dreams at the Hotel St. Oliver (from $75), a 24-room hotel in a former bread factory. Rooms include wet bars and mini-fridges to raid before you step out to see a show at a club in nearby Market Square.
Be thrifty—and friendly—at the Knoxville Hostel in the Old City district (404 E. Fourth Ave.; 865-546-8090) where bunkmates, clean linens, towels, Internet, and breakfast fixings are provided in the $17 room fee. Ask manager Al to draw you a map to nearby music venues like Pilot Light and Barley's Tap Room.
2. Where to Eat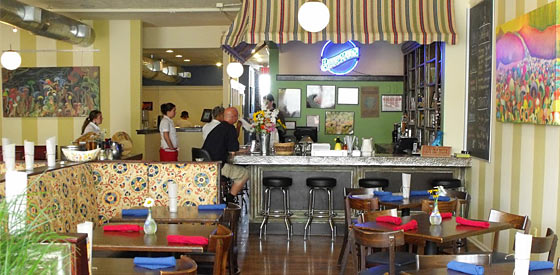 Feel a jolt with a perfectly foamy $3 latte from Old City Java, a spacious, Wi-Fi-equipped coffeehouse that also serves light bites like the egg sandwiches and housemade granola with yogurt. The beans and the barista training are courtesy of Counter Culture Coffee, a sustainable, direct-trade micro-roaster out of Asheville, North Carolina.
Opt for the lobster corn dogs at Bistro by the Tracks, a warm and elegant eatery in the upscale Bearden District that pairs their Southern take on classic French fare with an excellent wine list.
Spend Sunday on the patio at the year-old Crown and Goose, Knoxville's first gastropub, where the brunch menu spans Danish Ebelskiverm ( buttery apple-filled pancakes) and beer-battered fish and chips.
Get your salads farm-fresh at Veg-o-Rama, the meat-free restaurant and bar opened in July that features a small but creative menu of locally grown, organic ingredients served in a cheery, country-chic interior.
3. What to Do
Size up local indie talent at The Birdhouse, an under-the-radar makeshift concert space located in the 4th & Gill district where house-show styles are thrown by a neighborhood music association—check out the electrifying dozen-membered circus-rockers I Need Sleep play there November 10. Or space out to jangly shoegazers Gamenight, playing November 21 at the Pilot Light, a lo-fi venue in the neighboring Old City district.
Catch jazz and folky singer-songerwriters like Imogen Heap (11/21) at the Square Room a performing arts venue–opened last December in Market Square–that lures talent with its top-notch lighting and sound. Their new Jazz Lunch series ($15), started up in September, pairs lunch from the upscale Café 4, located next door, with tributes to the music of John Coltrane and Sonny Rollins (11/2) and jazz guitarist Wes Montgomery (12/2).
Catch a touring act at the 800-capacity Cider House, the music venue opened last April near Worlds Fair Park where post-rock instrumentalists Pelican (12/9) are on the roster this fall. Or mosh to metal giants All That Remains (11/3) and Megadeth (11/22) at the Valarium, an alt and hard rock megavenue next door (1213 Western Ave.; thevalarium.com; 865-522-2820).
Belt out Allman Brothers with local southern-rock cover band Confederate Groove, playing most weekends at the brand-new sports and rock bar Level 10. For regional roots-rock talent like Nashville's Chris Weaver, get a table at the new Tin Roof rock club, which opened in August on the University of Tennessee "strip."
4. Insider's Tip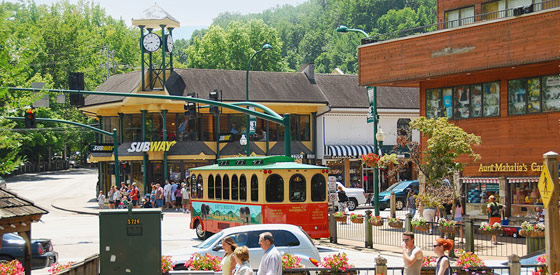 Knoxville is just an hour drive from the Smoky Mountains, where a summer of record-setting rain means the rivers are full and the trees are expected to have jaw-dropping foliage this fall. A taxi will run you about $80 each way, but A&B Ground Transportation (865-389-0312) offers a $100 round-trip package deal that includes two hours in Gatlinburg, the folksy town at the entrance of the park where you can watch salt-water taffy being made at the Old Smoky Candy Kitchen (744 Parkway).
5. Oddball Day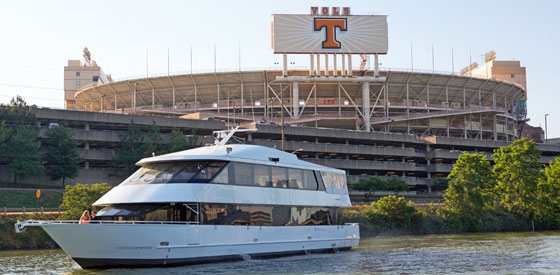 University of Tennessee football games are riotous, unforgettable affairs played out in the 100,000-seat Neyland Stadium that sits on the northern bank of the Tennessee River. Moor up to Calhoun's On The River to sip a microbrew from the Smoky Mountain Brewery on the huge riverfront deck, then join a floating game-day tailgate party, comprised of hundreds of boats tied together, when you book a ride on the Volunteer Princess ($39.95), a two-hour booze cruise complete with hors d' oeuvre and cash bar. Score still-available tickets to the UT Homecoming game against the University of Memphis Tigers (November 7) on their website, or be there for their matchup against another rival, Vanderbilt, on the 21st. If all else fails, join orange-clad student revelers on bar-strewn Cumberland Avenue, where the newly opened Roaming Gnome is the place to be for its pool tables, video games, and a $4 32-ounce Miller Light game-day deal.
6. Links
For in-the-know music suggestions, click through the listings on Metropulse.com, an independent local paper that really knows Knoxville nightlife.
In its addictive Hike of the Month video series, Knoxville.com lets visitors in on the region's best-kept outdoor getaways and interviews some colorful locals.
Girly girls can click on Skirt.com, a savvy and impeccably laid-out paper and magazine for women, for gallery openings and a well-curated shopping guide.