1. Where to Stay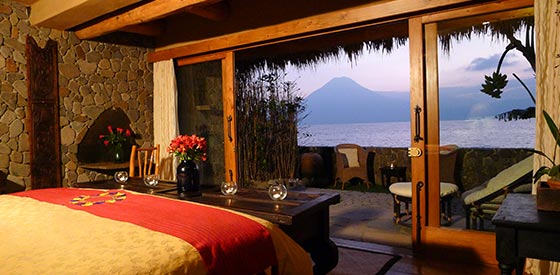 Find true luxury at Laguna Lodge, nestled in a nature reserve in Santa Cruz on the lake. The six suites (from $240) feature hand-hewn wooden beds, intricately woven textiles, fresh floral arrangements, and oversize towels and bathrobes. Wake up with a cup of organic coffee, grown in the surrounding gardens and roasted on site, then unwind with a nature walk in the adjacent 100-acre reserve, a dip in the lake, or a yoga class in a palm-thatched pavilion overlooking the water. Even the more indulgent amenities here have an eye toward ecofriendliness: The Hummingbird Spa's hot river rock pool is perfect for a post-hike soak, and on-site vegetarian restaurant Zotz's menu features produce and eggs harvested from Laguna's garden or procured from local farmers. Try the Molten Lava cocktail with your meal—Guatemalan rum and carrot and apple juices ($6.50).
Stay above the azure waters at La Casa del Mundo, located on a secluded cliff in the tiny village of El Jaibolito (from $37). It's only reachable by boat, followed by walking up several dozen steps—a tiring climb rewarded with an excellent view of the lake and volcanoes from most rooms. The 17 Mayan-decorated rooms—think embroidered and woven textiles and wood-carved furniture—were built one by one into the cliff sides over the past 20 years and range from shared-bathroom rooms to large suites with private balconies and hammocks. Reserve a kayak and the hot tub for a perfectly peaceful morning. Three meals a day are available in the restaurant for a reasonable fee—go for the nightly communal multi-course dinner (roughly $12), featuring dishes like corn soup, fish or tofu teriyaki, and coconut-crispy bananas for dessert.
Conserve your carbon footprint at La Fortuna at Atitlán, a 100 percent off-grid solar-powered spot, constructed using sustainably harvested local materials (from $66). This "nano boutique hotel" has just four individual bungalows, each equipped with handcrafted wood furniture, fresh fruit and nuts, plush robes, and soaking tubs. Explore the hotel's private cove on Patzisotz Bay and relax in the lush jungle gardens; then steam your cares away in the wood-fire-heated lakefront hot tub with a glass of wine. Even dinner feels like a private escape here: The hotel's chef will deliver dishes like artichoke-stuffed chicken ($15) or miso-citrus tilapia ($15) to your room.
2. Where to Eat
Get a taste of Europe in the tropics at Café El Artesano (reservations required). Owners Dietrich and Wendy Gantenbein's have Swiss roots, but their family has been in Guatemala for four generations; ask Dietrich for a wine recommendation before grabbing a seat in the quiet garden. Order the epic cheese platter for two ($15.50), a selection of more than 20 varieties of cheeses from around Guatemala and the world as well as nuts, dates, homemade bread, olives, honey, and fig preserves. Still hungry? The smoked salmon carpaccio ($11.65) or artichoke hearts with fresh goat cheese and a merlot reduction ($9.70) both make worthy additions.
Take in some tunes with your Guatemalan meal at the family owned Jose Pinguino's (Calle Santander, Panajachel, +502-7762-6290). Owner Miguel's daughters play live marimba while you chow down on specialties like the Pepián ($7.75), a traditional dish made with rice, güisquil (a green, potato-like squash also known as chayote), and chicken, all smothered in a sauce made from roasted tomatoes, chilies, sesame seeds, cinnamon, and other spices. Slurp it all down with a cooling horchata ($1.30), a sweetened rice-milk beverage. While you eat, you may get an impromptu lesson on Mayan history and culture from Miguel, and don't hesitate to ask Miguel and his family to teach you how to make corn tortillas—they will happily oblige.
Take a break from rice and beans at Allala (Cancha de Fut, San Marcos La Laguna; closed Wednesdays). Owned and operated by a former art teacher from Japan named Seiko, this Japanese restaurant is a bit hard to find (by the creek east of the village, near the soccer field) but authentic, offering traditional items like miso soup ($3.22) and vegetable or fish tempura (from $4.52), plus a free helping of the rich, creamy house cheesecake. On the 15th of every month there's a sushi party with live music and an all-you-can-eat buffet ($7.75) filled with sushi, miso soup, and salads.
3. What to Do
Get in touch with your spiritual side in San Marcos, something of a yoga and meditation mecca. Check out the drop-in yoga classes (first class free, then $5.50), guided meditation sessions (by donation), and tantra workshops (from $69; $125 per couple) at Kaivalya Yoga School and Ashram. Las Pirámides offers drop-in Hatha ($5.20) and Ashtanga Vinyasa ($6.45) yoga classes, as well as a metaphysics course ($12.95) and a meditation techniques class ($6.45). La Paz has a daily morning yoga ($5.00) class at 9 a.m. in their open-air pavilion. Or, treat yourself to a one-on-one private class ($19.40) with Michelle Margaret Fajkus, who has been practicing yoga for 20 years and teaching since 2002.
Radiate holistic energy at the Therapy Center Flower House in San Pablo. True to its name, the round wooden "dojo" where therapies are administered is surrounded by lush tropical flowers and herbs, including lilac, lavender, dill, calendula, hibiscus flowers, and fig and pomegranate trees. Cure stress and soreness with a reiki ($26), crystal healing ($40), reflexology ($32), or kinesiology ($26) session, or opt for simple but soothing Shiatsu massage ($32). If you're missing your weekly horoscope, request a tarot or I-Ching reading ($40). Courses (ranging from one to ten days), to learn these and other therapies like digestive problem solving and Mayan Calendar astrology are also available (from $37).
Experience the area's natural beauty along an ancient Mayan trail above the lake. Start a meditative hike in the village of Santa Cruz, making your way up the mountain along the stone path (it's safe to hike alone, but Los Elementos Adventure Center offers guides for $50). Continue toward El Jaibolito, where you can stop for a cool drink at La Casa del Mundo—the path passes right behind the lodge. Back on the trail, you'll likely see women in traditional dress carrying firewood or produce on their heads as they head home from the market in Solola. Enjoy the spectacular views of the villages, volcanoes, and the lake itself as you approach Tzununá (the trail continues to San Marcos, but it is considered best to hire a local guide to show you the way).
4. Insider's Tip
Even in Guatemala, permaculture farming has caught on, and you can see the trend in action at Atitlan Organics. Tours ($10.33) of their farm are available on Fridays at 10 a.m.; request a pickup at the Tzununa dock. You'll spend the morning touring and tasting the produce of the farm, including tea, coffee, avocados, and citrus, then enjoy a refreshing dip in the waterfall before your 100 percent organic, fresh-from-the-farm lunch is served. A typical meal would include a large organic salad with a honey lime or goat-yogurt-mint dressing, a frittata with farm-fresh eggs and farm veggies, taro cakes (a local root crop grown on the farm), braised cooking greens, handmade tortillas from local Mayan corn, and some seasonal fruit from the farm. Coffee and tea, both produced on the farm, are also offered, with goat's milk and raw honey from the farm for sweetener.
5. Oddball Day
After zoning out and tuning in, get on your feet to explore the vibrant village life around the lake and its surrounding area. Wake up early with a hot or iced latte ($1.30) from Café Loco, which specializes in fresh coffee from around the lake and intricate latte foam art—think animal faces and detailed hearts. Head to Chichicastenango for the biweekly market (Thursdays and Sundays; beat the tourists before 10 a.m.). If it's Sunday, follow the procession of locals to the 400-year-old church of Santo Tomás for Sunday Mass; at the church steps, buy some fresh flowers from one of the many women surrounding the entrance. Otherwise, explore the stalls of hand-embroidered tapestries, handmade dolls, and hand-woven baskets, then head to the interior of the market to people watch: Guatemalans come from all over the region to buy produce, tools, and traditional shoes and clothing here. For lunch, head to the tent with long picnic tables and ask the young women cooking for a serving of fried chicken from the gigantic, bubbling pans and tortillas fresh from the griddle. Once you get back to the lake from Chichi, as locals affectionately call it, ride a lancha (boat taxi) to San Pedro. From the dock, you can either take a ten-minute walk or hop on a tuk-tuk to nearby San Juan, where several art and food cooperatives are located. At Cooperativa La Voz Que Clama En El Desierto (Calle 1-44, San Juan, Guatemala, 502-5980-6370) coffee farm, tour the organic co-op factory and roasting facility, walk past the coffee plants, and taste the delicious fresh-brewed product. Thus energized, visit the women's weaving co-ops that dot the town, like Artesanos de San Juan, to chat with the artisans and shop for hand-woven textiles made with plant-based dyes like bags, scarves, place mats, and hammocks. Finish your day with a relaxing dinner at Chez Alex, the best of Atitlán's few upscale restaurants. Dig into the beef tenderloin with capers ($8.75) or the trout stuffed with Serrano ham and almonds ($14.85), and end your day in laid-back-but-luxe, Lago Atitlán style: relaxing on the patio, with a glass of Baron Philippe de Rothschild Cabernet Sauvignon ($38 for a bottle).
6. Links
Find comprehensive Atitlán info at Atitlan.com, which has been sharing information on hotels, tours, and activities since 1998.
Stay current on all things Atitlán—news, restaurants, activities, even the weather— at Atitlan Sol, which also links to several local blogs.
Journalist Shay Adams updates his Lake Atitlán Guatemala blog frequently and has a great FAQ page, with lots of information about transportation to, from, and within the area.
If Lake Atitlán is just part of your Guatemalan adventure, check out the official website of the Instituto Guatemalteco de Turismo (INGUAT) (for everything you need to know to plan your trip.