1. Where to Stay
At Cibolo Creek Ranch (from $450, including meals), you'll sleep in a restored fort, shoot guns or ride horses, and eat gourmet in the dining room. Get out of the galleries and go outside for a scenic hike or drive.
The Thunderbird Hotel (from $115) adapts to the desert with poured-concrete floors and minimalist furniture. If Internet access is a must, book here. Get a room on the second floor, or traffic in the gravel parking lot will keep you up all night.
The suites at the Hotel Paisano (from $99) have full kitchens, making it great for families. Good enough, too, for the cast of Giant, who stayed here during filming.The Riata Inn (from $54) is simple, clean, and cheap. Get a room facing the desert.
2. Where to Eat
The home of Ramona the Burrito Lady doubles as Marfa Burrito (Route 67 on the way to Chinati). She'll sell you whatever she's cooking for breakfast for less than $3.
You'll pay just a dollar to drink roasted-on-site coffee at the Brown Recluse.
On Friday nights, Borundas (113 S Russell St.; 432-729-8163) serves enchiladas made the right way — with two eggs on top. When you're done, wander across the street to Ray's bar (née Joe's), where you can shoot pool with Chinati interns while swilling Shiner beer.
Maiyas offers food that's more big city than Big Bend (arugula, goat cheese, prosciutto).
Pizza Foundation's slices rival New York in thinness, but what you really want are the big, fresh, cheap salads.




3. What to Do
A surfeit of galleries gives Marfa its reputation as an artistic oasis. Donald Judd's ultra-minimalist furniture and sculptures are the highlight of the Chinati Foundation, home to the largest installation of contemporary art in the world. Visit the Judd Foundation, the artist's work and living spaces. Inde/Jacobs shows fine art and photography by many Chinati artists. Ballroom Marfa is a converted 1927 dance hall that hosts two modern-art exhibits a year; through February, you can see film posters painted by Peter Doig. There's more modern at 2d Marfa, which shows paintings, drawings, sculpture, and installations by eleven American artists, including Gretchen Berggren and James Westwater. Galleri Urbane has four galleries, now featuring the photography of Michael Berman and encaustic paintings by Jason Willaford, among others. HWY 90 Gallery has outdoor sculptures by Mel Lyons, and Andy Warhol's Last Supper is currently on display at the Ayn Foundation gallery in the Brite Building (107-109 N. Highland Ave.; 432-729-3315). After all that, drink S.O.B. sangria at the new Luz de Estrella Winery, Marfa's first. Try to get there for sunset.
4. Insider's Tip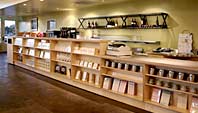 Cingular is the only cell provider in the area, so you may have to buy a phone card. The Marfa Book Company carries the New York Times; get your fix with coffee or a glass of wine. Among the static, pick up local talk and music from Marfa's public radio station, 93.5 FM KRTS.




5. An Oddball Day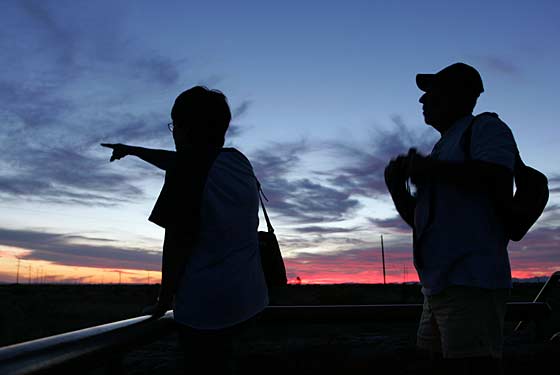 Are the legendary, unexplained nocturnal Marfa Lights aliens? See them for yourself — they're visible most nights, though locals say they're brighter after it rains. Take Highway 67 east out of Marfa and look for signs directing you to the official observing area.
6. Links
Find out who's showing and what's happening at Marfa.org, a blog about all things Marfa.
Look at Allison V. Smith's photo essay on Marfa in Blueeyes Magazine.