1. Where to Stay
Retire from the medina's hectic streets to the calm of year-old Dar Fakir (from $165), a traditional riad with seven rooms and suites decorated in elegant Berber style: dark wood furniture, traditional tiled floors, and embroidered white cotton linens. Enjoy a traditional breakfast of fried eggs with lamb served on a terrace surrounded by olive trees before walking three minutes to explore Marrakech's bustling main square, Djemaa el Fna.
Hit the roof of the newly opened Delano Marrakech (from $325, including breakfast), where jet-setting expats go for bites of Japanese barbecue at Namazake and views of the Atlas Mountains and the Agdal Gardens from Sky Lounge. The best of the 71 rooms have terraces overlooking one of the hotel's three pools, but all feature king-size beds, silk drapes, plum-colored velvet furnishings, and traditional, dim Moroccan lighting.
Sleep in a luxurious former private home at La Villa des Orangers (from $465, including transportation to and from the airport, breakfast, light lunches, and non-alcoholic drinks), where 27 rooms set around three internal courtyards have Moorish touches like carved stucco arches and cream-colored terra cotta walls. Treat yourself to a massage ($41 for 30 minutes) at the in-house spa, or spend a lazy afternoon at the rooftop's pool, garden, and sunrooms.
2. Where to Eat
Have a light lunch on the sunny terrace at Kaowa Café (34 Rue Yves Saint Laurent, 212 5 24 33 00 72), located inside the concept store 33 rue Majorelle, which stocks dozens of Moroccan designers. Here you'll find one of the city's only salad bars, in addition to date, banana, and almond milk smoothies ($4); daily tagines ($8); and mini-briouats (Moroccan dumplings) stuffed with chicken, spinach, cheese, or even chocolate ($10).
Sip a post-shopping Casablanca ale ($7) on the top floor of Le Salama, one of the closest lounges to Djemaa el Fna, before ordering traditional dishes like pigeon pastilla ($15), and caramelized lamb shank with tomato and pear ($24.50) on the terrace. Complementing the dim lighting are belly dancers, who arrive around 9:30 p.m. on any given night to offer private dances after diners have finished their pastries and tea.
Dine in an Art Deco setting with live music at L'Avenue, where fashion-conscious locals and expats fill leather club chairs and banquettes with silk pillows for romantic candlelit meals. The menu offers a wide variety of French fusion dishes, but the seafood is particularly impressive; try the salmon tartare ($20) and seafood pastilla ($15).
3. What to Do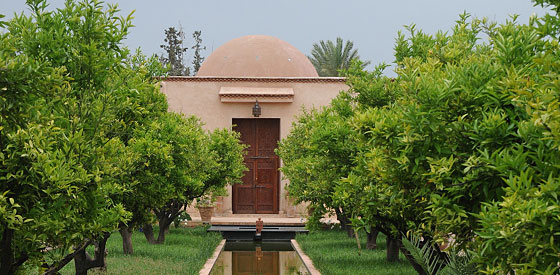 Experience the best aspects of the city's most opulent hotel, La Mamounia, without spending $755 a night. Bypass the tourists who come to gawk at the sprawling gardens here with a Fitness Day Pass ($162), which affords you access to two immaculate red clay tennis courts; a fully equipped "glass cube" gym; an hour with a coach for pilates, spinning, or tennis; an hour-long massage; and a Mediterranean buffet lunch served poolside. Afterward, grab a lounge chair and have dessert from one of the gelato carts that are wheeled around the property.
Get an insider's look at the Musée de la Palmeraie from founder Abderrazzak Benchaâbane, a botanist, garden designer, and photographer who previously oversaw Yves Saint Laurent'sJardin Majorelle for a decade. Book a morning-long private tour ($116 per person for a four-person group) of the museum's contemporary art collection and impressive gardens, followed by tea with Benchaâbane. The package also includes a chauffeured vehicle and entrance to Majorelle and the Art of Living Museum.
Head to the souk in Djemaa el Fna and get ready to haggle over pricing on everything from spices to Moroccan slippers. Everything is negotiable, but expect to pay $10–$40 for leather slippers, $40–$90 for bags, and $40–$130 for kaftans, depending on quality. You can save time and effort by hiring a guide at your hotel (around $60) or at the market (around $20) if you don't mind being taken to stalls where the guide is getting kickbacks, but either way, start your shopping just after lunch in order to get the best deals.
4. Insider's Tip
Marrakech's hammams are famous, but rough, scratchy mits and cold water hurled from metal cups can leave you feeling waterlogged and miserable. For a more refined take on the traditional treatment, book an hour-long version ($93) at the Pearl Spa at the Delano, where warm water is applied with even pressure and black soap (made with olive kernels and black paste) is lathered and gently scrubbed away with a goat-hair mitt to remove dead skin before you're massaged with a moisturizer of honey, rose, and clay.
5. Oddball Day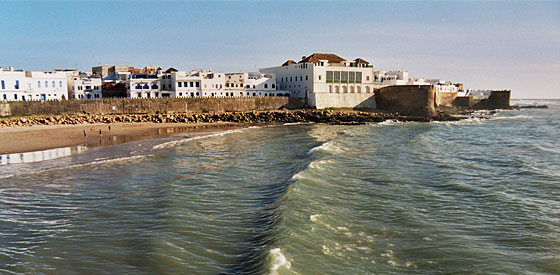 Escape to the laid-back beach town of Essaouira on Morocco's Atlantic coast, which attracted the likes of Jimi Hendrix and Frank Zappa in its hippie heyday. First, fuel up on fresh apricot danishes and almond croissants ($2–$4) at Chez Paul (Rue Allal Ben Ahmed; 212 5 24 45 84 74). Have your hotel concierge arrange either a taxi (about $70 one way) or a private driver ($75–$100 for the day, plus an additional $20 if you wish to return after 9 p.m.) for the two-and-a-half-hour drive past olive groves and dusty villages. Head straight to the beach, which hosts the annual World Cup of kitesurfing, and rent your own board ($26 per hour; three-hour lesson for $100) from Yousurf Essaouria. Have lunch on the beach at Le Chalet de la Plage (Bd. Mohammed V; 05 24 47 59 72), where the fresh seafood selection includes grilled sardines ($8) and Provencal-style squid ($14). Afterward, you can drive ten minutes away to ride camels on the beach ($17.50 for an hour) at Ranch de Diabet or stay put to check out the Sidi Mohammed Ben Abdallah Museum (Rue Laâlouj; 212 (0) 44 47 23 00; $1 admission), a former mansion that showcases jewelry, carpets, and other local crafts. Then pick up some gifts at the relatively hassle-free souk, where you can find gorgeous wooden boxes inlaid with walnut, citrus wood, slivers of camel bone, and metalwork in geometric designs for ($8–$25). Haul your purchases to rooftop bar Taros after it opens at 7.30 p.m. Grab a seat, order grilled calamari ($14) and settle in with the local surfers for live music featuring traditional instruments like bass drums and castanets before making the trip back to Marrakech.
6. Links
Made in Marrakech is the most thorough online resource for finding shopping, spas, and restaurants.
Marrakesh by Design author Maryam Montague blogs about jewelry, restaurants, and more at My Marrakesh.
Best Restaurants Maroc is as simple to use as OpenTable for booking dinner reservations.
Find local news written for English-speaking readers at Yacout.info.