1. Where to Stay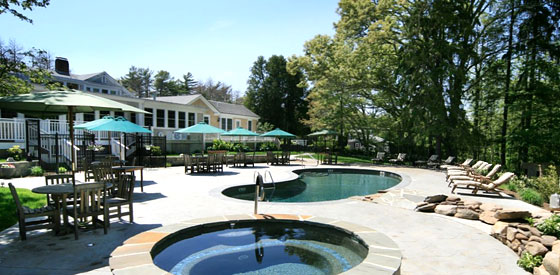 You won't find four-poster beds, floral wallpaper, or a doily on the toilet at the just-made-over Harbor View Hotel & Resort (from $350) in Edgartown. Though still wrapped in a white picket fence, the largest hotel on the island has officially gone modern: Its 900-square-foot suites are dressed up with black walnut floors, red cedar outdoor showers, and private gardens. Book suite 61 in the Captain Rowley cottage—it has a spacious stone patio—and lie out with some trashy beach reading.
The family-packed Winnetu Oceanside Resort (from $230) near Edgartown is a 250-yard stroll from South Beach, one of the loveliest strips of sand on the island. The resort's rooms are freshly renovated and unfussy and loaded with domestic accoutrements like toasters, coffee-makers, and microwaves.
Partners Scott Jones and Kell Hicklin bought Lambert's Cove Inn & Restaurant (from $220) in West Tisbury in January 2005 and immediately did away with the mounted geese and powder-blue décor. Now there are pale gold walls, ivory damask bedding, and plush dressing gowns, along with a heated, saltwater swimming pool and complimentary chairs, umbrellas, and towels for private Lambert's beach.
2. Where to Eat
Brasserie–style Détente , in Edgartown, serves locally raised organic chicken and island-grown veggies in a golden-hued dining room dotted with black-and-white photos of European wineries. If you can't snag a reservation (this has been one of the island's most popular restaurants since opening in 2005), go before 7:30 and grab a spot at the seven-seat bar.
Owned by James Taylor's brother Hugh and his wife Jeanne, the Outermost Inn unsurprisingly attracts a celebrity crowd: Bill Clinton, Carly Simon, Dan Aykroyd, and of course, brother James. But despite the high-profile clientele, the vibe remains low-key and casual, thanks to the meadowy surroundings, the views of the sound, and cooking that makes use of locally grown squash blossoms and arugula, herbs from the Taylors' own garden, and just-caught striped bass.
Book at least a month ahead in the summer to secure a table at the perennially packed Beach Plum in the fishing village of Menemsha. Though the décor's a bit Pottery Barn, the ocean views and lenient BYOB policy are hard to knock. Bring a bottle of Chenin Blanc and pair it with the pan-seared halibut, served in a shallow bowl with tomato confit and basmati rice.
Island newcomer Mark Goldberg, formerly of Boston's Mistral restaurant, mans the kitchen at Lure, the Winnetu resort's nautically themed restaurant, which dishes out sublime Katama Bay oysters and butter-poached local lobster. Parents should request space in the family dining room, where there's a kid-height buffet, beanbag chairs, and movies in the corner.
3. What to Do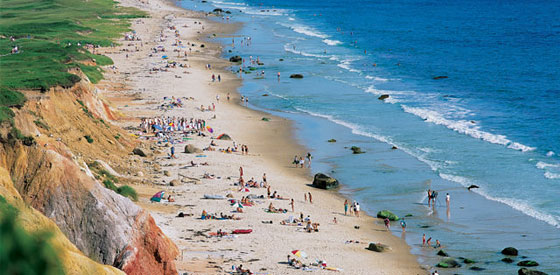 Pastel sailing paintings and wicker baskets are still being hawked like crazy in the Vineyard, but there's been a big push to modernize the art and shopping scenes in recent years, especially in Oak Bluffs, where plans are under way to restore a church to house new galleries and live-work artists' lofts. In the so-called SoHa (for South of the Harbor) district, the new Red Mannequin boutique (93 Dukes County Ave.; 508-693-2858) is stocked with French designer duds for kids and bright bead necklaces. Next door at Pik-Nik (99 Dukes County Ave.; 508-693-1366), you can browse vintage jewelry and art, and just a few doors down, the Dragonfly Gallery features works by locals like Renee Balter, known for her striking monoprint illustrations of island landmarks. The Alison Shaw Gallery is a great spot to pick through coffee-table books and fine-art prints, while the new hastings in the alley displays Vineyard stalwarts like Ron Hall, who shoots hauntingly vibrant landscape photos, and Rick Hoffman, who creates thickly layered abstract paintings.
Of course, it's never all about shopping, not when there are such stunning beaches around. Head to the public strand at Aquinnah, off Moshup Trail, before the afternoon crowds arrive. After a few hours playing in Aquinnah's clean, calm surf, dust the sand off with a hike along the mile-long base of Gay Head Cliffs, the island's much-photographed, brilliantly colored formations, which lead directly up to picturesque Aquinnah Lighthouse. Skip the daytime tour and return on weekend nights, when the lighthouse stays open late for viewings of seriously beautiful sunsets.
4. Insider's Tip
Martha's Vineyard is admittedly packed with tourists in the summer, but there are at least two places where you won't see any of them. Che's Lounge (38 Main St.; 508-693-8555), hidden in an alley off Main Street in Vineyard Haven, is a locals-only spot, though that doesn't mean visitors can't stop in for nighttime poetry slams and salsa-dancing sessions. And on Friday evenings from 4:30 to 7:30 p.m., Vineyarders gather at Grace Episcopal Church (Woodlawn Ave. at William St.; 508-693-0332) in Vineyard Haven, to chow down on delicious lobster rolls, listen to live bands, and swap fishing stories. A roll, chips, and drink, served in the church's parish hall, will set you back $13.
5. An Oddball Day
The island has dozens of trails to explore, but the local favorite is Great Rock Bight, off North Road, where hikers scamper up into heavily wooded hills for stunning views of the Aquinnah Lighthouse and the Elizabeth Islands. Go in the late afternoon and pack a bottle of wine and snacks. There are few signs or markings, but it's popular enough that you're guaranteed to bump into an islander who can steer you toward the stairs that lead down to a remote, sandy cove. After your hike, slip into a lightweight cotton robe at the Mansion House Inn & Spa at Vineyard Haven. The Moshup Mud Wrap uses chunks of the Aquinnah cliffs mined through a "hunting-and-gathering" permit from the local Wampanoag Indian tribe. Wind down with some of the spa's licorice root and peppermint tea, or indulge at the inn's Zephrus restaurant with the "chocoholics platter" of chocolate strawberries and cake.
6. Related Links
The Martha's Vineyard Times is filled with news about boating slips, fishing trips, and tales of overboard yachtsmen.
Martha's Vineyard Online offers up good tips for visitors and virtual tours of places to stay.
Listen to the sounds of the island, as captured by MVYRadio.