1. Where to Stay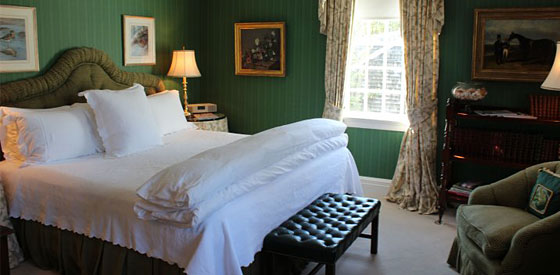 Surround yourself with Edwardian opulence at Edgartown's Charlotte Inn (from $325), where rich interiors feature carefully arranged displays of antique medicine boxes, porcelain tea sets and nineteenth-century oil paintings. A few modern touches—Bulgari toiletries, Bose stereo systems, and a well-chosen spread of Assouline art books and up-to-date issues of Vogue—ensure that rooms don't feel too antiquated, while the no-cell-phone policy enforced in the hotel's public spaces adds to its timeless charm.
Head a mile through the woods to reach the secluded Lambert's Cove Inn (from $195), which sits on a seven-and-a-half-acre plot on the island's northern tip. Each of the fifteen rooms is named after a town on the eastern coastline, including the medieval-looking Chesapeake, with toile-accented walls, a harlequin-painted chest, and a four-poster bed; and the rustic Savannah, whose original pine floors and matching sleigh bed recall a southern country lodge.
Grab a seat on the sprawling veranda that wraps around the scenic Harbor View Hotel (from $125) surrounded by stately nineteenth-century whaling captains' homes. Its 114 rooms have a modern, beachy feel, and whether you end up in the basic Governor Mayhew building, whose rooms all come with private porches (but don't face the water), the roomier main building, or the deluxe Captains Cottages, many of which offer fireplaces and kitchenettes, you're never more than a minute away from the waterfront.
2. Where to Eat
See and be seen at the upscale American bistro Alchemy (71 Main St., Edgartown; 508-627-9999), whose large windows offer curious passersby a glimpse inside the stylish dining room. Sip a cocktail at the downstairs bar (try the New Orleans–inspired, Peychaud's bitters-infused French Quarter, $13) before heading up to a booth on the quieter second floor for seasonal fare like butternut squash ravioli ($16), and year-round favorites like the tangy Jonah crab salad ($17).
Join islanders who like to warm up by the fire at Newes From America Pub, housed inside one of the Vineyard's oldest buildings (the 1742-constructed Kelley House), and whose walls still contain ballasts from the original settlers' ships. Straightforward pub fare like fish and chips ($14) and bangers and mash ($15) is best enjoyed accompanied by a five-glass sampler rack ($13.50) of the pub's mostly New England ales.
Give the Black Dog a rest and head to the somewhat quirkier Art Cliff Diner (39 Beach Rd., Vineyard Haven; 508-693-1224), Vineyard Haven's version of the traditional roadside diner, complete with retro signs on the walls and frequent coffee refills. The vibe is laid-back but lunch hour can get a little jammed, so your best bet is to show up around 11 a.m. for a leisurely brunch of black bean crepes ($8), blueberry pancakes ($9), or crab cake eggs Benedict ($10.50).
3. What to Do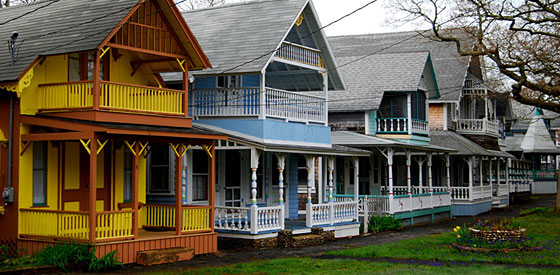 Learn about the island's pre-summer-resort history at the Martha's Vineyard Museum ($6 off-season admission), which features a mix of oral accounts, art, costumes, and whale's tooth carvings. The Vineyard-wide event series Plein Air Artist Sessions (various locations; free), organized by museum director David Nathans, is taking place throughout the month of October and will bring artists, poets, and musicians to points of interest like the Gay Head lighthouse and the museum's new campus to create art.
Explore Oak Bluffs's concealed network of over 300 brightly painted "gingerbread" houses (miniature carpenter Gothic-style two-story structures), which started as a Methodist community in the 1830s and is known today as the Campground Cottages. With fewer crowds to face in the fall, it's a good time to stroll through Trinity Park and peek through the windows to see the tiny living spaces inside.
Process your own turkey at the 200-acre FARM Institute, a fully operational farm and educational facility located just outside Edgartown, whose popular Chore Tours (9–11 a.m.; call ahead to schedule) offer hands-on work mucking stalls, gathering eggs, and building livestock fences. If manual labor isn't your idea of a vacation activity, arrange a guided tour of the grounds or stop into the on-site shop for yarn, wool, meat, eggs, and seasonal vegetables.
You'll find the best variety of shops in Vineyard Haven rather than posh Edgartown or touristy Oak Bluffs. Stop by the iconic Bunch of Grapes Bookstore, which reopened in a new barnlike space this year and where you can find books by local authors. Across the street, the recently expanded Midnight Farm stocks unique finds like Indian-made Matta iridescent scarves ($218) and Relwen cowlneck sweaters for men ($296). Just a few doors down, Claudia Mainstreet offers a carefully edited collection of both classic and contemporary jewelry by local artisans as well as big name designers like David Yurman, Chan Luu, and Alexis Bittar.
4. Insider's Tip
Every full moon in October, November, and December, naturists from the Massachusetts Audubon Society—New England's largest nature conservation group—lead a stroll through Felix Neck Wildlife Sanctuary, a four-mile loop of woodlands, salt marshes, and meadows. The group ends up at Sengekontacket Pond, where they observe the sights and sounds of the unspoiled landscape, occasionally spotting a barn owl or otter on the prowl. Show up for the next one on October 29, but plan on leaving the flashlight at home: the entire walk takes place under the moon's glow.
5. Oddball Day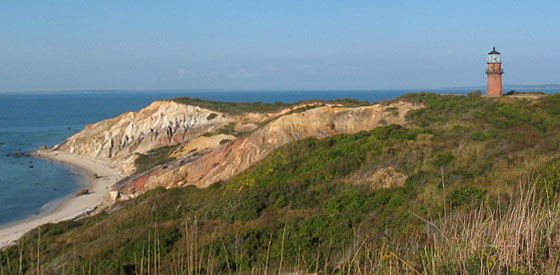 Soak up the Vineyard's natural beauty on a leisurely up-island drive—minus the obnoxious summer crowds and traffic. Start off the day with a brunch of housemade, granola-encrusted French toast ($9) at Black Dog Tavern, the island's best-known restaurant. After you've warmed up by the fireplace, drive fifteen minutes west to Great Rock Bight Preserve, where a short, one-mile hike through dense woods leads down to a dramatic 1,300-foot stretch of beach. Gaze west from here to catch a glimpse of the Aquinnah Cliffs, where a lighthouse was built in 1799 using bricks made from the cliffs' natural clay. Afterwards, make a quick stop at Alley's General Store (299 State Rd., West Tisbury; 508-693-0088)—the area's main hardware store, post office, and convenience store, all rolled into one since 1858—and shop for gag items like a metal-and-rubber-band jaw harp ($2.99) and a cobra oil soap bar ($7.49). Once you've loaded up on souvenirs, have lunch at the vegetarian-friendly Scottish Bakehouse, and be sure to leave room for some of the bakery's decadent flourless chocolate cake, gluten-free brownies, or Scottish shortbread. Next, drop by Allen Farm Sheep & Wool Co. (421 South Rd., Chilmark; 508-645-9064), whose unmanned shop, selling hand-knit sweaters, specialty foods and other gifts, works on the honor system during the off-season, allowing for a relaxed, unhurried shopping experience. Then drive along State Road, taking in the beauty of the surrounding windswept dunes, until you reach Gay Head, the alternate name for Aquinnah Cliffs. Stroll up the path, bypassing the mostly useless souvenir shops, until you reach the landmark's stunning lookout point: from here, watch the sun set over the Atlantic. Finally, circle back to Vineyard Haven, where the newly opened Martha's Vineyard Film Center ($10) screens a mix of international contemporary and classic films like Jules and Jim and the dance documentary First Position. Next door, keep dinner simple with a slice ($2.75) at local favorite Rocco's Pizza (14 Beach Rd., Vineyard Haven; 508-693-1125).
6. Links
To plan your trip out and coordinate ferry times, check the Steamship Authority for up-to-date schedules.
The Martha's Vineyard Chamber of Commerce offers an entire calendar of events, plus general visitor's info and itinerary suggestions.
The Martha's Vineyard Gazette, the island's first newspaper, has been covering all Vineyard goings-on since 1846.
Both the Sheriff's Meadow Foundation and the Martha's Vineyard Land Bank provide in-depth guides to the island's trails, parks and nature preserves.
See if any of the Vineyard Artisans Festivals coincide with your trip.