1. Where to Stay
Spend your first night in Memphis at the Madison (from $175), an infinitely cooler alternative to the overhyped Peabody, with contemporary furniture, bold splashes of color, and a fitness center and lap pool built into an old bank vault.
From Memphis, head south on Route 61, then east on Route 49 (about 135 miles total) to Greenwood, Mississippi, where the Alluvian (from $185) is a welcome anomaly: a sumptuous, $10 million, 50-room boutique hotel in a sleepy little town, once the cotton capital of the world.
Three hours south, in Natchez, Mississippi, check into the Monmouth Plantation (from $195), a Greek-revival-style mansion outfitted with wireless Internet, working fireplaces, and Jacuzzi tubs. A more intimate alternative is the Joseph Newman Stone House (from $110), originally a billiard hall built around 1850.
Take the slower but more scenic Route 61 to New Orleans and stay at the Soniat House (from $245), where each of the 32 rooms and suites are turned out with antique furnishings and art on loan from the New Orleans Museum of Art. Ask for Room 21 if you want soaring ceilings and views of Chartres Street, or Room 32 for a private terrace.
2. Where to Eat
Of all the barbecue joints in Memphis, Rendezvous, just a few blocks from the Madison, has the best dry rub. Tango & Murf's (4707 Austin Peay Hwy.; 901-388-0498), housed in a former convenience store eight miles northeast of downtown, serves up apple-smoked ribs, pulled pork, and brisket with a side of NASCAR (projected prominently on a side wall). And for dinner, don't miss Felicia Suzanne's, where Emeril protégé Felicia Willett serves down-home dishes like Wild Gulf shrimp and Andouille sausage served over a stone-ground grit cake.
Even if you don't stay at the Monmouth Plantation in Natchez, make reservations for one of the formal five-course dinners with a daily changing menu that might include seafood gumbo, fresh Louisiana redfish, or a thick filet. On your way out of town, stop at the Donut Shop (501 John R. Junkin Dr.; 601-442-2317), a drive-through serving Big Poppa's hot tamales—wrapped in corn husks, aluminum foil, and newspaper—by the half-dozen or dozen, and killer glazed doughnuts.
Good news for Nawlins foodies: Most local restaurants have reopened, and new entrants are finally starting to trickle in. Start your day with hot beignets and a café au lait from Café du Monde in the French Quarter. For lunch, it's R&O's (216 Metairie Hammond Hwy.; 504-831-1248) on Lake Pontchartrain—order a plate of crawfish (heads and all) and fried-oyster po'boys. Local chef-celeb John Besh's new brasserie, Lüke, serves up platters of fresh mussels, clams, shrimp, and oysters, and an extensive selection of Belgian, French, and German beers.
3. What to Do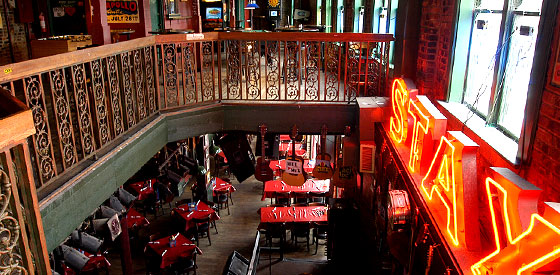 Get up to speed on Memphis's musical past with a self-guided tour at the Rock 'n' Soul Museum, which traces the evolution of rock from the country, gospel, and blues of Mississippi sharecroppers to the heyday of Sun Studio, Stax and Hi Records, and Elvis. Later, mingle with the locals at Rum Boogie, which has live music from James Govan and the Boogie Blues Band five nights a week.
Route 61, also known as the Blues Highway, hugs the Mississippi River and winds through the heart of blues country (the intersection of 61 and 49 in Clarksdale is where Robert Johnson supposedly sold his soul to the devil). Stop in at Ground Zero Blues Club to hear the real deal, then take 49 East to Greenwood, where Viking has its headquarters—and, more important, a cooking school. Sign up for a hands-on lesson in southern cuisine.
Once you make it to New Orleans, skip the sloppiness of Bourbon Street and take a stroll instead through the galleries and antique stores of Chartres and Royal Streets. At Photo Works, Louis Sahuc's black-and-white and color photographs capture the city's architecture, iron work, cemeteries, music, and joie de vivre. Relax your road-weary muscles at the newly reopened spa at the Ritz-Carlton. Try the Café au Lait, a coffee-and-milk exfoliating scrub and detoxifying rubdown—you'll need it after a sweaty night at the Maple Leaf Bar (8316 Oak St.; 504-866-9359), a live music venue in Carrollton where the ReBirth Brass Band plays sweltering sets of funk, jazz, and soul.
4. Insider's Tip
Some of the best grub in the South can be found at small roadside shacks and even gas stations. Rick's Express (3085 Hwy. 1 S.; 662-378-3811) at the Citgo in Greenville, Mississippi, has stellar tamales, and Feliciana Seafood Market and Deli (7555 U.S. Hwy. 61; 225-635-4279) at the Exxon in St. Francisville, Louisiana, sells fresh-boiled seafood and the best fried chicken in town. Service stations off smaller roads are more likely to have quality food than those off major interstates. Look for dilapidated quarters, old-school Coca-Cola posters, and local license plates in the parking lot.
5. An Oddball Day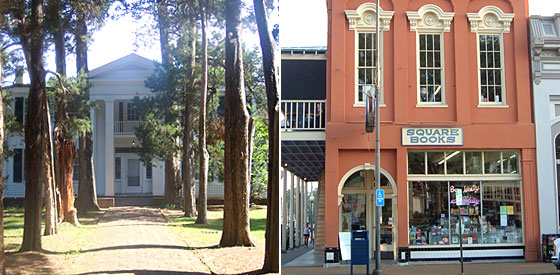 En route to Greenwood, detour to Oxford, Mississippi, home of Ole Miss and—according to Hugh Hefner—the most beautiful women in the world. Take a tour of Rowan Oak, William Faulkner's home from 1930 until his death in 1962, and check out the writer's muddied boots, typewriter, and other personal effects. Stop by Square Books, an independent bookstore on the main square, known for its collection of southern literature. City Grocery (152 Courthouse Sq.; 662-232-8080) is the place to go for new southern cuisine and spotting literary locals, including John Grisham and Barry Hannah. Pack up some coffee (imported from Portland, owner Cynthia Gerlach's hometown) and homemade scones from Bottletree Bakery, (923 Van Buren Ave.; 662-236-5000) for the road.
6. Related Links
Many of Natchez's historic houses are only open during certain times of the year, known as Spring and Fall Pilgrimage. Check out Natchez Pilgrimage Tours for schedules.
Cultural anthropologist John Doughty Jr.'s Junior's Juke Joint exhaustively covers the just-off-the-cotton-field music of the Mississippi Delta.
The weekly papers for Memphis and New Orleans, the Flyer and the Gambit respectively, are the best sources for arts and events listings.
Jane and Michael Stern's Roadfood is an excellent guide to highway dining throughout the South.