1. Where to Stay
Relish the eighteenth- and nineteenth-century luxuries at Millbrook Country House (from $200), where an American Colonial exterior from 1808 meets interior embellishments of eighteenth-century Italy. Request the Barocco room, which features a circa 1740 gold-leaf Venetian bed covered in Frette linens. Owners Giancarlo and Lorraine provide an excellent multicourse breakfast—he's had a lifetime of eating well in Emilia-Romagna, and she was an editor at Gourmet.
Discover the area's history at the Millbrook Inn (from $225), formerly a boys' dormitory for the now-closed Greer School founded in 1906. Not to worry, the building's been completely renovated, and in 2011 debuted eight serene but elegant rooms featuring classic dark-wood furniture and tasteful artwork, like black and white photographs, all with private bathrooms with heated floors. Ask for the Anne room, which has a four-poster queen-size bed and a Jacuzzi.
Practice your sun salutations in an exquisitely restored eighteenth-century barn at Old Stone Farm (from $395), where your stay includes unlimited yoga classes and three organic meals a day. Relax in the full-service spa with a cup of hot cider, take a guided nature walk through some of the farm's 236 acres, or take a ride on one of the farm's 22 horses, which enjoy state-of-the-art facilities. The ten rooms and four-room cottage, all of which have organic mattresses and Frette sheets and robes, have been painstakingly decorated in modern-farm fashion by owner Sherry Kahn, who scours the country for unique art and antiques.
2. Where to Eat
Sample hyper-seasonal and local ingredients at the refined Red Devon Restaurant, where you'll taste why Chef Sara Lukasiewicz was a semifinalist for a James Beard Rising Star award in 2012. Try the seasonal Honeycrisp-apple salad ($11) and the dry-aged Muscovy duck breast ($28) from nearby Northwind Farms. In the market next door, find freshly baked bread, scones, cinnamon rolls, and doughnuts, along with soups, sandwiches, and seasonal salads.
Imagine you're in a bistro in Paris at Café Les Baux as you enjoy Chef Herve Bochard's authentic French favorites—escargots ($10), French onion soup ($7.50), and croque monsieur ($9)—that he brought to Millbrook when he left his native France in 1985. Sip one of the many French wines on offer, or order a bottle of Chardonnay from local wineries Oak Summit or Millbrook Vineyards, which pairs nicely with the mussels ($19) served in a small red Le Creuset Dutch oven.
Warm yourself by the fireplace in the inviting library area at the Bangall Whaling Company, a classic tavern dating back to 1832, featuring exposed-wood beams and a black-and-white checkered floor. The long wooden bar is a great place to watch the game while eating juicy burgers ($11) and truffle fries ($8)—wash them down with Keegan Ale's Mother's Milk Stout (made in nearby Kingston). Or have a seat in the restaurant and enjoy some fancier fare, like macaroni and cheese made with lobster and crab ($20).
3. What to Do
Learn how the superior Crown Maple Syrup is produced at Madava Farms, where you can take a tour of the most technologically advanced sugar house in the world and taste the delicious end result ($10 for the tour and tasting). Founder Robb Turner's commitment to same-day barreling and minimal heating has created a maple syrup that chefs from restaurants like Blue Hill at Stone Barns, Eleven Madison Park, and Chef's Table at Brooklyn Fare can't get enough of. Make sure to explore the 800 acres and have lunch at the Farm Stand Café, which features seasonal produce from their chef's garden, as well as, of course, maple syrup.
Hit the Dutchess County Wine Trail for tastings at three area wineries. Millbrook Vineyards & Winery offers a tour of their facilities and a tasting of six of their wines ($10), including their Tocai Friulano and Cabernet Franc. Taste the critically acclaimed sparkling Seyval Naturel, made in the classic French méthode champenoise, at Clinton Vineyards. They also specialize in fruit wines; their Cassis is the only domestically produced black-currant wine to earn gold medals in international competition (tasting of five wines $10). A stop at boutique winery Oak Summit Vineyard is a must, where you'll get a private tour of the illustrious grounds and an intimate tasting ($35, by appointment only) with owners John and Nancy Bruno in their home. They'll tell you all about the philosophy and process that produce their three impeccable, award-winning wines: a Chardonnay, a Pinot Noir, and a rosé that use only grapes grown on their estate, which have been pruned to discard at least 30 percent of their crop to maintain the intensity and character.
Visit the cows, sheep, and goats at Sprout Creek Farm, a dairy farm committed to education, farming, and community building. Visit their on-site creamery, where they produce more than 30,000 pounds of award-winning cheeses every year. Taste the fruits of their labors in the market—Toussaint, Bogart, and Half Moon are favorites ($8.75 per half-pound)—or go to one of the Sunday brunches, featuring vegetables from their garden ($25 per person, check Facebook for the next one).
4. Insider's Tip
Prepare for the holidays by picking up some fresh meat and poultry straight from the source. Temple Farm sells its grass-fed heritage-breed Devon beef exclusively at Red Devon Market. Thunderhill Farm (5908 RT. 82, Stanfordville, NY; 845-868-1306) sells chicken, pork, beef, and eggs at their farm stand (open daily), and will be selling turkeys for Thanksgiving on November 24. Quattro's Farm has free-range wild turkey (now taking orders for Thanksgiving), geese, ducks, and pheasant, and organic, grass-fed beef, lamb, pork, veal, and venison, raised on the family-run farm with on-site slaughterhouse and store (also sold at the Rhinebeck and Union Square Farmers' Markets).
5. Oddball Day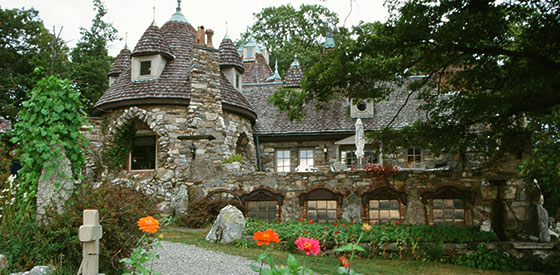 Spend some time off the farm to explore the area's other offerings. Start with breakfast on the main drag (Franklin Avenue) at the classic Millbrook Diner, a throwback to another era—don't expect anything gourmet and you'll be fine. While you're on Franklin Avenue, take advantage of the abundance of antiques in the area: find some treasures at the Millbrook Antiques Mall, which has more than 40 shops, and the beautifully curated Red School House Antiques. For more modern flair, visit home store NL-GB, owned by decorator Selina van der Geest, who decorated Frederic Fekkai's Millbrook home, and the award-winning Hammertown, Joan Osofsky's home-and-lifestyle shop, housed in a barn that espouses her philosophy: "Love where you live." For lunch, grab a sandwich and some housemade rosemary-toasted almonds at local favorite Babette's Kitchen. Next, head to Wing's Castle, a "castle" built over the past 40 years by Peter and Toni Ann Wing using 80 percent reclaimed and recycled materials, many from nearby Poughkeepsie during its "urban renewal" in the eighties. The Wings, one of whom will give you your personalized tour, taught themselves architecture and incorporate many diverse design elements, including Spanish, Gothic, and British influences. The interior of the castle houses their extensive collection of antiques, as well as a bed and breakfast. In the summers, they stage Shakespeare shows on the grounds. For dinner, it's worth the twenty-minute drive to Wingdale to sink your teeth into the dry-rubbed, slow-smoked chicken and brisket at Big W's Roadside Bar-B-Que. Pitmaster Warren (Big W) Norstein began his barbecue career from a truck parked on the side of Route 22 in Pawling in 2003, and moved to this location in 2007. If you're hungry or with a crowd, the combinations are a great deal; the one for one ($25) "really feeds two" and the one for two ($45) "really feeds four," and includes ribs, chicken, your choice of any other meat, and sides. Try the smoky beans made with burnt ends and the sweet-corn pudding. End the night at Millbrook R&B Bar & Grill, where you can catch live music on most Saturday nights.
6. Links
Get a good overview of the town's attractions, including events, restaurants, and shopping, from Millbrook NY Online.
The Dutchess County Tourism site casts a wider net, with listings for spas, outdoor attractions, kid-friendly activities, farms and wineries, arts and entertainment, and museums, as well as restaurants and hotels in all of Dutchess County.
Hudson Valley Magazine covers local issues and events; reviews area restaurants, hotels, and shops; and hands out their Best of Hudson Valley awards every year.
Read up on local issues and events covered by the Millbrook Independent.