1. Where to Stay
Book one of the eleven "woof" cottages designated for canine stays at The Cottages at Boat Basin (from $420 in peak season, pet fee from $60), which come equipped with dog beds, water bowls, and bags, plus a squeaky toy lobster. Try to get End of Rope, a two-bedroom option with a private deck that sits directly on the downtown waterfront. Take advantage of the resort's dog-friendly beach bus, which will drop you off and pick you up anywhere on the island.
Request a room on the first floor for easy access to the dog run at the Brass Lantern (from $175, pet fee of $20/day per animal), a quaint downtown inn with quilted four-poster beds and oriental rugs. Proprietor Michelle C. Langlois provides dog beds, water bowls, and food as well as a welcome packet that highlights the island's pet-friendly restaurants (like nearby Starlight Theatre & Cafe and Dune), walk suggestions around the island, and information on dog walkers and pet shops.
Get easy access to Brant Point Beach from the pet-friendly Cliffside rooms at The Beachside (from $205), a cedar-shingled motel just outside town. The rooms are simple and clean if somewhat lacking in charm, but there's a designated grassy area for dogs to roam and a negligible pet fee of $35 for your entire stay.
2. Where to Eat
Bring a water bowl and ask for extra deli meat for your pooch at Something Natural (50 Cliff Rd., 508-228-0504), an eatery serving heaping sandwiches on homemade bread and chewy, oversize cookies. Full portions will feed two, and the liverwurst and onion—get it on pumpernickel, with plenty of mustard—is a must (half, $4.95; full, $8.50). There's a shaded picnic area for noshing with your pet, and Steps Beach is a short walk across the road.
Make a pit stop at Bartlett's Farm for edible provisions like olives, cheeses, and pâtés before backtracking to Cisco Brewers, a combination brewery, distillery, and vineyard. Three separate outdoor buildings offer tastings and full-size portions of pale ales, artisanal gin, and small-batch Pinots. In the center, there's a biergarten-like courtyard where dogs run free, and you can eat and try Notch, a single malt whiskey made from beer and barrel-aged for eight years ($44 for a 1.5-oz. sample, including glass).
Taste LOLA 41's best seller—the caramelized onion and Wisconsin cheddar topped Black Angus sirloin patty ($14.95)—at spinoff Lola Burger, a Broad Street take-out joint that also serves an excellent traditional lobster roll ($19.95). Find a seat on the Front Street benches or eat at the docks to watch the ferry crowds roll in.
3. What to Do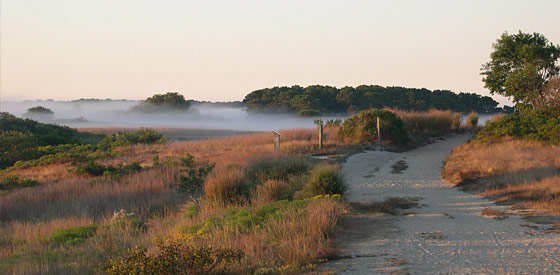 Skip the crowded public beaches (all but two of them allow dogs) and head for less-popular stretches of sand where you can let your dog off the leash. On the North Shore, find gentle surf and minimal foot traffic at Steps Beach. Farther afield, Nobadeer lacks facilities and lifeguards, but its wide coastline is perfect for Frisbee tossing. Both beaches are accessible via The Wave bus system ($1 to $2 per ride, pets travel free).
Meet other dogs and their owners at Tupancy Links, a former golf course turned conservation land, and now the island's unofficial dog park. It's not fenced in, but dogs can run off leash, plus there's a half-mile trail that leads to a bluff overlooking the Nantucket Sound.
Head to Sanford Farm, a 780-acre expanse of rolling hills spotted with scrubby island foliage, for a longer hike. From the trailhead, just off Madaket Road, it's a six-mile round-trip trek to the ocean, but there are shorter options (like the 1.7-mile Northern Loop or 3.1-mile Barn Walk) if your pooch gets tuckered out. Plan ahead and treat your dog for ticks before you go.
Walk from downtown to the island's best dog shop, Geronimo's. It carries everything from the basics (food, poop bags, tick prevention) to island-appropriate, whale-studded leashes ($23.99 to $26.99) and collapsible dog dishes for eating and drinking on the go ($12.99 to $16.99). Geronimo's sister shop, Cold Noses, has a more limited selection but sits right on the wharf.
4. Insider's Tip
Flying with pets usually entails hefty fees, but Cape Air runs regular shuttle services from Boston to Nantucket and charges just $10 per pet each way. Alternately, JetBlue has direct flights from JFK to the island during summer months, but you'll have to shell out an additional $100 each way.
5. Oddball Day
Have a pet-free day by arranging daytime walks with Nantucket Pet Sitter (from $50 per day) before heading off to dog-free Coskata-Coatue Wildlife Refuge ($25 entrance fee), composed of two fingerlike peninsulas jutting off Nantucket's northeastern coast. Rent a two- or four-door jeep from Affordable Rentals ($129.99 per day), whose vehicles have permit stickers that allow you to drive on the beach, to explore the protected area's windswept dunes, red cedars, and grey seals. Fuel up first with sugar-and-cinnamon-coated doughnut muffins ($2) at Provisions (3 Harbor Square, 508-228-3258), where you should also pick up curried-chicken-salad sandwiches ($8.75) or Italian subs ($8.75) for later in the day. (Coskata-Coatue has public restrooms, but not much else in the way of facilities.) Once there, you'll likely have the vast expanse of sand and sea to yourself, aside from the occasional local fishermen. Unlike other parts of the island, you don't need a license to fish in the reserve, so pick up eleven-foot spinning rods from Bill Fisher Tackle (14 New Lane, 508-228-2261) in advance if you're game. First-time fishers can sign up for surfcasting lessons ($75) at the Wauwinet Gatehouse (508-228-6799), which is also the departure point for naturalist-led tours of the preserve ($40) and birding walks ($40). On your way back to town, stop by Topper's, the restaurant at the Wauwinet, for a mint-and-pineapple-spiked Green Pony ($11) on the deck, but end the day at Brotherhood of Thieves, a whaling bar and local hangout with island-inspired pub fare, like lobster corn dogs ($18), and an extensive whiskey selection.
6. Links
For dog-friendly city guides, try Dogfriendly.com or BringFido.com.
Nantucket.net is a comprehensive island guide with information on hotels, restaurants, and beaches.