1. Where to Stay
Make like a cut-rate tycoon at the Chanler at Cliff Walk, which dramatically slashes its room prices in the off-season (rooms from $275; reduced from $795 and up in the summer). Opt for the view-less Briar Rose suite, with its heated tile floors and private outdoor hot tub, and then grab an Adirondack chair on the lawn to watch the sun set over crescent-shaped Easton's Beach.
Experience more discounted opulence at the 81-year-old Hotel Viking (from $309; from $139 after mid-November), which unveiled 66 newly refurbished rooms in April 2007. The over-the-top Breakers suite replicates Gilded Era finery with a claw-foot tub and a marble-topped coffee table complete with a nightcap-ready decanter.
Escape Newport's nautical obsession at the Vanderbilt Residence Club (from $375; from $199 starting November 1). Formerly a YMCA, it's been reincarnated with iPod docking stations, double shower heads, and a mod beige, olive, and burnt-orange palette.
2. Where to Eat
Tapas bars and cocktail lounges are starting to usurp head shops and tattoo parlors on rough-around-the-edges Broadway. The best of the new guard: Spark, a seafood-heavy restaurant with peach-colored walls, starburst-shaped mirrors, a BYOB policy, and a soft spot for Asian spices.
Bypass long lines at onetime sail loft the Black Pearl on Bannister's Wharf, and order a $4.50 cup of the famous clam chowder to go. Then sit on a bench and savor the traditional thin broth, crammed with fresh clams and dill, while watching yachts disgorge Ralph Lauren–clad tourists.
Breakfasts on the white-columned terrace at the Chanler's Spiced Pear cost a fraction of what dinners will set you back, and though it's no steal at $24, the buttery "lobster egg sandwich"—scrambled eggs and melted Vermont white Cheddar cheese on a flaky croissant—is worth the splurge. If you really want to make a day of it, stick around for lunch, when you can pair the Not Just a Burger (named by GQ's Alan Richman as one of the "20 Burgers You Must Eat Before You Die") with 25-cent martinis.
3. What to Do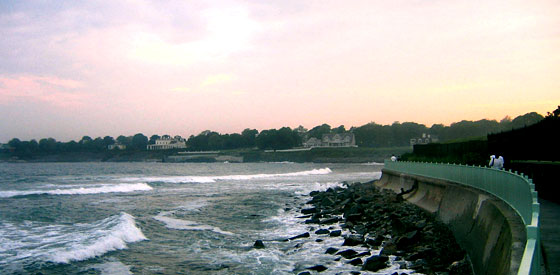 Bellevue Avenue's elaborate oceanfront Victorian homes—now museums—are hidden from the street by wrought-iron gates, with tours costing $11 to $25. But you can gape at them for free while ambling over the Cliff Walk, a 3.5-mile-long public coastal trail that crosses over the mansions' sweeping seaside lawns—all open to the public. Park at Easton's Beach (free after Labor Day) and walk up the hill to the Memorial Boulevard entrance. Then traipse through socialite Doris Duke's Olmsted-designed backyard at Rough Point and scope out the Vanderbilts' 70-room summer "cottage," the Breakers.
Unless you own one of the $26 million yachts anchored in Newport's harbor, shell out $18 per person for a scenic 75-minute tour on the Rum Runner II, which cruises by twelve-meter retired America's Cup boats and Hammersmith Farm, site of John and Jackie Kennedy's wedding reception. Or rent a 22-foot sailboat from Sail Newport ($96 for three hours), the city's public sailing center. If your skills are a little rusty, the center offers private or group sailing lessons.
Back on land, rent bikes from Ten Speed Spokes on Elm Street ($5 per hour; $25 per day) and explore the ten-mile Ocean Drive loop, which winds along seaside cliffs topped with turreted Victorian homes. Stop mid-loop for a picnic at breezy Brenton Point and watch colorful stunt kites do figure eights.
4. Insider's Tip
Resist the urge to book one of Newport's overpriced Champagne cruises. Instead, watch the sunset from the open-air roof deck of the Vanderbilt hotel, which serves cocktails to the public despite the widespread perception that it's a private club. Sip your drink while spying nearby widows' walks, and watch sailboats skim under the 400-foot-high Newport Bridge.
5. An Oddball Day
At Norman Bird Sanctuary in Middletown, look for red-bellied woodpeckers and great horned owls as you climb to the top of 70-foot-high Hanging Rock, which yields views of the Sakonnet River to the east and Gardner Pond to the south. To the west, the gothic spires of St. George's School rise above red- and gold-tinged maple, oak, and beech trees. After working up an appetite on the sanctuary's seven miles of trails, stop at 100-acre Sweet Berry Farm on the way back to Newport, where you can dig into a slice of pie made from apples grown on the premises. Wash it down with coffee milk—a sweet Rhode Island specialty—from Tiverton's Arruda Dairy, then select a potential jack-o'-lantern in the farm's pick-your-own-pumpkin patch.
6. Related Links
The Newport County Convention & Visitor's Bureau Website offers "getaway packages" and last-minute hotel specials.
Visit Quahog.org for no-holds-barred restaurant and attraction reviews, Rhode Island trivia, and an oddball sense of humor (an "incarceration countdown" for Survivor veteran Richard Hatch, a Middletown resident).
Newport Online hosts Newport-centric blogs, with useful information about beach parking, rentals, and nightlife.