1. Where to Stay
Snag a sea-view suite at Hotel Continental (from $250), a 112-year-old institution in central Oslo that's home to the famous Viennese-style café-restaurant Theatercaféen. All 155 rooms and suites sport refined touches like hand-painted wallpaper, gilt moldings, and antique furnishings, and the building showcases an art collection of nearly 500 pieces, including twelve original Munch prints.
Check into Grims Grenka (from $230), the city's only design hotel, where décor accents include reindeer-antler lamps and a moss-garden-adorned reception desk. Choose a room based on your color preference—shades of green in "summer rooms," white and blue in "winter rooms"—or splurge on a dramatic red-and-black loft suite with a bathtub that sits on a raised platform.
Walk a few minutes from your room at Thon Hotel Vika Atrium (from $160) to the streets of Aker Brygge, the city's waterfront center for drinking, dining, and shopping. Though the property is ostensibly geared toward business travelers, its guest rooms feature color schemes that feel more playful than professional, and weekend rates are relative bargains.
2. Where to Eat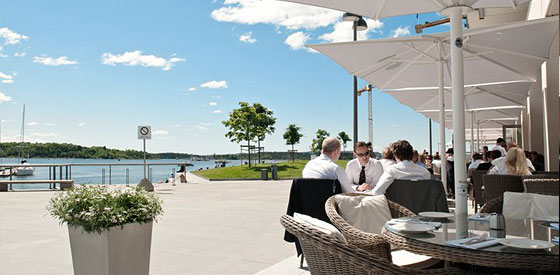 Enjoy style with your supper at Bølgen & Moi Tjuvholmen, a minimalist eatery designed by the same firm behind the city's striking opera house. Though it was one of the first restaurants to open following the first wave of the waterfront revival in 2009, it still draws a loyal following with comforting brasserie-type fare like duck confit with a salad of glazed pears and chèvre ($30), and fried skate with glazed onions, Gremolata sauce, and artichoke ($50).
Sample modern Nordic fare at celebrity chef Bjørn Tore Furset's Tjuvholmen Sjømagasin, a swanky three-floor seafood restaurant that attracts a well-heeled crowd with its haute takes on locally sourced king crab ($38) and grilled cod from Møre ($52). Make a daytime reservation to take advantage of the more wallet-friendly three-course lunch menu ($58).
Dine on Limousin veal at The Edge, Oslo's first steakhouse to specialize in the prized meat from France. Choose a cut and size of meat (from $61), served with a sauce of your choice and potatoes, before moving on to Roquefort with fig balsamico and melba toast for dessert ($21). The waterfront restaurant is quite popular for business lunches, so plan an evening visit for a quieter experience.
3. What to Do
Scale the sloping marble ramps of Oslo Opera House, a stunning structure that sparked the waterfront boom when it opened four years ago in the Bjørvika area. Operas, concerts, or ballets can be seen almost every night of the week ($9–$148), but many visitors come for a view from the rooftop overlooking the fjord. For a peek inside the main auditorium and its impressive seven-ton chandelier, book a 50-minute guided tour in English ($18; Saturdays at 2 p.m., Sundays at 1 p.m.).
Catch the contemporary art collection—and the newest architectural addition to the Tjuvholmen area—at the Astrup Fearnley Museum of Modern Art ($11), scheduled to reopen this year in a swooping building designed by Renzo Piano. Since 1993, the privately owned museum has mounted international exhibitions that often overshadow those of the public Museum of Contemporary Art, and its permanent collection is among northern Europe's finest, including works by Andy Warhol, Jeff Koons, Matthew Barney, Cindy Sherman, and Bruce Nauman.
Survey the work of Norway's master painter at the Munch Museum ($17), where the collection includes 1160 paintings, 4500 drawings, and 18,000 prints. Currently on display are Munch's star works such as The Scream and Madonna, as well as "The Modern Eye," a traveling exhibition dedicated to his late works and their relation to the contemporary era.
4. Insider's Tip
One of the best things to do in Oslo is explore the islands that dot the fjord, but boat cruises are pricey and packed with tourists. To do it on your own for less, head to the Vippetangen area and catch the ferries run by Oslo-Fergene. Tickets are $5 per ride in advance or $7 when purchased onboard, though it's wiser to spend $13 on a 24-hour pass that allows you to hop on and off as you please.
5. Oddball Day
Get out of the city center for a day while biking and boning up on Norwegian history. Start off with a traditional bun with goat cheese and jam ($6.50) at Baker Hansen opposite the National Theatre before picking up an Oslo City Bike near City Hall. Purchase a day card ($7) for the bike (be sure to bring your own lock) and the Oslo Pass for museum access ($18 for 24 hours) at the VisitOSLO office nearby. Once you're ready, head out of the city along the fjord toward the museum-packed peninsula of Bygdøy, passing through the Royal Estate, the official summer residence of the King of Norway. From here, bike west to Paradisbukta, a beach where you'll find a circular memorial in honor of the 2004 tsunami victims. If it's warm, bike farther west to Huk Beach, where city dwellers go to shed all of their clothes and take a swim. Afterward, stop for a bite inside a former post office at Café Hemma Hos before making your way to the National Museum of Cultural History. Oslo City bikes have to be switched after three hours, so stop by the stall first and then explore this open-air museum comprised of more than 150 buildings depicting 500 years of Norwegian life. Hop back on your bike and ride over to the Viking Ship Museum, where you'll gaze upon vessels and artifacts from the distant past. Afterward, if you're tired, you can catch a ferry back to the City Hall area from Bygdøynes (by the Fram Museum), or just enjoy the leisurely hour-long bike ride back. Return your bike at the location nearest your hotel, take a rest, and then head out in time for sunset drinks on the water at the Mediterranean-influenced Sanguine Brasserie, where you can order up dishes like seafood soup ($23) and braised pork rib with bean cassoulet ($49).
6. Links
Visit Oslo is the official tourism board's site, and it's a surprisingly well-curated guide to the city's offerings, including a section of pre-planned itineraries.
Tap into the city's hip side by perusing the guides on Use-It Oslo, a site geared toward young travelers.
Use Google's translation function to check out Kult, an up-to-the-minute file of cultural happenings.
Rely on Trafikanten for planning travel around the city via metro, train, tram, bus, or boat.