1. Where to Stay
Release the hounds on a guided hunt for ruffed grouse at the Lodge at Glendorn (from $199), a twenties oil-baron property now operating as an elegant estate that's home to sixteen lodges, suites, and rooms stocked with leather-bound books and vintage pewter. After a day outdoors, curl up with some complimentary mulled wine by the Great Room's sandstone fireplace, or head back to your cabin for a Sedona mud wrap ($180).
Wake up to a bull in your front yard at Benezette's Elk Mountain Homestead (from $172 for entire lodge), located on 245 acres of lush meadows that's also home to the Elk Visitor's Center. Owned by the Department of Conservation and Natural Resources, the spacious three-bedroom farmhouse sleeps up to ten people and features a fireplace, full kitchen with wood stove, and an elk-viewing platform.
Strap on your complimentary birding backpack at the handsome sixteen-room Nature Inn at Bald Eagle (from $110), an ecolodge located on a ridge in Bald Eagle State Park. The soon-to-be LEED-certified spot, opened in September 2010, prides itself on green features like harvested rainwater and on-site renewable energy.
2. Where to Eat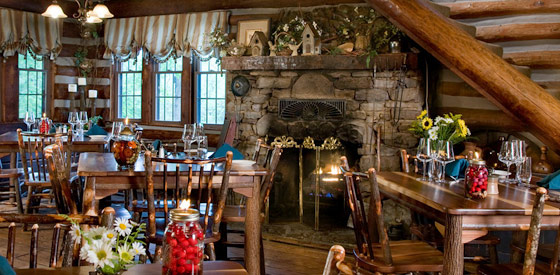 Admire the hand-hewn chestnut walls at the Gateway Lodge, tucked deep in the Cook Forest. Earthy dishes like cornmeal-dusted mountain trout, ($26) and venison cranberry ragout ($39) make up most of the menu, but Länder's wild forest mushroom agnolotti ($21) is a standout option for vegetarians.
Bite into an elk burger ($6) next to hunters at the bar at the Benezette Hotel. Mounted deer and bear heads adorn the walls, and only three menu items exceed $10.
Bag some Korv ($4; a Swedish beef and pork sausage) and homemade pickled herring ($5) at roadside market Jack Bell's Meats in Kane, a former Swedish settlement. The place has been a local fixture for 39 years; ask about the popular grillers, a roulade of beef, cheese, and vegetables.
3. What to Do
Hop on the back of a horse-drawn wagon or sleigh at the new Elk Visitor's Center, which is the best place to spot members of the East Coast's only elk population (the animals roam within an 800-square-mile range). Lounge by a crackling central stone fireplace, or catch a screening of a 22-minute film that provides a sobering look at Pennsylvania's checkered ecological past.
Track elk, bears, bobcats, eagles, and timber rattlesnakes with Hicks Run Outfitters (814-787-4287; hicksrunsoutfitters@yahoo.com), owned by experienced husband-and-wife guides Jeff and Janet Colwell in Driftwood, just outside Benezette. Guided four-hours trips cost $170 for groups up to twelve people.
Witness the rusted beauty of the Sky Walk at Kinzua Bridge State Park, built as a railroad viaduct in 1882 and blown over by a tornado in 2003. After an extensive renovation, the "bridge" will reopen by the spring of 2011 as a new park, but for now you can occupy yourself with the network of hiking trails among the eleven collapsed trestles, where wild turkey, deer, and bald eagles have taken up residence.
4. Insider's Tip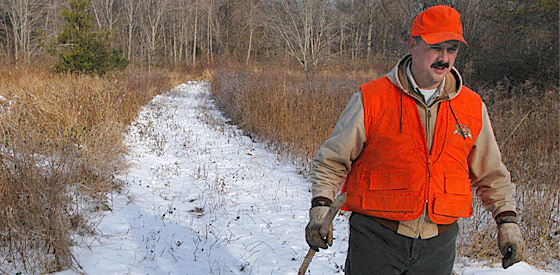 With open seasons for everything from squirrels to black bears, this is serious hunting country. Saturdays and opening day are the most popular hunting days, so you'll need to protect yourself. Leave the black at home and wear bright-orange headgear, and if you see a hunter in your path, make yourself known.
5. Oddball Day
Ditch Mother Nature for a day to learn about the region's oil, coal, and lumber heritage. Share a hot coffee and a plate of "smothered and covered" ham and eggs with local oil-rig employees at Kennedy Street Cafe (11 Kennedy St.; 814-362-6040) in industrial Bradford, which produces paraffin-rich Pennsylvania crude. Head twelve miles southwest by car to the forest-ranger station at the intersection of Routes 321 and 59 to pick up a self-guided audio tour of the adjacent Old Powerhouse Museum (814-362-4613), where you can learn more about today's controversial practice of fracking. Just down the street, the 15,000-square-foot Zippo/Case Factory and Museum houses an array of collectible pinup and World War II–era Zippo lighters. Head 25 miles east to the leafy, gilded-era Smethport mansion district built by turn-of-the-century oil, lumber, and coal tycoons. Highlights include the woodwork at timber magnate C.D. Comes's Queen Anne mansion (608 W. King St.) and the lavish Italianate palace built by State Senator Byron Delano Hamlin. Return to Bradford for an early dinner of local fried smelt ($7) and the signature portobello and filet mignon ($15) at elegant Option House, an early twentieth-century trading center adorned with stone tablet cartouches, egg-and-dart ceiling molding, and a Tudor oak mantle meticulously restored by native restaurateur Sam Sylvester.
6. Links
Log on to Pennsylvania Wilds for information about local festivals, road-trip ideas, and hiking, fishing, and wildlife-watching information.
Local newspaper The Bradford Era is a great source of detailed info on restaurant and winery openings, local travel information, and hunting, wildlife, oil, and lumber news.
Visit Alleghany National Forest is a comprehensive travel website designed for outdoor travelers looking for free downloadable trail maps and guides.
The website for the documentary Gasland contains detailed info about drilling and fracking in Pennsylvania's Marcellus Shale.