1. Where to Stay
Mingle with Mexican trendsetters at Hotel Deseo (from $128), run by the Mexico City–based group that recently opened the Hôtel Americano in New York. With only fifteen minimalist rooms, it manages to avoid that big-resort feel while still attracting a cool crowd after sunset to its central poolside lounge, where you can sip premium Añejo tequilas (from $8) while watching silent movies from the twenties and thirties projected on the walls.
Have breakfast on the beach at El Taj (from $250), a Bali-inspired boutique resort with a prime waterfront location. Throughout the property, you'll find exotic wood carvings and palapas with thatched roofs, while its 57 spacious units feature fully equipped kitchens and multiple bedrooms.
Stroll past mangrove-lined canals and freshwater lagoons at the Banyan Tree Mayakoba (from $450), the first foray into the Americas from the super-luxury Asian hotelier best known for posh spa offerings. Opened just north of town in 2009, the property doesn't abandon the brand's renowned decadence: Guests stay in 132 stand-alone villas with a minimum of 3,000 square feet and private pools and Jacuzzis.
2. Where to Eat
Taste indigenous recipes at Yaxche, where the chef adds contemporary touches to dishes he learned how to make while living in a Mayan village for five years. The restaurant is on the quieter side of Avenida La Quinta, and its outdoor tables are perfect for enjoying tsotobilchay (Mayan-style tamales, $6) and tikin xic (marinated fish grilled in a banana leaf, $16).
Follow the smell of meat over an open flame to Taqueria El Fogon (Calle 6 and Av. 30; no phone), an open-air restaurant where the grill takes up half the space. Locals flock here for the arrachera ($9), a well-seasoned skirt steak and tacos al pastor ($1 each), filled with pork cooked on a spit.
Sample no-frills seafood dishes, like octopus tentacles in chipotle sauce ($7) and frosty micheladas ($3), at the fisherman-owned La Tarraya (Calle 2 Norte at the beach; 984/873 2040), not far from the ferry dock. The divey spot, with a wood hut and plastic chairs right on the beachfront, is a throwback to the days when this was just a tiny fishing village.
3. What to Do
Avoid the crowded tour buses bound for Chichen Itza and Tulum, and instead head to the less-trafficked Mayan city of Cobá for a daylong tour ($119), which includes transportation to and from your hotel. Climb Nohoch Mul, the tallest Mayan structure on the Yucatán Peninsula, visit the town of Tres Reyes to learn about contemporary Mayan culture, and then have a traditional meal that includes handmade tortillas, rice and beans, and chicken spiced with achiote and other native ingredients.
Leave the beaches behind to discover the best diving sites in the Yucatán at the inland cenotes ($157 for two dives, including transportation, equipment, and lunch), sinkholes that double as entrances to underwater cave systems, of which this region has three of the world's largest. Certified divers — you'll need to show your Open Water Certification — should spend at least half a day exploring Chac-Mool and Kukulcan, both of which offer superb displays of light and shadow.
Ride ATVs through dense, narrow jungle paths on a two-hour tour ($60–$70) of the undeveloped coast south of town. Your guides will help you spot troops of spider monkeys and lead you to spectacular dry caves and little-known, completely unexcavated archaeological sites overgrown with vegetation.
4. Insider's Tip
It seems as if every shop on La Quinta Avenida is hawking Cuban cigars at unbelievable prices, but that's because they're all fake. Skip the cruise ship shops and street hawkers and head straight for La Casa del Habano, the only place where you'll actually be able to find a real Montecristo No. 4 ($15 each).
5. Oddball Day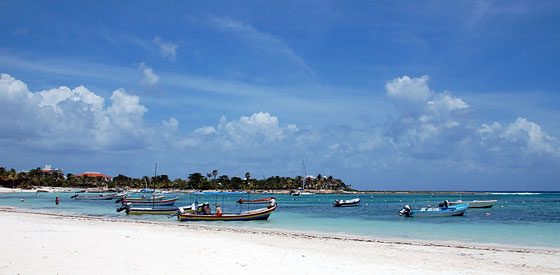 Trade hopping through the jungle for relaxing on the beach. Start out at the Jungle Smoothie Café (La Quinta and Calle 10; no phone), where you can't go wrong with any option made with mango ($4). Next, get ready to purge bodily toxins and clear your mind at Maroma Resort's Kinan Spa during a 90-minute temazcal ritual ($120), a traditional, centuries-old saunalike treatment. Once you cool down, head over to Avenida Benito Juárez, not far from the pier where boats leave for Cozumel, to find half a dozen street carts that line up here daily. Don't miss the shrimp tacos ($1 each), and the torta filled with cochinita pibil, a Mayan preparation of pork inside of a banana leaf ($2). Then pick up a rental car from Avis (from $26 per day) and take a short drive to one of the dozens of secluded beaches south of town, such as Paamul or Akumal. At the latter, you can rent a snorkel and fins ($12) from the Akumal Dive Center to explore the reef just offshore, but you'll find long white stretches of sand no matter where you end up. You might also come across boat owners offering rides out on the water; there are no set prices, so feel free to bargain. After you head back to town, stop by La Sirena (La Quinta and Calle 26; 984/803-3422) to see kitschy Mexican art focusing on skeletons and wrestlers. Have dinner at the trendy Indigo Beach Club, where Sicilian chef Gianpaolo Ferrera serves small plates including red tuna tostadas ($8) or pizzas ($12) from a wood-fired oven while you relax on Asian-inspired beach chairs. From here, you can explore the low-key, no-dress-code nightlife on La Quinta, where options range from rooftop bars to raucous discotecas, the most popular of which stay open until dawn.
6. Links
The region's official tourism site has all the practical information you need, plus info on what to see and do outside of Playa del Carmen.
Playa.info is a blog and forum where you can find everything from the local expat perspective on current news to where you can have a Shamanic wedding ceremony.
Get all the details you need on most major Mayan archeological sites on the Yucatán Peninsula at MayaRuins.com.
984, a digital magazine, has the lowdown on local parties, concerts, and happy hours.