1. Where to Stay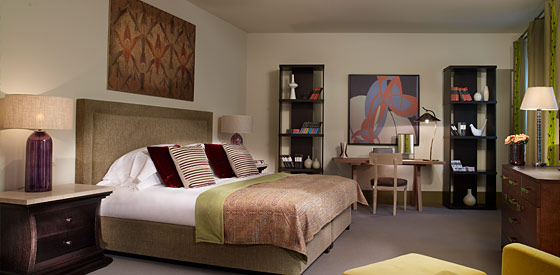 Stroll a quarter of a mile from the Art Noveau–styled ICON Hotel & Lounge (from $120) to the National Museum and Wenceslas Square, Prague's elegant shopping boulevard. Admire the work of Czech fashion photographer Kámen in the hotel's rotating gallery, on display through November.
Lounge on Cubist-inspired furniture at the Augustine (from $270), a luxury hotel that shares its serene grounds with a thirteenth-century Augustinian monastery (several monks still reside within). Sip a locally brewed St. Thomas Beer at the Brewery Bar, a cavelike space in the hotel cellar.
Request room 602 for the best views of Prague Castle from Mosaic House (from $60), an ecofriendly, solar-powered boutique hotel. Belushi's, the ground-floor bar and garden terrace, draws guests and raucous locals until 2 a.m. for it $20 mojito pitchers.
2. Where to Eat
Taste refined interpretations of Czech dishes like bread dumplings and beef goulash at Lokál, a long, narrow space outfitted with dark wood tables and artfully graffitied walls; it's also filled with natural light, a rarity in Prague's pubs. Ingredients are sourced from local butchers, including sausages and meats from U Dolejších.
Snag a windowside table along the tree-lined Mánesova Street at Aromi, an upscale seafood restaurant in Vinohrady, a neighborhood dotted with colorful Neo-Renaissance buildings. Italian chef Riccardo Lucque employs the simple preparations of his native Marche region, shipping in Cinta Senese salumi and San Pietro a Pettine black truffles from Tuscany and Umbria.
Gorge on hearty meat dishes at Luka Lu, where the unexpectedly kitschy cottage décor includes plastic flowers and needlepoint pillows. The restaurant melds Balkan and Mediterranean cuisines, turning out specialties like lamb cooked under a domed grill, served alongside herbs, soft cheeses, and pickled vegetables.
3. What to Do
Consider multimedia artists' take on "The Future of the Future" (through October 25) at DOX Centre for Contemporary Art ($9), a three-level gallery and sculpture terrace that forges collaborations with international artists. Don't miss Brooklyn-born cultural critic Norman Klein's The Imaginary 20th Century, in which projections of whimsical drawings are set to original sound compositions (through October 24), and Gilbert and George: ROADS, a photography exhibit by the provocative duo known for shooting London skinheads (October 7 through January 2).
Savor the last of the season with "Heat" (through September 17), a free exhibit of summer-themed photography, paintings, and installations at Meet Factory. Helmed by famed Czech sculptor David Černý —the man behind the black sculptures of babies seen around the city—this modern-art gallery, cinema, and performance space also hosts international D.J.'s and bands.
Peek into the creative psyche in "Case for Reoccurrence of Child Illness" (September 22 through October 17), a group show at Karlin Studios depicting artists' innermost thoughts. Seventeen artists' studios are housed above the main exhibition space in this repurposed factory building, set in a quiet section of gentrifying Karlin. Check out the existentialist cartoons of Miroslav Barták, a renowned Czech artist who rarely shows in contemporary-art settings.
4. Insider's Tip
Bypass the tepid pilsner often poured in the touristy center of Prague and take a seat at Pivovarský dům or Zlý časy, two pubs stocking brews not found anywhere else in the city. At Pivovarský dům, sample coffee or nettle-flavored brews, as well as Samp, a sparkling beer aged in wine for three months. At the divey Zlý časy, taste rotating Czech microbrews like Lipan Nefiltrovany, a golden pilsner brewed in the South Bohemian village of Dražice, and unfiltered Chotěboř 12° Kvasnicová, a crisp lager produced in the Žatec region west of Prague. Stop at the beer shop next door on your way out to stock up on obscure international bottles.
5. Oddball Day
Ride the train ($5) one hour east of Prague to Kutná Hora, a thirteenth-century silver-mining town now known for its macabre historical attractions. Arrive in the suburb of Sedlec at Kutná Hora hl.n. (the main station), turn left onto Vitězná, then right onto Zamecka until you reach Kostnice Ossuary ($3), a chapel. The remains of nearly 40,000 victims of the fifteenth-century Hussite wars are held here, their bones arranged into bells and a shockingly intricate chandelier. Then catch the five-minute shuttle train ($1.50) to Kutná Hora Město (town station) or continue walking along Vítězná for about one and a half miles. Have lunch at Dačický, a medieval-themed restaurant and beer garden that serves locally brewed Kutná Hora Lager and traditional fare with a twist: wild-boar goulash with gingerbread dumplings is a specialty. Afterward, walk a half-mile to the Alchemy Museum, where a guide will lead you through a basement laboratory strewn with vials while discussing Bohemian mysticism ($2.50). Ask to go upstairs to the small Gothic oratory for scenic views of the town below. Then walk another half-mile west and don a miner's helmet for a one-and-a-half-hour trek through the Hrádek museum's medieval silver mine ($6). The narrow, 250-meter shaft sparkles with quartz, revealing Kutná Hora's wealthy past. Finally, settle in next door for a pint of Gambrinus on Kometa's outdoor patio (Barborská 29, 420 327515515), where you can gorge on traditional Czech dishes and people-watch along scenic Barborská Street.
6. Links
Keep up with concerts, gallery openings, and film premieres on PragueTV.
Prague's Expats site has daily updated apartment-rental listings.
Discover restaurant openings on Czech Please, a food blog led by Expats' dining writer.
Peruse The Prague Post, the city's only English-language newspaper.