1. Where to Stay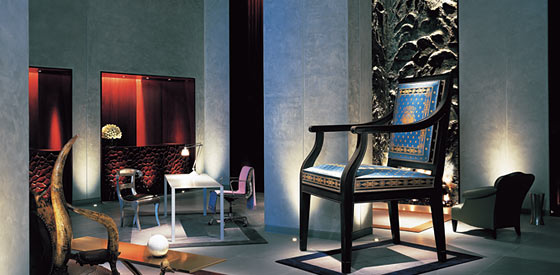 You'll need some nice clothes to live up to the Clift's thirties-era Redwood Room bar and the tragically hip crowd that hangs around there. Compared to the high drama of the Philippe Starck–designed lobby—behold the eighteen-foot bronze fireplace! The antler-sprouting couch! The oversize Louis XIV armchair!—the property's airy, functional rooms (from $245) are mercifully understated.
For better views and a friendlier atmosphere, look to the two-year-old Hotel Vitale (from $279). Since it's across the street from the Ferry Building, you can put your name on the waiting list at the always-mobbed Slanted Door restaurant and still have time for a bath in your room's sunken tub. Request a circular suite on one of the top floors for a better look at the soaring Bay Bridge.
Organic fashion gets its hotel counterpart at the new Orchard Garden Hotel (from $169), where rooms are dressed in leafy-patterned drapes, Egyptian-cotton bedspreads, and sustainable-forested wood. After checking in, take a short walk to the corner of Grant and Sutter Street to the ultrapricey Torso Vintages, where you can gawk at a psychedelic blue Pucci full-length dress, on sale for $850.
2. Where to Eat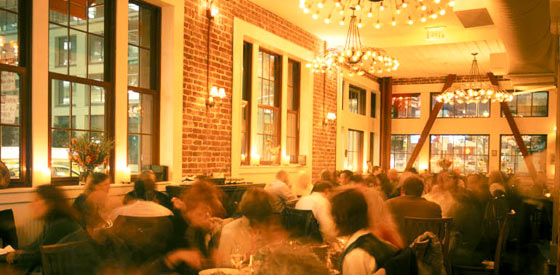 Take your vintagewear to a vintage restaurant: Town Hall, housed in an old electric-company warehouse in SoMa, serves up southern-accented dishes in a brick-walled room crowned by a pair of nineteenth-century oil portraits. Though the restaurant is booked with Internet-bubble survivors and downtown professionals almost every night, walk-ins can vie for a coveted spot at the fourteen-seat communal table.
Join local foodies at one of their favorite new digs: five-month-old Nua Restaurant and Wine Bar, a welcome contrast to the swarm of by-the-numbers Italian joints in North Beach. Take the edge off a day of intense bargain-hunting by posting up at a zebrawood table and picking out the Provençal, Italian, and Spanish flavors in plates like fried piquillo peppers stuffed with brandade.
Keep your eyes peeled for Chez Spencer, an easily missed bistro hidden on a nondescript block of 14th Street. Though it's got a decidedly highbrow menu (lots of delicious foie gras and game meats), the restaurant's surprisingly snobbery-free: It's named after chef–owner Laurent Katgely's son, who undoubtedly requested the installation of a sandbox on the heated, candlelit patio.
To really flaunt your buys, take them to the Embarcadero's see-and-be-seen sushi lounge, Ozumo, the domain of Mike Yakura, one of the city's best young chefs (as ranked by the San Francisco Chronicle). The selection of sakes (stacked on floor-to-ceiling racks) and izakaya dishes can be dizzying. Opt out of the decision-making by ordering the chef's-choice omakase sushi platter (from $75).
3. What to Do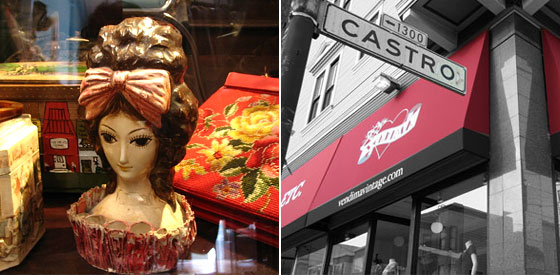 Vintage shops are scattered throughout the city's neighborhoods, but you can hit the best of them in a day. Start in neighborly Noe Valley at Vendima, where Day-Glo-style sixties bikinis ($24) lure shoppers into the ground-floor Victorian. The store's signature fifties lamé "fairy'' lamp isn't for sale, but you can pick up Charles Jourdan slingbacks with gold-sequined heels ($78) or a sixties shocking-pink "death dress" with nine-inch slits up the sides ($78). The glass case in front of the register holds an assortment of Bakelite jewelry (from $35 to $200).
Next, scoot over to the Castro district, where Fashion Exchange (2215 Market St.; 415-861-9999) is a drop zone for knockout drag-queen wear. A mix of cheap and outrageous no-name goods (zebra-print pants and size-10 red stiletto sandals) join top-quality designerwear (including a Cavalli three-toned suede jacket for $500). There's also an impressive assortment of fake Gucci and Prada bags. (The real stuff's on the walls and behind the counter.)
A former Haight Street head shop turned dressy boutique, La Rosa Vintage (1711 Haight St.; 415-668-3744), is one of the best spots in town to pick up a beaded Bob Mackie evening gown ( $795) or a red Valentino day dress ($150). Cris Consignment (2056 Polk St.; 415-474-1191) in Nob Hill, has a more toned-down feel, with standard-issue black sweaters from Banana Republic alongside racks of fabulous couture.
4. Insider's Tip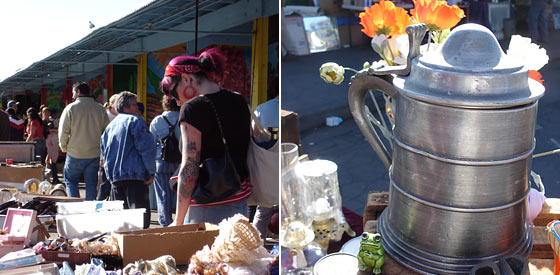 On Sundays before the stores open, head to the Alemany Flea Market (100 Alemany Blvd.; 415-647-2043) in Bernal Heights to sift through a hit-or-miss selection of fashions, ranging from the antique to the kitschy to bottom-of-the-barrel basics. Early-morning hunters have been known to score perfect accessories for their vintage Vespas, a snakeskin purse, or a Camel-cigarettes ashtray in the shape of a pool table. Afterward, stop in for the irresistibly gooey sticky buns at the Liberty Café's cottage bakery.
5. An Oddball Day
When your calves cramp from climbing the city's hills, hop on a Blue and Gold ferry for a half-hour ride ($9) to Tiburon, an upscale bayside enclave, where you can hunt for secondhand Valentino and Chanel at Unique Boutique (1690 Tiburon Blvd.; 415-435-5991), just a few blocks from the landing. Then catch a second ferry ($13.50) to Angel Island, an immigration station turned urban refuge, and watch sea birds and pleasure boats bob on the marina while you nosh on barbecued oysters at the island's new Cove Cantina. Follow a five-mile path around the island's perimeter for panoramas of the Marin headlands, the Golden Gate Bridge, and the San Francisco skyline. Then take the ferries back to the city and duck into the Ferry Building Marketplace for a tasting at Ferry Plaza Wine Merchant and a splurge on a ten-ounce round of triple-cream Mt. Tam cheese at the Cowgirl Creamery.
6. Related Links
See the Left Coast version of New York's Look Book at Sf Street Fashion, which photo-documents streetwear trends in four of San Francisco's most stylish districts.
The Coveted blogs about fashion, design, and the essence of S.F. style.
For a list of sales and fashion happenings round the Bay Area, look to Coquette.
Check SFist, the San Francisco branch of Gothamist, for blogospheric local news coverage.