1. Where to Stay
Walk to the city's best museums in the historic downtown area from the Inn and Spa at Loretto (from $250, room/spa packages from $350), located a block away from Santa Fe Plaza. Renovated three years ago, the property boasts iconic southwestern architecture, 134 well-appointed rooms, and a full-service spa that uses herbs, natural oils, and remedies used by Native American spiritual healers. If you like any of the art on display, ask if you can buy it—most works are created by local artists and are for sale.
Get B&B-style hospitality at the 71-room Inn on the Alameda (from $215), where guests mingle at the daily wine and cheese service held each evening in the sunny sitting room. Book one of the casitas with a private terrace and a fireplace, or grab a bottle of white wine from the bar for less than $30 and sip it in one of the two outdoor hot tubs.
Experience an East-meets-West aesthetic at the Inn of the Five Graces (from $450), a Relais & Châteaux property. Distinctly Santa Fean with its pueblo architecture and open-air space, the 25 rooms and suites here come decorated with Indian and Tibetan antiques like ornate tile mosaics and intricate tapestries. Owners Ira and Sylvia Seret import everything themselves; peruse more of their finds at their nearby store, Seret and Sons.
2. Where to Eat
Have one of the top breakfasts in town at Café Pasqual's, named for San Pasqual, folk saint of kitchens and cooks, where Mexican tiles and murals adorn the festive dining room. The huevos rancheros are traditional but exemplary ($13); also try chef-owner Katharine Kagel's smoked trout hash ($16), a justifiably famous dish among locals.
Be prepared to line up for the city's best southwestern fare at The Shed, a Spanish/Mexican fusion spot that's earned multiple "Best of Santa Fe" awards from the Santa Fe Reporter. Don't be put off by the restaurant's tourist-heavy central location—dishes like carne adovada (marinated slow-cooked pork with red chile; $11) and the blue corn burrito ($9.50 to $11.25) are worth the wait.
Make a reservation in advance for dinner at The Compound, a Santa Fe institution on world-famous Canyon Road, the city's original gallery strip. Once an artists' hangout, the restaurant has shaken off its sixties vibe and traded it for James Beard Award–winning chef Mark Kiffin's contemporary American cuisine, including indulgences like grilled tenderloin served with foie gras hollandaise ($40) and tuna tartare topped with Osetra caviar ($16).
3. What to Do
Skip the traditional (and predictable) Canyon Road galleries and instead make your way to the Railyard District, home to a dozen spots that push the local aesthetic beyond Georgia O'Keeffe. Standouts include Charlotte Jackson Fine Art, specializing in minimalist American and European works, and Box Gallery, which exhibits the work of emerging artists. Visit on a Saturday and you can also stroll through the Santa Fe Farmers' Market at the Market Pavilion, the largest of its kind in the state.
Make a mandatory stop at SITE, a nonprofit art space opened in 1995 and modeled after a European kunsthalle. The place has previously landed big names like Ed Ruscha, Andy Goldsworthy, and Jenny Holzer; new chief curator and director Irene Hofmann is known from her time at the Contemporary Museum in Baltimore for bold, collaborative shows. Next up is "Material Mutters," an exhibition of Pae White's large-scale tapestries, starting June 18.
Take a break from looking at art to make some of your own at Liquid Light Glass, a studio and gallery where you can take beginner-level courses ($150 per hour) and take home whatever you create. If handling molten glass isn't your thing, count on the experts at the Santa Fe Traveler to find the perfect hands-on pottery, painting, cooking, or photography class for you. These former hotel concierges and travel insiders craft bespoke experiences at remarkably reasonable rates (one-day/one-night recommendation and reservation service: $55; two days for $95).
4. Insider's Tip
With rock formations and natural beauty in abundance, it's tempting to conquer the great outdoors as soon as you land. But at 7,000 feet above sea level, you need to start slowly and take steps to adapt. Hit the galleries on your first day, and then, once your lungs have adjusted to the oxygen level, drive to Kasha-Katuwe Tent Rocks National Monument, located 40 miles southwest of the city. The park's cone-shaped rock formations were formed by volcanic eruptions more than 6 million years ago and today offer breathtaking scenery.
5. Oddball Day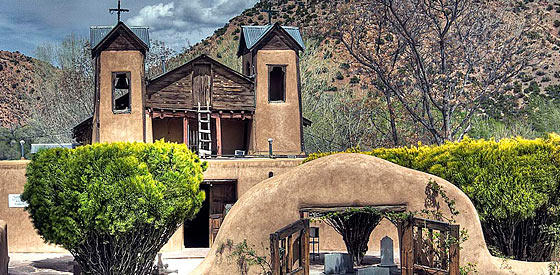 Take a day to renew you mind, body, and spirit. Start off with classic breakfast food at Zia Diner, housed in a onetime coal warehouse, where their version of eggs Benedict comes with green chili corned beef hash ($9.95). Then drive 40 minutes north of the city to seek out spiritual renewal at the Santuario de Chimayó, a small Roman Catholic shrine and National Historic Landmark that attracts 300,000 visitors each year to the site of el pocito, a small pit of soil believed to have curative powers. Stroll through the three-month-old welcome center to see exhibitions of religious and secular art from local and international artists too. Next, head back toward the city for a taste of frontier living as you shoot skeet ($42 per 25-shot round with a four-round minimum) at the Bishop's Lodge. For lunch, hunt down authentic street grub from Santa Fe's food carts, many of which predate the current food-truck craze by years, if not decades. On the downtown plaza, look for Roque's Carnitas (daily from 10 a.m. to 3:30 p.m.), where you can pick up $2 tamales and the namesake dish for just $6. Then soothe your mind and your sore shooting shoulder at 10,000 Waves, a traditional Japanese clothing-optional onsen hidden away in the hills above Santa Fe. The three-hour "Natural" package ($219 per person) starts with 45 minutes in a private hot tub and continues with a yasuragi head and neck treatment, full-body massage, and invigorating salt rub. Wind down under the stars with a pint of Marble Brewery's wildflower wheat ($4), an ale made with hints of New Mexican wildflower honey, and sit on the balcony overlooking the plaza to watch buskers play to the crowds.
6. Links
As the city's official website, SantaFe.com includes the most comprehensive calendar of upcoming major events, plus a thorough directory of hotels, restaurants, galleries, and shops.
For listings with a bit more flair, consult the Santa Fe Reporter, the city's award-winning alt-weekly.
To get a better sense of Santa Fe's true local community, Santa Fe New Mexican offers a solid roundup of local news.
Macaroni Kid Santa Fe publishes a weekly newsletter filled with family-friendly activities, and their website features a comprehensive calendar.