1. Where to Stay
Play on the pétanque courts after enjoying pastries and bread baked in house at the two-year-old La Maison Blanche Hotel (from $275), located in the residential Shelter Island Heights district. Though the building dates back to the 1800s, its eleven guest rooms feel contemporary thanks to beach-inspired décor, 400-thread-count linens, and Côté Bastide bath products. There's also a perfectly nice pool here, but it's better to borrow one of the free bicycles and ride over to nearby Crescent Beach.
Cook your own dinner on the outdoor barbecues at the family-friendly Dering Harbor Inn (from $300; two-night minimum), which offers units ranging from studios to two-bedroom villas, all with private decks or screened-in porches. Located on seven acres overlooking the picturesque harbor, the property also offers a pool, fitness center, tennis courts, and waterfront beach; plus, it's just a five-minute walk to the main village.
Wake up to the sound of crashing waves at Sunset Beach (from $625), André Balazs's stylish haven that draws travelers looking for a little bit of Hamptons-style glitz. Fortunately, the hotel's size—twenty rooms—keeps things relatively calm, and each one features a private balcony overlooking the ocean and Crescent Beach, the best sunset vantage point on the island.
2. Where to Eat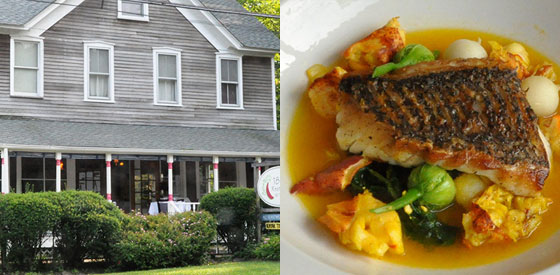 Experience what makes Shelter Island the un-Hamptons at Bob's Fish Market (87 N. Ferry Road; 631-749-0830), where the waitstaff is blunt but helpful, the nautical décor is delightfully campy, and the daily seafood specials are all caught a few miles off the island. Ignore the lackluster bread and butter that begin the meal and order the daily special (market price). If you're cooking for yourself during your stay, be sure to buy your fish at the adjacent market.
Taste the finest ingredients the East End has to offer at two-year-old 18 Bay, located in a charming 1893 farmhouse with wainscoted walls and a large porch. There's a bar area where you can order à la carte, but the reason to come is the four-course, Italian-inspired tasting menu ($55), featuring ingredients from local purveyors like Sylvester Manor and Southold Fish Market, which includes four antipasti, handmade pasta, a choice of entrées, and dessert.
Order freshly harvested, locally raised seafood off the daily raw-bar menu at SALT, a casual marina-front restaurant in Little Neck Harbor, then try the Shelter Island clam chowder ($8) and blackened fish tacos (market price). After dinner you can move next door to the Shipwreck Bar for drinks and live music (Thursday to Sunday), but wine lovers should make a reservation for the tasting room to sample wines from North Fork–based Jamesport Vineyards.
3. What to Do
Take advantage of the island's bike-friendly terrain—there are few cars here and not even a single stoplight—with a rental ($25/day) from Piccozzi's Garage & Bike Shop (Bridge Street; 631-749-0045). Cycle the four-and-a-half-mile length of the island to secluded Shell Beach, a narrow curl of shoreline that juts into Shelter Island Sound and is accessible only by unpaved Oak Tree Lane. In addition to having the beach to yourself, you can enjoy warm water, beautiful wildflowers, small plovers hopping along the water's edge, and views of West Neck Harbor and the South Fork.
Retreat to the southeastern area of the island to explore the Mashomack Nature Preserve, an expanse of more than 2,000 acres that covers nearly a third of the island. Choose from a range of trails, which offer everything from a 30-minute introductory walk to a four-hour hike, and keep an eye out for ospreys and their gigantic nests as you navigate tidal creeks, woodlands, salt marshes, freshwater wetlands, and twelve miles of coastline.
Paddle around the island with Shelter Island Kayak Tours. Take a guided tour ($60 per person), or rent a kayak on your own (from $30) and take on the five-mile-round-trip Coecles Harbor Marine Water Trail. Just follow the buoy trail markers and look out for fiddler crabs, diamondback terrapins, blue herons, and egrets. If you pack a lunch, you can stop for a picnic on Taylor's Island and explore its circa-1900 log cabin.
4. Insider's Tip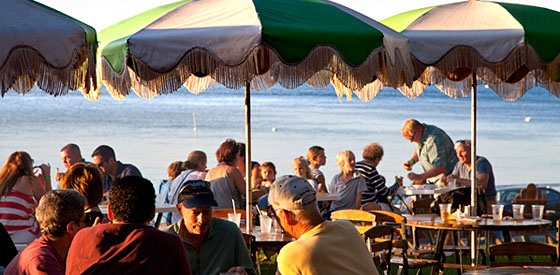 Take part in a Shelter Island tradition on the front lawn of the Pridwin at their Wednesday night barbecues ($35 for adults, $19 for children), where you can chow down on all-you-can-eat items like grilled shrimp, clams, steak, hamburgers, hot dogs, and corn on the cob, while listening to live music and chatting with local islanders. Originally started as a way to give the chefs a night off, nearly 50 years later the weekly sea-view barbecue is a cherished summer ritual.
5. Oddball Day
Take a break from all the physical activity to experience the island at the leisurely pace of a resident. Grab coffee and a breakfast burrito at local favorite Stars Cafe and then drive (you can bring a car over on the ferry) to former seventeenth-century plantation Sylvester Manor (be sure to confirm that they have open hours that day; free admission), which has remained in the Sylvester family for eleven generations. Stroll the well-maintained grounds and explore the original manor house and on-site organic farm that supplies local restaurants. (Check the calendar for events including upcoming performances of Shakespeare's Much Ado About Nothing, the annual Contra Dance, and en plein air painting or banjo building workshops.) Stop by the Manor's farmstand (open daily) to buy picnic supplies including fresh chèvre from Catapano Dairy and a loaf of bread from Blue Duck Bakery. (For more robust picnic fare, stop by Vine Street Café Market for hand-cut potato chips and turkey meatloaf.) Next, bring your lunch and a fishing rod out to Hay Beach by Menhaden Lane, where islanders go to catch bluefish. Afterward, head to secluded Fresh Pond, a freshwater pond at the end of Fresh Pond Road, were locals like to cool off. In the evening, make your way to the Perlman Music Program, a summer camp run by violinist Itzhak Perlman, and catch one of their free Works in Progress concerts or an alumni recital ($20) on Friday and Saturday nights in the summer. Finish up the day by walking down the shore to Sunset Beach Restaurant for a late dinner of French cuisine and a glass of wine under the stars.
6. Links
Get a good overview of the island's history and features from the East Hampton Star's Shelter Island Guide.
If you're traveling with kids, check out Mommy Poppins' Shelter Island Guide.
The Shelter Island Chamber of Commerce lists hotels and restaurants and has a useful island map for download.
Read up on local issues and events covered by the Shelter Island Reporter.