1. Where to Stay
Check into one of the oversize, whitewashed barn rooms at the couple-friendly Farmhouse Inn (from $645), an elegant Russian River Valley property with a deceptively rustic name. The six suites here, constructed in 2009, feature vaulted ceilings, four-poster beds, wool throws made from the neighboring farm's sheep, and private fireplace-equipped patios or decks that come with a gourmet s'mores kit. In the morning, nibble on lemon-poppy-seed scones and oatmeal pancakes in the Michelin-starred restaurant, or have them served to you in the adjacent flower garden.
Look out at a quaint bookstore- and café-lined square from your room at Hotel Healdsburg (from $300), an ideal option if you want to stay in town. The hotel is modern and refined, with 55 rooms outfitted in cheery yellow walls, teak furnishings, and concrete bathroom counters. There's an on-site Charlie Palmer restaurant (he co-owns the property), but it's also just a short stroll to specialty foods and sandwich shop Oakville Grocery, where you can load up on locally made jams, chutneys, and cheeses.
Feel Zen at the Asian-inspired Gaige House (from $275) in Glen Ellen, where the only thing you'll hear is the soft gurgle of a tranquil creek. All 23 rooms, accented with unique art prints and minimalist furnishings, are quite comfortable, but book the 700-square-foot Zen Suites for their black granite soaking tubs and sliding doors that open onto private sitting areas overlooking the garden. You can spring for a hot stone massage in a creek-side cabana ($195 for 80 minutes), or just lounge on a hammock in the shade of an old oak tree.
2. Where to Eat
Drive toward Sonoma's coastline to the fishing village of Bodega Bay to dine at Terrapin Creek Café, a humble-looking, 35-seat neighborhood restaurant that earned its first Michelin star last fall. Husband-and-wife owners Andrew Truong and Liya Lin, who previously did stints at San Francisco's Michael Mina and Ame, do incredibly refined takes on familiar dishes, like Dungeness crab cake with a celery root purée ($16) or a lamb sugo served over pappardelle with squash and kale ($23).
Cleanse your palate at Spoonbar with the New East Side, a refreshing mix of gin, lime juice, mint, yuzu, and cucumber-elderflower foam ($10.50). Named after its hypnotic screen-sculpture of 2,000 espresso spoons that fill with water and then spill, the restaurant is known for its unique ingredient pairings (think eggplant soup with English peas and arugala), though locals tend to stick with the off-menu burger ($15) topped with sweet onion marmalade and fresh horseradish.
Dig into modern Mexican fare at Yucatán-born chef Mateo Granados's eponymous spot, Mateo's Cocina Latina, a casual cantina with exposed brick walls and salvaged wood tables that opened in November 2011 in Healdsburg. Order the jicama and citrus salad, dressed with nothing more than lime juice and aji amarillo chile ($12) and follow it up with suckling-pig-stuffed tamales ($12), which come topped with tomato-habanero sauce and cinnamon-cured red onions.
3. What to Do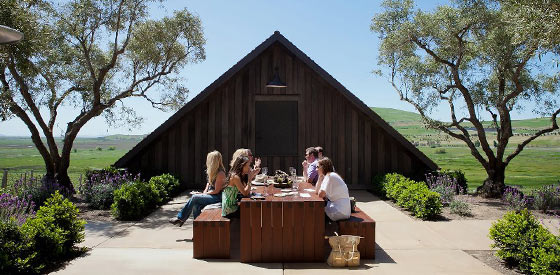 Sip and swim at the two-year-old Francis Ford Coppola Winery in Alexander Valley, which has an on-site pool with changing cabins, bocce ball courts, and an Italian restaurant that serves wood-fired pizzas at communal tables overlooking rows of merlot and Syrah grapes. Of course, there's also plenty of Godfather paraphernalia. Further south, the new winery Ram's Gate is a 21,000-square-foot spot that was designed to look like a modern farmstead. Snag a seat in the glass-walled, open-air pavilion and order a tasting flight of pinot noir or chardonnay.
Visit some of the region's apple orchards, bee farms, olive groves, and goat dairies to experience Sonoma's non-grape bounty. This year, Dry Creek Peach and Produce owner Gayle Sullivan launched half-day sessions for visitors to learn more about pruning, grafting, thinning, and harvesting. At the Redwood Hill Farm, a solar-powered organic creamery in Sebastopol, visitors can pet week-old kids and Nubian goats before sampling kefirs and chèvres, which the Bice family will tell you are much easier to digest than cow milk dairy products. Wherever you plan to go, call ahead to arrange tours, which are generally offered by appointment on weekends during the spring and summer months.
Find foodie heaven at the Shed in Healdsburg (opens this month), which is part-café, part-larder, and part-classroom, with talks and demonstrations on farming and beekeeping in the works. Fifteen years in the making, it's the dream project of local farmers Cindy Daniel and her husband Doug Lipton, and the recycled-steel, greenhouse-like "modern grange" has a wooden mill straight from Austria and kombucha on tap. You'll find a similar operation in Sebastopol, where the Barlow Apple Cannery (opening in April) is being converted into a community hall of sorts where cheese makers, coffee roasters, and fishmongers will sell their goods in a space that also houses restaurants and bocce ball courts.
Walk through architect-commissioned landscapes in the nine-acre Cornerstone Gardens, which opened in 2004 but has since added tasting rooms by local producers Keating and Meadowcroft, as well as design shops like Zipper, which carries everything from birdhouses to photography books. Inspired by an international garden design festival held in the Loire Valley annually, the gardens invite interaction; a recently installed gargantuan concrete-and-fiberglass "pebble" beckons visitors to climb and crawl aboard and peer through holes in the rock to see the greenery below.
4. Insider's Tip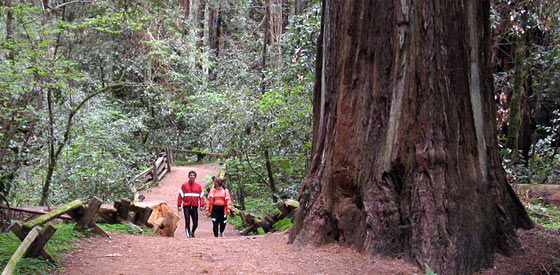 While Sequoia and Kings Canyon National Parks, located in central California, are billed as the place to see redwoods, Sonoma has its fair share of the famed gentle giants, too. At the 805-acre Armstrong Redwoods State Natural Reserve in northwestern Sonoma County, you'll find 1,000-year-old trees shrouded in a misty fog thanks to the 55 inches of rain the park receives every year. For an easy mile-long loop, take the Pioneer Trail to the Armstrong tree, the oldest one in the grove.
5. Oddball Day
Spend a day exploring West County, as the coastal and rugged western end of Sonoma is known to locals. Start in the town of Freestone, which was Sonoma's first historic district and currently has a population of 32. Stop in for coffee and cranberry scones at the beloved Wild Flour Bread Bakery and then make your way past rolling hills and dramatic valley floors to the Japanese-style Osmosis Day Spa Sanctuary. The spa's signature treatment, the cedar enzyme bath ($90 for 90 minutes,) entails soaking in a heady blend of finely ground cedar, rice bran, and plant enzymes from Japan. The ingredients heat naturally as a result of fermentation and detoxify the body, improving circulation, skin, and digestion. From the spa, drive toward Bodega Bay, which was the backdrop for Alfred Hitchcock's The Birds. Along the wharf, Spud Point Crab Company is a lunchtime favorite for crab sandwiches ($10.95). You can also take your lunch to go and head north to Goat Rock Beach, where seals pup from March to August. Complete the loop by driving back inland along Highway 116 toward Lynmar Estate Winery, where the chardonnays and Syrahs are accompanied by Meyer lemon popcorn. Finish the day with dinner at the Glen Ellen Star , a pint-size, 24-seat bistro opened last August by chef Ari Weiswasser and his wife, Erinn Benziger Weiswasser (her family owns the biodynamic and organic Benziger Family Winery). Their California-Mediterranean spin translates to dishes like wood-roasted asparagus with spicy lavash bread ($12). Locals will tell you it takes a lot of beer to make wine; heed their advice and end the evening at the Russian River Brewing Company, which is known for its hoppy ales.
6. Links
The Press Democrat is the daily paper for Napa and Sonoma Counties and does an exceptional job of covering restaurant news, winery openings, and food events.
The county's tourism website offers multiday itineraries, listings of festivals, as well as an interactive map to help you get your bearings.
Oenophiles will enjoy the Sonoma County Vinters' website. The nonprofit organization has 170 local wineries as members who come together to promote and educate visitors about the diverse appellations of the region.
Nonprofit Sonoma County Farm Trails puts out a 68-page guide to the area's 100-plus farms.