1. Where to Stay
Request a balcony room in the Ottoman-era mansion Hotel Montefiore (from $350), which opened two months ago. The dozen rooms have Bauhaus-era furnishings, artwork by local talents like Ohad Matalon and David Adika, and bath products by local olive-oil company Olia. Book several weeks in advance during fall Jewish holidays.
Neve Zedek Hotel (Deganya St., 4; 011-972-54-207-0706; from about $400) also debuted in July, in a more posh part of the White City. A top-floor suite has an outdoor Jacuzzi, but request suite one or two for garden access. Guests receive a discount at the excellent Near Eastern bistro Nana.
Tel Aviv's oldest but still luxurious hotel, the Dan, (from $175) completed renovations last month. All 170 rooms have Wi-Fi, iPod connections, and LCD TVs. By October, the hotel's four restaurants and lounges will be relocated for prime Mediterranean views. Get an ocean vista of your own when you stay in the Sea View Executive Room.
2. Where to Eat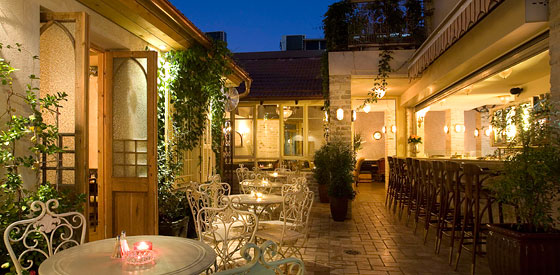 Eat in a glass-walled dining room overlooking the Mediterranean at Herbert Samuel (011-972-3-516-6516). The restaurant, which opened last fall, is ruled by Israeli culinary icon Yonatan Roshfeld. He kick-started Tel Aviv's haute boîte boom a decade ago and now creates modern Med dishes like anchovies spiked with roasted peppers and Jerusalem-artichoke soup with truffle sauce.
While visiting the Suzanne Dalal arts and cultural complex, break for lunch on the stone patio at Dallal. The Euro-Mediterranean spot opened in November and also sells Fresh bread and croissants at a joining French-style café and bakery.
Cordon Bleu–trained chef Meir Adoni is behind the inventive seafood that's making Catit the city's top table. Get seated at lunch—reservations aren't required and you'll spend about $30 less. Or order the warm-weather "Garden" menu, which includes appetizer and dessert or cheese course plus a glass of Champagne for about $50.
3. What to Do
Tel Aviv's White City has the highest concentration (2,000 plus) of Bauhaus masterpieces in the world—many of them pristinely restored since the city became a UNESCO World Heritage site in 2003. To see the best of the bunch, take a two-hour walking tour with Bauhaus Center Tel Aviv, whose expert guides explain the movement's history in English, Hebrew, and German. Afterward, browse films and small furnishings for sale at the center.
Stop into the new Bauhaus Foundation Museum (21 Bialik St.; 011-972-3-620-4664), a small gallery space opened inside a 1934 gem that houses original furnishings and designs by Marcel Breuer, Mies van der Rohe, and Bauhaus founder Walter Gropius. Walk the rest of Bialik Street to see twenty other pristine Bauhaus buildings.
Peruse boutiques in the blooming indie fashion district, the revitalized twenties-era Gan Ha'Hashmal district. Find quality leather purses, clutches, and wallets at Kisim or Mishi, and sexy, well-priced womenswear and home accessories at Delicatessen (4 Barzilai St.; 011-972-3-560-2297) and Sharon Brunsher. Pick up a pair of handmade pumps or sandals at Shani Bar or chunky gold jewelry at Ungar.
4. Insider's Tip
Tel Aviv, with its flat terrain and wide avenues, is great for biking. Rent a bike at O-Fun (197 Ben Yehudah St.; 011-972-3 544-2292) for $18 a day and take the Mediterranean-front promenade, Tayelet, the whole length of the city.
5. Oddball Day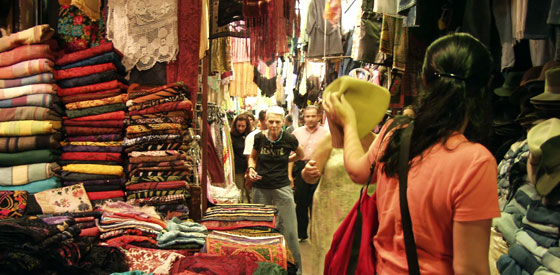 Experience a rare bastion of Jewish-Arab coexistence in the biblical city of Jaffa, only a short cab ride away from Tel Aviv. Arrive before noon at the Arab-owned Abu Hassan Ali Karavan (1 Ha'Dolphin St.; no phone)—there's only one batch of hummus made daily. Shop for antiques and Arab-style clothing at the flea market, just past the clock tower (closed on Saturdays). Have an espresso at Puah (8 Rabbi Yochanan St.; 011-972-3-682-3821), an indoor-outdoor café at the flea market. Take in a play by deaf-blind actors at Na Laga'at Center (Haaliya Hashniya Dock, Jaffa Port; 011-972-3-633-0808), then dine next door at Blackout Restaurant, where blind waiters serve in a dining room with no lights. Finish with malabi, a traditional Arab dessert made from milk pudding with rose water at the Arab-owned ice-cream parlor Victory (Yehuda Margoza at Yefet St.).
6. Links
Information on Tel Aviv's Bauhaus area and related tours can be found at Tel Aviv White City
The Tel Aviv Municipality's tourism site offers a surprisingly comprehensive array of traveler tips ranging from major monuments to gay and lesbian activities.
Local publishing house Crossfields' site offers a particularly easy-to-follow breakdown of what to explore by neighborhood.