1. Where to Stay
Kick back in a cabana on a private beach at Rancho Pescadero (from $200), a fifteen-acre luxury oceanfront resort located a short drive from the center of town. In the morning, wake up to a delivery of tropical fruit and coffee before taking advantage of free yoga sessions and complimentary surfboards for riding the legendary waves. At the spa, opt for the temazcal ritual ($100 for an hour, up to six people), a eucalyptus-laden sauna session followed by an herb-infused wrap.
Get a heavy dose of color at the Hotel California (from $110), where eleven rooms and suites are splashed with vibrant shades of green and gold in addition to artwork from around the world. Though it bears no relation to the Eagles song, the hotel has become a local hub for live music on Friday and Saturday nights, when guests and residents dance around the courtyard fountain with stiff margaritas in hand.
Check into Todos Santos's newest property, Hotel Casa Tota (from $90), located in the town's center. The boutique's simple design philosophy means neutral tones and locally made artwork in its fifteen stylish rooms, all of which surround a palm-tree-lined pool. After a day at the beach, grab a couple of Negra Modelos from the honor bar and head for the rooftop lounge.
2. Where to Eat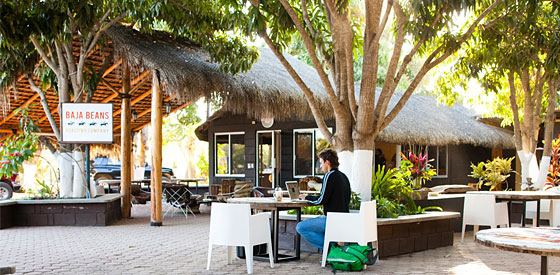 Dine with the local expats at La Casita Tapas & Wine Bar, a bustling spot that artfully showcases the local seafood bounty in small plates ($6 to $12) like chile rellenos stuffed with cured marlin or freshly caught camarones (shrimp) with grilled pineapple. Housed under a large palapa roof, the cozy, candlelit restaurant offers ambiance that's a step above the plastic chairs of many other local spots, and you can sip Baja Peninsula wines at the bar if there's a wait for a table.
Follow up a night of drinking damiana—an herb-infused vodka and Baja's regional spirit—with a late-night meal at Tacos de Cabeza (Colegio Militar; no phone). Though it's little more than a street stand with open-air seating and animal skulls as decoration, you're here for the authentic cow-head tacos (two for about 75 cents) with all the fixings. If you're feeling less adventurous, the more standard carne asada is also on offer.
Stop by Baja Beans on Sunday morning, when the laid-back café hosts an outdoor farmers market (9 a.m. to 2 p.m.). The single-origin roaster offers cups ($2 to $3) made with beans from Sierra Norte alongside freshly baked almond croissants ($2) and other pastries daily, but on Sundays they also offer a frittata brunch made with seasonal ingredients until supplies run out.
3. What to Do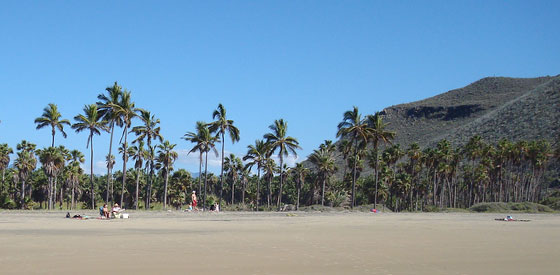 Skip the beaches in town for a serene, secluded experience on the white-sand Playa Las Palmas, where you'll find palm groves, a freshwater lagoon, and no one in sight. You can arrange a ride from your hotel, but it's wiser to pick up a rental car at the airport in San Jose del Cabo and keep it for your entire stay. Either way, head south on Highway 19 and then turn right at marker 57, across from El Jardín Botánico Campo Experimental. From there, drive west for two and a half kilometers until you hit the sea, and keep an eye out for freely roaming horses.
Take part in the region's most amazing natural phenomena by volunteering with Tortugueros Las Playitas, a local nonprofit dedicated to protecting the native leatherback sea turtle population, much of which had to flee Cabo San Lucas as it became overdeveloped. Schedule your volunteer shift in advance of your trip; depending on the time of year, you'll be tasked with monitoring hatcheries, assisting in beach clean-up, or, if you're lucky, watching the baby turtles hatch and make their way to the sea.
Spend an afternoon window shopping on Todos Santos's main drags, Benito Juarez and Colegio Militar, where you'll find a plethora of craft shops and art galleries that attract international collectors. Be sure to spend time in Galería de Todos Santos, a pioneer on the local art scene when it opened in 1994; it displays exclusively the work of Baja artists. Head to El Tecolote Libros (Calle Juarez and Hidalgo; 612-145-0295) if you're looking for English-language reads on the region; in the back of the shop there's an eclectic gift shop filled with authentic Mexican art.
4. Insider's Tip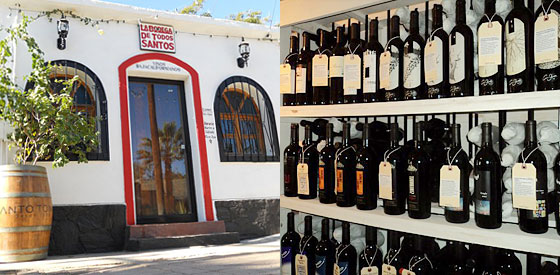 Baja wines are gaining attention outside the region, but you don't have to travel all the way to Valle del Guadalupe for a taste. La Bodega de Todos Santos (Calle Hidalgo near Militar; 612-152-0181) offers the best selection of boutique Baja wines and olive oils for sampling. Call ahead to see if they're hosting any special tasting events in the store.
5. Oddball Day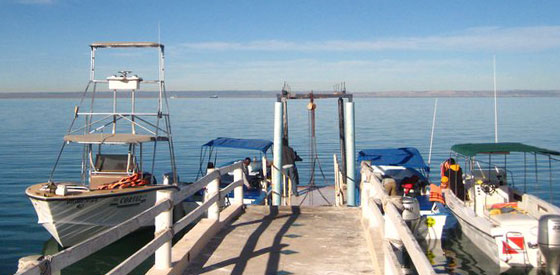 Take a day trip out of town to discover why Jacques Cousteau called this region "the aquarium of the world." Drive 90 minutes north on scenic mountain roads to La Paz, then hire a charter like the Cortez Club for a half-day boat excursion to Los Islotes, a series of rock formations rising out of the water where you can snorkel with friendly sea lions ($87, including equipment and lunch). Alternatively, you can go diving to see coral reefs and swim with schools of fish. After working up an appetite, head back to La Paz's seaside walkway for a plate of freshly shucked chocolate clams, Baja California Sur's unique culinary gem, at El Bismarkcito (intersection of Álvaro Obregón and Miguel Hidalgo y Costilla Streets, 612-128-9900). After lunch, head back toward Todos Santos, but on the way take a quick detour off Highway 1 to explore El Triunfo, a quirky one-street community with a population of 320. Formerly a deserted mining town, it's now seeing a revival with new businesses including Caffé El Triunfo (no address; 612-157-1625). There, an Italian wood-burning oven is used to prepare artisan boules and perfectly blistered pizzas, which are topped with fresh cheeses from local rancheros. While in El Triunfo you can also stop into a museum of antique pianos; buy treats at a massive dulcería vending regional sweets, empanadas, and candies; and visit a few local ladies selling intricate woven baskets. Make your way back to Todos Santos for the night, which should take roughly 45 minutes. When you're ready for dinner, walk over to Ristorante Tre Galline (Calle Juarez and Calle Topete; 612-145-0274) for plates of handmade pasta served by a couple who come from the Lake Garda region of Italy. Finish off the meal with a nightcap of their housemade damiana.
6. Links
Baja.com maintains an excellent database with up-to-the-minute listings of major sites, restaurants, lodging, shopping, events, and nightlife around the region.
Discover Baja California is the tourism board's official site, and it's useful for finding information on medical and health services as well as details on car rentals.
Todos Santos Eco Adventures can arrange almost any outdoor activity including hiking, biking, kayaking, whale watching, horseback riding, and stargazing.
Mario Surf School offers lessons for wave-riders of all skill levels.