1. Where to Stay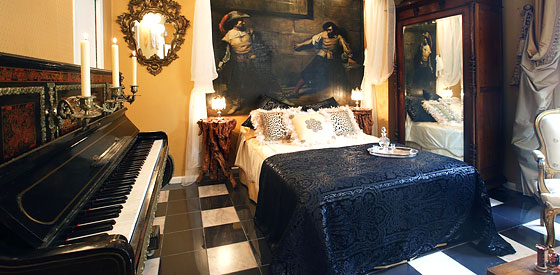 Hotel Neptuno (from $125) is a sleek enhancement to the city's new waterfront, restored in preparation for Valencia's role as host of the America's Cup last year. There's a beachfront lounge, the cream lobby is presided over by a mural of Audrey Hepburn in bright-red lipstick, and a glass elevator ascends quietly to minimalist rooms.
Enjoy the same stretch of beach for fewer euros next door at the no-frills, well-scrubbed Hostal El Globo (from $62).
Curl up on an opium bed at the new, three-room La Casa Azul (from $200), run by local jeweler Vicente Gracia. The queen of Spain wears his antiques brooches and necklaces, and the rooms are designed with the same flair as his jewelry.
2. Where to Eat
Follow the crooked streets of the old fisherman's quarter to Ca' Sento (17 Carrer Méndez Núñez; 34-96-330-1775) where Raul Aleixandre, who worked under Ferran Adrià at El Bulli, pairs his own unexpected flavors like green-apple ice over oysters.
Giant forks speared with wine corks flank the doorway of Burdeos in Love, where the food is almost secondary. Order a rich entrée, like thick cod with a Parmesan mousse, to keep up with some of the more robust Spanish reds.
If you can't find it in Valencia's Mercado Central, it probably doesn't exist. The massive modernist market has everything from eels twitching on beds of ice to acorn-fattened haunches of jamón ibérico de bellota.
3. What to Do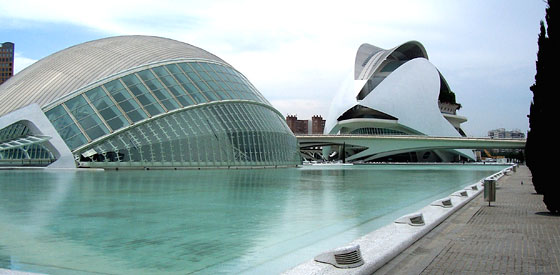 Admire Valencia's building renaissance, which began in the late nineties with the completion of local architect Santiago Calatrava's City of Arts & Sciences. Calatrava, who also designed the proposed WTC Transit Hub, created a futuristic complex of snow-white structures rising over the dry Turia riverbed. The buildings house a glossy, interactive science museum and one of the world's largest aquariums. Take in a performance at the pistachio-shaped Palau de Les Arts, the final installment of Calatrava's art complex. There's symphony and opera here, but look for a Zarzuela performance, a uniquely Spanish lyrical drama that blends operatic and popular song.
Back outside, walk the once forgotten port, now a gleaming marina with a new harbor and the Veles e Vents ("Sails and Winds") structure, designed by British architect David Chipperfield. Stroll the breezy paseo that follows the curve of Playas de las Arenas and Malvarrosa. Get a drink at Bianco La Terraza, and get a vitamin-rich buzz from Agua de Valencia, the local cocktail of orange juice, cava, and a splash of gin or vodka.
Remember the city's past in Old Town, where a thirteenth-century cathedral boasts two Goya paintings. Barrio del Carmen, another historic neighborhood, is experiencing a nightlife rejuvenation. Cocktail lounges rise alongside historic bars like Sant Jaume (Calle Caballeros 51), a former pharmacy where wine bottles sit in place of apothecary.
Set things on fire at the Fallas Museum, celebrating the annual March festival at which effigies called ninots (like cartoonish-looking tourists or George W. Bush) go up in a flaming parade.
4. Insider's Tip
Hear Gregorian chanting daily at the Iglesia del Patriarca (Calle de la Nave, nr. Plaza de la Reina), where robed monks have sung the same low, rhythmic works there since 1604. (Daily at 9:30 a.m., except Mondays; 6:40 p.m. on Thursdays.)
5. Oddball Day
For the best paella in the area, zip seven miles south to La Albufera, a sun-dappled, freshwater lagoon ringed by rice fields still irrigated by a Moorish canal system (acequias). Public bus Autocares Herca (from $3) departs several times daily from near the train station (at Gran Via Germanías and Calle Sueca); a taxi starts at $15. Fisherman brothers Vicente and Manuel run Mateu (Calle Vicente Baldoví 17, El Palmar, 34-96-162-0270) and serve arroz a banda—paella layered with local Albufera fish—and anguilas, young eels pulled from the surrounding waters. Vicente's daughter Irene will rent you a rowboat after lunch ($40 an hour). If you're out at sunset, the colors are reflected on still waters, and white great egrets are balancing in the marshy reeds. Back in Valencia, stop at Bar Pilar (on Plaza del Esparto, in Barrio del Carmen) and order the only thing on the menu: mussels. Slurp them at the bar, toss the shells into buckets on the floor, and take your Estrella beer out to the sidewalk for prime people watching.
6. Links
Valencia's tourist office has maps, guides, and events calendars.
This Is Valencia is a British guide to the city, emphasizing nightlife options from gallery tours to escort services.
Valencia Valencia has a thorough beach guide and breaks down city neighborhoods by personalities, from students to bohemians.