1. Where to Stay
If price is not an issue, book one of the light-filled Caroline Astor suites at D.C.'s regal and recently transformed St. Regis (rooms from $795) just two blocks north of the White House. Closed for the past sixteen months, the result of the palazzo-style hotel's multi-million-dollar near-gut renovation is 175 elegant Sills Huniford–designed rooms and suites with significantly bigger bathrooms. Most rooms are still not huge, but each comes with 24-hour butler service. You might have to use it, as the opulent dining room facing K Street won't open until spring 2008.
For bigger rooms and better views, get a corner Water View room in the tastefully modern Mandarin Oriental (from $525) overlooking the Jefferson Memorial, Tidal Basin, or the Washington Marina. Oddly in sight of everything yet nearly impossible to find, this south-of-the-Mall secret is worth the trek for its giant gorgeous spa, beautifully Feng Shuied rooms, and critically acclaimed, formal (denim verboten) Modern American restaurant, CityZen. Chef Eric Ziebold—a French Laundry alum—keeps the weekend reservations booked a month in advance, four years after it opened.
For something cheaper, hipper, and younger, try the newish, stylish Hotel Palomar (from $169) just off Dupont Circle. This hotel takes advantage of Dupont's artsy vibe by inviting local artists in to mingle with guests during its nightly complimentary wine hour. Looking to continue the watercolors conversation? Stumble over to the hotel's restaurant and wine bar, Urbana, known for its extensive ecofriendly wine list and tasty pizzas like the Parma (mozzarella, arugula, prosciutto crudo, and parmigianino).
2. Where to Eat
After years of living in the foodie shadow of the entire eastern seaboard—New York, Miami, even Boston—D.C. recently, somewhat surprisingly, leapt to the major leagues. Laurent Tourondel's BLT Steak turned up here, and most significantly, Wolfgang Puck just unveiled a chic new concept restaurant called the Source just down Pennsylvania Avenue from the Capitol building. His trusted on-site chef, Scott Drewno (formerly of Chinois and Spago and Jean-Georges's Vong in New York), makes Modern American cuisine with Asian influences in the formal upstairs dining area. Downstairs, the bar and lounge area features a more casual menu with Puck's signature pizzas—straight out of the wood burning oven—and Kobe sliders.
About a year ago, local culinary hero Michel Richard (known for his Georgetown classic Michel Richard Citronelle) opened Central Michel Richard, a more casual bistro downtown. Here, Richard leaves behind much of his finicky Frenchness in favor of a master chef's take on American standards, like an unbelievably good lobster burger served on a brioche bun.
Adding to the new casual chic of D.C.'s new dining scene is another out-of-town star-chef transplant, Eric Ripert of Le Bernardin. His Westend Bistro opened last November in the celebrity-friendly Ritz-Carlton and serves "simple food carefully prepared," says chef Leonardo Marino who worked in a kitchen with Ripert for five years. Try the fish burger with fennel, oven-roasted tomatoes, and aïoli—a version of a staff-meal favorite at Le Bernardin.
3. What to Do
The Smithsonian's often overlooked National Museum of the American Indian not only has a fascinating permanent collection, like the "Our Universes" exhibit of native cosmology, but it also happens to have the best cafeteria on the Mall. Called Mitsitam ("Let's eat," to the Piscataway) Native Foods Cafe, the cafeteria features indigenous cuisines from all across the Americas like salmon from the Pacific Northwest, chicken-stuffed tamales from South America, buffalo burgers from the Great Plains.
You'll see a portrait of Stephen Colbert near the bathrooms at the Smithsonian's National Portrait Gallery for a limited time, but it's the new Kogod Courtyard that's really worth a look. The Foster + Partners–designed undulating glass rooftop was unveiled in November, and it's a marvel to consider while eating a sandwich. If it's time for a nip, walk across G Street: Proof serves more than 40 wines by the glass, including 16 whites and 16 reds dispensed by a fancy Enomatic machine.
Until mid-March, ice-skate in the National Gallery of Art's sculpture garden. It costs $10.50 (with skate and locker rental) for two hours of slipping and falling before great works by Joan Miró, Roy Lichtenstein, and Alexander Calder. When you're cold and bruised, have a hot chocolate (or a beer) at the Pavilion Café.
4. Insider's Tip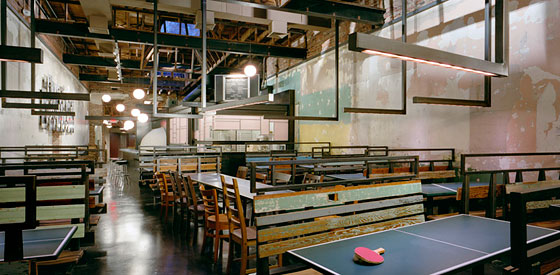 If you're looking to overhear some of the best political gossip in D.C., skip power-table-hopping at 1789 and try two neighborhood joints in the upper northwest, where many D.C. operatives both live and socialize. Chef Carole Greenwood co-owns Buck's Fishing & Camping (5031 Connecticut Ave. NW; 202-364-0777) and the nearby pizzeria Comet Ping Pong (5037 Connecticut Ave. NW; 202-364-0404). In an election year, political chatter roars louder even in Washington. So while you're playing a free game of Ping-Pong at Comet or waiting on a steak at Buck's, eavesdrop on regulars like Ted Kennedy, Tucker Carlson, Sidney Blumenthal, Joe Wilson and Valerie Plame, Harold Ford, Chris Matthews, Jane Mayer of The New Yorker, and Donald Graham of the Washington Post.
5. Oddball Day
For a city that's filled with button-downed Brooks Brothers shirts and Ann Taylor pantsuits, it's great to see that there's still some dirty, weird folks around. Their neighborhood is the Atlas District, along the H Street corridor north of Union Station. The number-one place to hit for strangeness is the Palace of Wonders, the only vaudeville stage, museum of oddities, and bar in the world. It's certainly the only place in D.C. where the booking agents eat fire and the general manager is a burlesque performer. If you're stumbling around Atlas on a Tuesday night, $12 will get you a shot and a haircut at the Red and the Black, a New Orleans–inspired bar and music venue. If you're hungry late night, the pirate-themed Argonaut is one of the few kitchens to stay open in an otherwise early-curfew town. You can eat the New American food with organic accents till 11 p.m. during the week and midnight on weekends.
6. Links
Read the worthwhile "Young & Hungry" column in Washington's City Paper, the beloved alternative weekly.
Staid but reliable, The Washingtonian has useful art listings and food reviews.
The Washington Post, still the only real paper in town, has a useful city guide that includes, among other things, an interactive guide to the Mall.
The DCist blog is Gothamist's twin in the capital.
Food blogs D.C. Foodies and Eat.Drink.DC. have restaurant news and events listings as well as the latest gossip.