1. Where to Stay
Located right on the village green, Laurence S. Rockefeller's Woodstock Inn & Resort (from $235 per person, with meals) is a great launching pad for exploring Woodstock, a town as walkable as Manhattan. The resort conceals an eighteen-hole golf course, tennis center, 41,000-square-foot fitness center, and small spa behind its Colonial façade.
Set in an 1890 Victorian mansion, the Jackson House Inn (from $195) distinguishes itself from the other country-B&B experiences with period antiques and a sunset cocktail hour, as well as an excellent restaurant.
The new Lauren Inn (from $233 on weekends) melds the traditional charms of a ten-room B&B with lavish bathrooms, flat-screen TVs, and iPod docks.
Former home to Sinclair Lewis and Dorothy Parker, Twin Farms (from $1,050) is arguably the most luxurious resort in the Northeast, with ten house-size cottages, ten additional suites, and everything from private ski trails to traditional Japanese baths. Book Orchard Cottage for the most stylish room.
2. Where to Eat
In neighboring Quechee, celebrated pottery and glassware maker Simon Pearce has a retail store and a restaurant. The Mill at Quechee overlooks a waterfall and mixes New England fare like cod with Irish specialties like salmon smoked on the premises. The plates and stemware are Simon Pearce, of course.
Point your car west on Route 4, Woodstock's main street, and drive ten to fifteen minutes to Blanche & Bill's Pancake House (586 Rte. 4, Bridgewater Corners, Vt.; 802-422-3816), a blink-and-you'll-miss-it roadside dive on the left. Blanche's secret is a sourdough-like starter for the pancakes and waffles.
The married chef-owners of Osteria Pane E Salute honed their trade in Tuscany before opening this 22-seat, dinner-only gem; a lengthy list of bargain Tuscans rounds out the appeal.
Mountain Creamery (33 Central St.; 802-457-1715) on Route 4 is one of the few places left to find a New England dessert delicacy: homemade apple pie topped with sliced cheddar cheese. Better than it sounds.
3. What to Do
Bring home some of New England's finest goods and crafts with only a few stops. Open since 1886, F.H. Gillingham and Sons is one of the nation's best classic general stores. Besides the expected bottle of syrup, buy a mandolin or some handmade pewter. Don't bypass the wine cellar. Woodstock Sports sells the locally made Ibex clothing for serious hikers and skiers. At their eponymous boutique on Route 4, Charles Shackleton turns out custom furniture from the finest woods, while wife Miranda Thomas crafts glazed pottery that Bill Clinton gave as State gifts.
4. Insider's Tip
Though no one on the green shouts "hear ye, hear ye," the Town Crier public blackboard on Elm Street near Route 4 has comprehensive, handwritten listings of everything going on, from plays to ox pulls.
5. An Oddball Day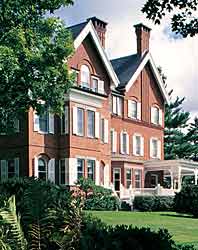 Stretch your legs in pedestrian-loving Woodstock. The state's only national park, Marsh-Billings-Rockefeller National Historical Park has twenty miles of carriage roads and hiking trails. You can access these trails — along with a replica of Baden-Baden's famous cardiac walk, a switchback path to the top of Mt. Tom — from Main Street. Nearby Quechee Gorge is "Vermont's little Grand Canyon," and though most folks just park and look down, a fifteen-minute hike takes you to the bottom.








6. Links
Plan your constitutional with the Southern Central Vermont Hiking Guide.
Browse a full menu of Vermont road food, from diners to doughnuts.
A Vermont innkeeper writes a blog for visitors at Vermont Travel Notes listing festivals, attractions, and advice.