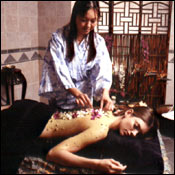 East meets West: Acqua Beauty Bar's Indonesian Beauty Ritual.
Ajune
1294 Third Avenue
212-628-0044
Best Fresh-Fruit Facial

Best Shea-Butter Treatment

Upper East Side locals, chic young mothers, and up-and-coming actresses swear by this spacious, soothing full-service spa, with its slate floors and warm wooden accents. The focus here is on delicious skin, and it's all you can do not to eat the Facial du Jour ($175), which employs strawberry cleanser, grape-infused massage cream, kiwi-pineapple exfoliating mask, and banana-soy hydrating mask, each made fresh. A shea-butter emulsion following an oatmeal exfoliation of the body ($150 total) combats winter parching. For hard-core seekers of flawless skin, Ajune offers beta peels ($130), dermabrasion with salt ($200), laser wrinkle-reduction ($500 per area), and collagen ($550-$700) and Botox shots ($400 for initial area, $200 for each additional treatment).

Acqua Beauty Bar
7 East 14th Street
212-620-4329

Best Indonesian Beauty Ritual

Best Orchid Pedicure
Korean calligraphy and backlit curtains decorate the massage rooms of this East Village spa, which opened last year and is already drawing legions of downtown beauty junkies in Anna Sui dresses and stiletto-heeled boots. The roomy leather manicure chairs feel like first-class airline seats. Even the bathroom is luxe, outfitted with an Italian stone floor and a glass sink embedded with flower fossils. The ethos is inspired by the healing properties of water, but the materials here get a lot more inventive than H2O. In the Winter Remedy Facial ($115), pores are opened and closed for cleansing not with steam and cold compresses but with glass wands filled with an antifreeze gel. The orchid pedicure ($45), an eight-step soak and sloughing, uses tropical extracts and a sugar scrub. If you can sit still for 100 minutes, get the Indonesian Beauty Ritual ($170), which brides-to-be traditionally receive for 40 days leading up to their weddings. Your skin is polished with ground rice, massaged with fragrant oils, pinched to bring blood to the surface, coated in a vitamin-and-turmeric mask, and covered in hot herbal compresses. It's enough to make you want to get married.
The Avon Salon & Spa
725 Fifth Avenue, floors 1, 2, and 6
212-755-2866

Best Eyebrow Sculpting

Best Prenatal Massage

Best Reflexology
The image of this spa and salon has metamorphosed remarkably, from middlebrow to posh. New York's most renowned eyebrow sculptress, Eliza Petrescu, has set up shop on the spa's second floor; her team has its own curtained rooms with cushy beds and special lighting where they pluck and wax perfect arches. (Cost is $100 for an initial visit with Petrescu, $78 for "maintenance" visits, and cheaper if you go with her associates.) Up on the sixth floor, a nineteenth-century-feeling parlor with mahogany furniture, high ceilings, wheat-colored wallpaper, and golden carpets welcomes clients, who are ushered into the inner sanctum for divine French pedicures ($60) or ultra-softening paraffin pedicures ($70). Avon also offers cellulite-battling endermologie ($150 per session), hot-stone massage ($130), pre- and postnatal massage ($98), and reflexology with simultaneous neck and shoulder rub ($130).
bliss 57
19 East 57th Street
212-219-8970

Best Oxygen Facial

Best Rubber Neck Massage

The SoHo flagship is famously hip; the midtown sibling in the LVMH tower is equally sleek, and full of women and men fresh from shopping at Gucci, but the atmosphere is a tad warmer than at the downtown branch. The menu of facials is extensive and impressive; we especially like the Simultanebliss, the spa's trademark oxygen facial, in which they mist you with O2 while tending to the grooming of your hands and feet ($210). Among the massages are the Jet Out ($125), which reduces puffiness and revitalizes you with a blend of stimulating herbs, and the Rubber Neck, a kneading of the neck followed by a hot mix of paraffin and fango mud ($95). A warning: With a fresh supply of Bliss gift certificates having recently been handed out, getting an appointment can be an exercise in frustration.
Body Central
99 University Place
212-677-5633

Best Sinus Treatment

Best Cranio-sacral Massage

Pragmatic treatments are the rule at this sparely decorated but wonderfully aromatic center, run by chiropractor JoAnn Weinrib. Personal training, nutrition counseling, and therapeutic ultrasound are on offer, as are reflexology and Swedish, Shiatsu, aromatherapy, and cranio-sacral massage ($80), in which your head is gently touched and rocked. The treatment not to be missed this time of year is the sinus drainage ($75), which takes place in a room suffused with eucalyptus. A natural anti-inflammatory is applied to your forehead and around your eyes, temples, and nose, while a vaporizer is positioned under your chin. Then your sinus drainage points are electrically stimulated, easing stuffiness. The treatment finishes with a scalp massage and cool compress. You'll get a remarkable feeling of clarity.
Brigitte Mansfield European Day Spa
37 Union Square West
212-366-0706

Best Edible Body Treatments

Best Edible Facial

Best Couples Treatment

During the afternoon, this glamorous loft, with its zebra rugs and dramatic view of Union Square, is packed with businesspeople opting to bring clients here instead of taking them to lunch. You'll want to take them to lunch, anyway, after the Fresh Facial ($140), the most popular one at Brigitte Mansfield. It employs an appetite-stimulating vitamin- and mineral-packed truffle, cranberry, and almond mask. A similar mixture is used in the Truffle Luxuria body treatment ($160), but if you're not a tuber fan, there's always the crème fraîche wrap. The natural skin-smoother is combined with cocoa butter and spread on your body. You are then cocooned in a thermal blanket for twenty minutes, showered off, and given a light massage ($160). Treat your significant other (and yourself) to a couples massage, followed by a 30-minute reflexology or scalp massage for him and a manicure for her ($280). Oh, go ahead — while you're at it, get a pedicure with the fragrant rose-petal scrub ($45-$60).
Carapan
5 West 16th Street
212-633-6220

Best Medical Massage

Best Aromatherapy
As soon as you walk through the door of Carapan, the dusky lighting, the aroma of piñon incense, the Native American artifacts and the Gregorian chants in the background transport you from New York City to New Mexico. In fact, Carapan feels like an outpost of Ten Thousand Waves, the famous Santa Fe spa. You are greeted with options of hot cider and tea; an antique wooden cabinet serves as your locker. The idea here is great massage in a sensual atmosphere. Not surprisingly, aromatherapy ($100), redolent of cedar and sage, is a specialty. If you have chronic pain or an injury, you might prefer to opt for one of the excellent medical massages ($95).
Completely Bare
764 Madison Avenue
212-717-9300

Best Epi-Polish Facial

Best Pulsed-Light Hair Removal
Completely Bare is like a friend's well-appointed yet comfortable Upper East Side brownstone: Owner Cindy Barshap has filled the spa with such feminine touches as creamy curtains and an elegant sofa. As the name indicates, permanent hair reduction is the calling card here ($150 for upper lip, $200 for bikini area, a whopping $700 per hour per leg). The epilite intense-pulsed-light machine used to banish hair doubles as a facial apparatus capable of shrinking large pores and removing dark spots, sun damage, and broken capillaries. The epi polish ($175), which takes less than half an hour, uses the light to create a dewy, even complexion by quickly removing the skin's surface layers and increasing collagen production.
Dorit Baxter
47 West 57th Street, third floor
212-371-4542

Best Salt Scrub

Best Pre-Exercise Massage
"It will look like the lobby of the W," Dorit Baxter said when she began her monumental renovation. Like the W? We're not so sure, but in either incarnation, Dorit Baxter does well with its classic European treatments, such as the super-exfoliating Dead Sea Salt Scrub ($58), performed on a heated blanket so that you don't catch the usual chill. A new offering is the pre-exercise massage ($75), the stretching of your muscles before you work out. And the spa has also kept up with high-tech advances in beauty treatments. We like the electronically charged acupuncture glove made from fine silver threads ($95), which is precise and gentle enough to tone the delicate eye area.
Elizabeth Arden Red Door & Spa
691 Fifth Avenue
212-546-0200

Best Olive-Oil Pedicure

Best Pomegranate Facial
No New Age vibes or goofy treatments at Elizabeth Arden's Red Door. Rose petals and marbles fill the pedicure bowls, and warm mittens and hot towels for the hands are de rigueur during facials for the Fairfield County and Upper East Side regulars. Many are the pedicure choices, but the olive-oil procedure ($70), which includes a sugar scrub for the feet, is so softening it can undo the memory of miles tripped in this season's most punishing pumps. New is the pomegranate facial ($120), which uses the fruit's acid for exfoliation and includes a sensual hot-stone massage for the face, neck, and shoulders.
Between Rocks and a not-so-hard place: Equinox's hot-stone massage.
Equinox Wellness Spa
140 East 63rd Street, ground floor
212-750-4671

Best Sports Massage

Best Vitamin C Facial

Best Salad Facial
You can have a true spa day at this mecca for the seriously fit, where those who sign up for treatments have free access to the club's facilities. Swim a few laps in the pool, kick-box, or warm up in a yoga class before you switch gears and enter the peaceful zone of the spa area. As you might expect, the sports massage ($90) is not wimpy. The four-handed massage ($180) allows you to choose your modalities (one set of hands doing Swedish, the other doing reflexology, for instance), and for pure pleasure, there's the hot-stone massage. Try the vitamin C facial, which improves the look of fine lines around the eyes and lips, or the Salad facial ($125), which first cleanses with a vitamin-, anti-oxidant-, and alpha-hydroxy-rich wash of tomato juice, clay, and avocado oil; then exfoliates with oats, cucumber, sunflower seeds, and honey; and finishes with a green-tea, honey, and avocado mask. Along the way, your face, neck, shoulders, and scalp get massaged and your feet are scrubbed and treated with warm stones. Equinox offers dermatologic services as well; two doctors keep office hours at the spa and are certified in laser treatment, Botox injections, and the like.