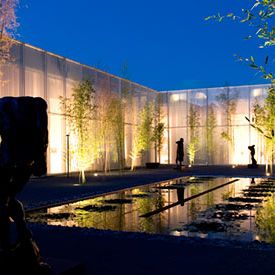 Photo: Courtesy of North Carolina Museum of Art
Where to Stay
Decompress at the luxurious Umstead Hotel and Spa (from $349) in nearby Cary. Take a self-guided tour of the property's art collection, which includes over 75 minimalist and monochromatic paintings and sculptures by regional and national artists like Rachel Illingworth and Ben Owen III. Like the artworks, the rooms are decorated in a sophisticated muted color palette (ask for one with a balcony overlooking the adjoining lake). Seek out further relaxation in the sauna, or dip in the spa's whirlpool, followed by a restorative aromatherapy massage ($120 for 50 minutes) or an organic facial ($120 for 50 minutes). Indulge in a seven-course kaiseki meal ($125; add $60 for wine pairings) at Herons, the elegant on-site restaurant; your meal might include dishes like delicate lobster agnolotti with sunchokes and venison with cocoa, hazelnut, and celery-root hash.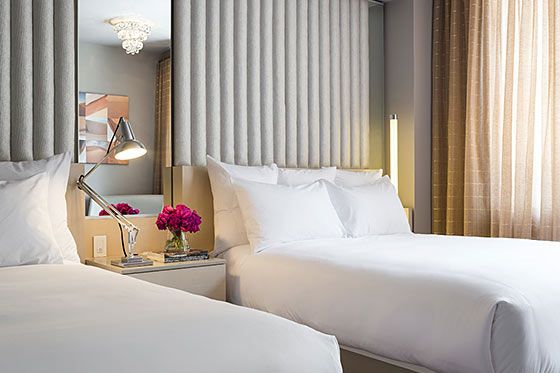 Stay in downtown Durham at the new 21c Museum Hotel (from $199). It's located inside the historic Hill Building, which was built in 1937 and, though renovated, maintains its Art Deco details, windows, and terrazzo flooring. The hotel boasts its own on-site museum with rotating exhibits and site-specific installations integrated into the public areas; permanent works include a large-scale mosaic by Duke Riley made of cigarettes and mini-cigars, referencing the role of tobacco farming in the region's history. Grab dinner at the Counting House restaurant, where rotisserie and roasting techniques take center stage in dishes like the chicken with aji amarillo, red beans, avocado, and lime ($22) and burned haricot served with red-eye aioli, crispy ham, and boiled peanuts ($7). Then bed down in one of the cleanly contemporary rooms, where the bathrooms come stocked with Malin + Goetz products.
Experience Southern hospitality at one of the area's diverse Airbnb options. Nightlife-seekers might consider a two-bedroom penthouse condo with a pool ($149 per night) that's a quick ten-minute walk to many of downtown Raleigh's vibrant bars and restaurants. Just 15 minutes outside of town by car, you can rent an entire house ($85 per night), complete with a vegetable garden and fresh eggs during the summer. Over in Durham, stay in a converted warehouse and rent a private room in a loft apartment with exposed brick ($40 per night). Or bike to town while staying in a nearby garden house ($85 per night), helpfully stocked with coffee and homemade muffins — and an ideal spot to enjoy both, among the grape arbors and fruit trees near the patio.
Where to Eat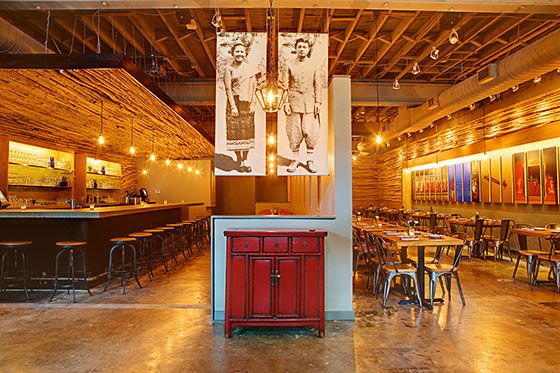 Sample seasonal southern fare at Poole's Diner, the flagship of James Beard Award winner Ashley Christensen's growing culinary empire. Here, among updated diner décor (two semi-circular bars, red stools), Christensen reinterprets regional classics, combining fresh ingredients with French techniques. Start with a silky chicken liver pâté enriched with fruity Grand Marnier ($9) or pimento cheese made with Hook's Three-Year Cheddar ($9). Entrées might include seared North Carolina sea scallops with turnip greens and savory smoked tomato ($24) or rich tortellini filled with white sweet potato and smoked cheese ($24). Cocktails have a seasonal bent, too; during the summer, the blueberry caipirinha ($9) mixes cachaça infused with local blueberries with lime and brown sugar.
Taste the bright flavors of Laos at Bida Manda on Moore Square. In a striking space constructed with the help of North Carolina State design students, brother-and-sister team Vansana and Vanvisa Nolintha introduce locals to the dishes of their childhood, like a crunchy papaya salad tossed in a spicy lime sauce ($17), slow-cooked caramelized pork ribs perfumed with ginger ($18), and a rich pumpkin curry ($17). Cocktails lean heavy on bourbon, like the Rosey Smash, made with rosemary syrup, fresh lemon juice, and tangerine. The restaurant's name means father and mother in Sanskrit, so guests are greeted by giant black-and-white photos of the owners' parents upon entering.
Break bread at La Farm Bakery. Despite its strip-mall location, the restaurant-bakery hybrid exudes a rustic French charm, with exposed brick walls and café tables and chairs. French master baker Lionel Vatinet makes more than 15 varieties of bread (like Scandinavian rye and Piedmont sourdough) incorporating local ingredients like Carolina Ground flour, cornmeal from nearby Yates Mill, and Bee Blessed honey. Pick up a round loaf of their signature La Farm Bread ($7) or stay and order a croque monsieur made with melted gruyère and mozzarella, local Firsthand Foods ham, and creamy mornay sauce ($9). If you're inspired to knead your own dough, sign up for a class with Vatinet to learn his baking secrets (check the website for a schedule and to book online). Each hands-on class ($85 to $125 per person) focuses on a different topic, like French country bread, brioche and challah, or pizza.
What to Do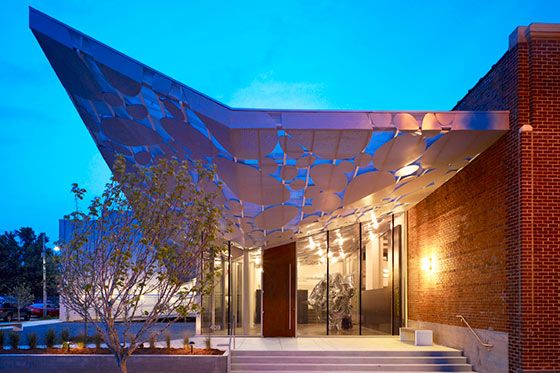 Wander the new, light-filled West Building addition of the North Carolina Museum of Art (free), an ideal backdrop for the museum's permanent collection of eclectic works. Browse the Egyptian sarcophagi, marvel at a vibrant Yoruba masquerade costume, and stroll past paintings by Rembrandt and Monet. Just outside the West Building, the largest collection of Auguste Rodin sculptures in the southeast surrounds a bamboo-flanked reflecting pool. Finish your visit with a three-mile stroll or bike ride along the paths of the newly opened Museum Park, which features large-scale works by North Carolina folk artists like Vallis Simpson.
Explore Raleigh's up-and-coming Warehouse District, now home to several art galleries and creative shops. The Contemporary Art Museum ($5) has anchored the neighborhood since 2011; check out its rotating exhibit of conceptual art that could incorporate painting, photography, sculpture, and film. Turn right as you exit the building and enter Designbox, an artists' workspace that doubles as a gallery and shop selling illustrated postcards ($5 each) by in-house artist Paul Friedrich. Walk north along Commerce Place and peruse the fashions at Raleigh Denim, where the jeans (starting at $198) are assembled in the adjacent workshop. Continue down the street to Videri Chocolate Factory and watch as chocolatiers make bean-to-bar chocolate before your eyes in flavors like pink peppercorn and sea salt ($7.99 per bar). Head up the hill that is West Hargett Street and finish your neighborhood tour with a beer at one of Raleigh's 19 microbreweries, like the Boylan Bridge Brewpub, where the patio makes for an ideal skyline-viewing spot with a crisp Gantlet Golden Ale ($5) in hand.
Get lost in the piles of art supplies at The Scrap Exchange in Durham. Since 1991, this nonprofit creative-reuse center has saved materials from landfills for use in arts-and-crafts projects; now, used cans of paint, fabric rolls, and even mannequin parts are up for sale at the organization's new 23,000-square-foot retail store. Reserve an hour and a half in the open studio ($5) with access to equipment like button-makers, sewing machines, and a T-shirt press. Work on your own project, or check the events calendar to take lessons in sewing, crochet, embroidery, and weaving. Be sure to stop by the in-house Cameron Gallery (openings are held on the third Friday of every month) to see works created with recycled materials.
Expert's Tips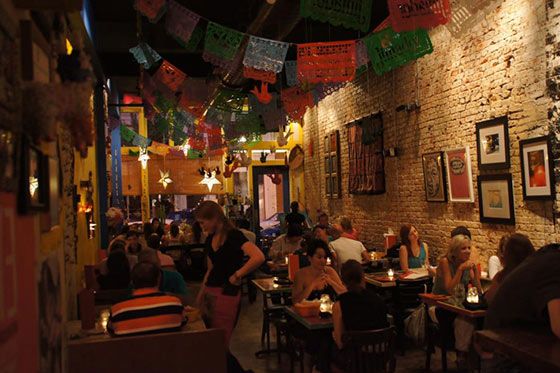 Designer
Holly Aiken has sold handmade bags at Stitch, her shop in downtown Raleigh, for the past ten years.
Capital Club 16, on West Martin Street, is one of my favorite places to watch the sunset. The light is just right, and there's a fun 1930s vibe. They have a seasonal menu with great local and German beers. I love their locally sourced vegetable plate, the Farmer's Wife, and the Johnny Chips with onion dip.
For tacos and tequila, Centro is hands down the best. It's always fresh and local. They recently renovated the restaurant and added an upstairs mezcal bar that is an industrial architectural work of art. I have ordered their steak tacos for years; they're just so good I can't seem to order anything else! And paired with the fresh-squeezed Aniversario Margarita—who wouldn't?
I love the atmosphere and everything served at Stanbury. They craft a delicious signature Stanbury Gin Tonic with celery water, and my favorite small plate is the North Carolina swordfish crudo.
There are tons of great places to ride bikes around downtown Raleigh. The best bike shop is Oak City Cycling, located in a newly thriving area on Person Street. You can rent bikes, or if you just need an upgrade, they have an excellent selection. The shop owners are the nicest ever.
Resources
Design blog i suwannee is maintained by Jamie Meares, owner of Furbish Studio in Raleigh. She writes about many of her "Raleigh Favorites" in addition to posts about decorating and travel.
Monthly magazine Walter covers the art, food, music, and culture of Raleigh.
The alternative newspaper Independent Weekly covers the entire Research Triangle area and maintains an updated calendar of arts events.