The Noma Effect

Local eaters on three other coveted reservations … and where to go when you can't get in.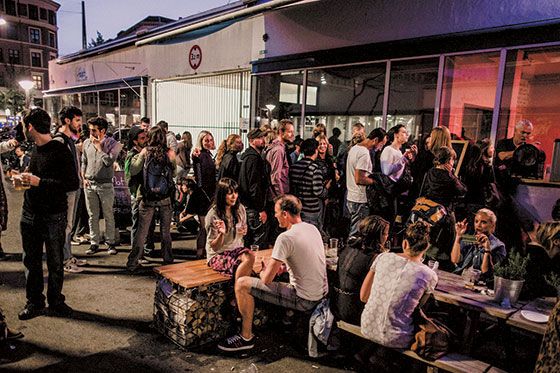 The Expert: Rasmus Shepherd-Lomborg, co-owner of bars Ruby and Lidkoeb, on where to find a multicourse tasting menu.

The Hot Ticket: Stedsans på Østergro, Æbeløgade 4; cleansimplelocal.com

"It's almost harder to get a seat at this rooftop restaurant in Østerbro, opened in May, than at Noma. It's got great locally sourced produce, like organic baby carrots from Kiselgaarden, which they serve with basil and buckwheat, and a magical setting in a greenhouse."

The Easier Option: Amass, Refshalevej 153; +45 43 58 4330

"The food is nothing less than inspirational: Imagine a concoction of beach kale, chicken-and-almond broth, chewy egg yolk, and scurvy grass seeds. Even if their website tells you they're booked, go anyway: If possible, they'll seat you in barstools by the window — maybe the best seats in the house."
The Expert: Edith Domschy, social-media manager of Urban House Hotel, on where to find a hoppin' Italian feast.

The Hot Ticket: Neighbourhood, Istedgade 27; +45 32 12 2212

"An inventive, organic pizza joint — think extra-thin crusts topped with hake and potatoes in spicy salami sauce — with a cocktail program designed by a Ruby alum, Neighbourhood has fast become one of the most popular spots in town. If it was difficult to get a table right after it opened, try now that it has won the city prize for Best New Restaurant in Copenhagen."

The Easier Option: Mother, Høkerboderne 9-15; +45 22 27 5898

"Mother is like the Italian mother you never had: full of Italian goodies and ready to feed you at any time. It's more traditional than Neighbourhood, but the food is close to perfection, with daily specials like tagliata di vitello (roasted veal cooked with salt, pepper, vinegar, and lemon) and grilled salmon with mint and chile-marinated courgettes."
The Expert: Dan Husted, co-founder of the restaurants Paté Paté
and Bellevue Strand & Grill and Copenhagen Street Food–The Paper Island, on where to find a festive lunch.

The Hot Ticket: Restaurant Schønnemann, Hauser Plads 16; +45 33 12 0785

"An institution, this nostalgic, lunch-only spot in a cellar-floor oak-paneled room serves up more than 100 varieties of our signature open-face sandwiches — and 140 kinds of aquavit. It's classic smørrebrød — but with a twist — from some of the top chefs in Denmark."

The Easier Option: Ved Stranden 10, Ved Stranden 10; +45 35 42 4040

"If Schønnemann is packed, walk ten minutes to this neighborhood-y spot that does an informal, exciting lunch — the menu always changes — with great natural wines. Also: Monday nights, when most kitchens take the day off, you can get the one-pot meal prepared by a guest chef."
So, Meet You At the Spotted Pig, Then For a Drink at the Standard?

A confusing thing: Copenhagen is filled with bars and restaurants that share their names with sceney downtown New York spots. (No affiliations.) Here's how to tell them apart.
Their Standard vs. Our Standard

There's no hotel atop this converted 1930s custom house (Havnegade 44; thestandardcph.dk) on the waterfront, co-helmed by Noma's Claus Meyer — just three great restau­rants (Almanak, Verandah, and the Michelin-starred Studio) and a jazz club with free late-night performances on summer weekends and daily shows during Copenhagen's ten-day Jazz Festival in July.
Their Spotted Pig vs. Our Spotted Pig

Okay, this one's called Den Plettede Gris (the Spotted Pig in Danish). Designer Henrik Vibskov's colorful year-old coffee shop (Trangravsvej 5) on Paper Island, a former industrial paper-storage facility, serves up coffee, ice cream, wine, and beer (ask for Mikkeller's elderflower pilsner, Shark Pig, brewed especially for the café) — but there's nary a burger or shepherd's pie to be found.
Their Jane vs. Our Jane

Scene-scanning sightlines are supplanted by a maze of nooks and crannies in Copenhagen's basement-level speakeasy (Gråbrødretorv 8; thejane.dk). The space is decorated with leather banquettes, library walls, and a fireplace; there's also a cigar lounge and a secret door where you'll find a dance floor and DJ booth.
Their Meatpacking District vs. Our Meatpacking District

Less high-end shopping, more parking-lot partying. In this mixed-use district ("Kødbyen" in Danish), restaurants, bars, and galleries co-exist with creative professionals' offices and a few remaining food-­production facilities, giving the place a looser, less chichi feeling. The latest addition: a new weekend food market that launched in April.
Their Il Buco vs. Our Il Buco

A ramshackle vibe prevails at this by-reservation-only Tuesday-night supper club (Njalsgade 19c; ilbuco.dk) in a converted warehouse in the Islands Brygge area. Guests gather around communal tables for multicourse, family-style Italian meals, occasionally to a soundtrack of live jazz. (As in New York, this Il Buco runs an on-site alimentari for groceries and takeaway items.)