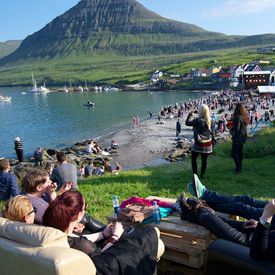 Where to Stay
Take in a panoramic view of the entire capital of Tórshavn (not to mention the island Nólsoy and the North Atlantic Ocean) from any of the Scandinavian-chic rooms at the sleek Hotel Foroyar (from $268). The long, narrow structure, with interiors by Montana and Philippe Starck (think curved ceilings, modish Danish furniture, wall-size photography), has a grass roof that seems as if it were carved out of the hillside.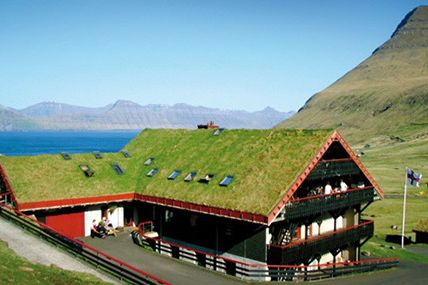 Sleep a stone's throw from the harbor at the boutique Hotel Hafnia (from $148), where you can sip an espresso at their street-level café and watch the passersby wandering through Tórshavn's lively restaurant and shopping zone. The property recently underwent a major renovation that glammed up the lobby with animal-skin rugs and polished concrete, plus added original contemporary, puffin-themed paintings from local artist Ragnhild in each of the minimalist rooms.
Immerse yourself in the unadulterated traditional Faroese architecture of the green village of Gjógv, an hour north of Tórshavn, at Gjaargardur Guesthouse (from $125). The hotel, with its striking wooden façade and turf roof, is a short hike to a dramatic 650-foot-long gorge that runs to the ocean from town. Take your meals at their small restaurant, opting between a few Danish open-faced sandwiches topped with seafood salads and pickled veggies ($5) or a buffet of local dishes ($41) like roasted lamb, a kind of sausage made of rolled mutton called rullupylsa, and endless preparations of herring.
Where to Eat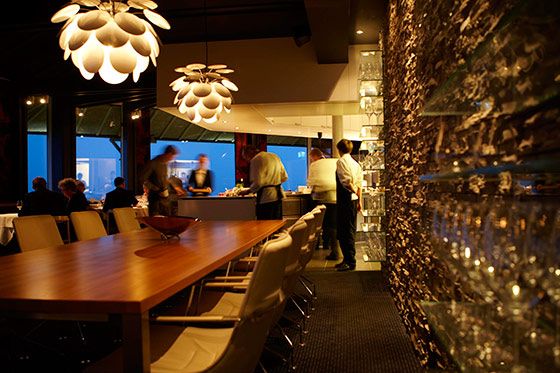 Sample the essence of Faroese cooking with a tasting menu ($148) at Tórshavn restaurant Koks, where everything served is harvested, caught, killed, or cultivated on the islands or from the waters surrounding them. Its simple but stunning presentations of Faroese sea urchin, langoustines, and 200-year-old mahogany mussels helped it to win this year's Nordic Prize as the best restaurant in the region, an award that has previously gone to Michelin-star restaurants, like Copenhagen's Noma.
Dine in the humble house of the poets Janus and Hans Andrias Djurhuus, at Áarstova ("the house by the brook"), known for its traditional Faroese cuisine. Little has changed here since the home was built in the late 19th century: The cod is still wind-dried on the outer rafters, and the creaky wood-floored dining rooms are lined with antiques. Opt for the langoustine bisque ($18), followed by their specialty, braised lamb ($45), served in the small pot it is cooked in with root vegetables and still-smoking juniper.
Gather around a local dining table at Kirkjubøgarður, one of the world's oldest wooden houses, still being used as a home by the Patursson family, who have lived there for 17 generations. These in-home dining experiences, called Heimablídni (from $52 per person), set up private multi-course meals using products from the family farm, from lamb shank to rhubarb compote. Additional rural farm houses in Søldarðfirði or Norðragøta also offer the experience, though all need to be set up in advance via email.
What to Do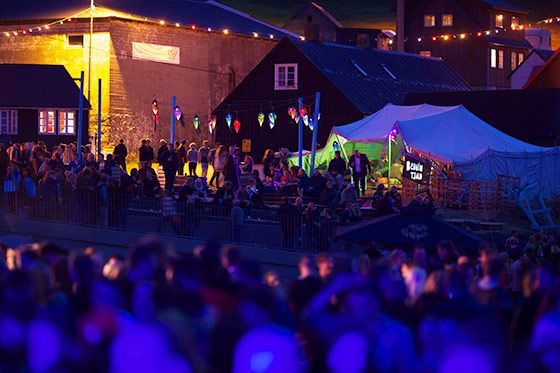 Explore the homegrown art and design scene of Tórshavn, beginning in the converted fish-oil factory that now is home to the elegant design store, exhibition hall, and café Østrøm. Pick up funky, one-of-a-kind gifts from local artists, like a fishskin-leather-wrapped flask ($42) or hand-knit Faroese wool "boyfriend" sweaters ($238) from Shisha. Continue on to Galerie Focus, which showcases mostly abstract and landscape oil paintings by both established and up-and-coming Faroese artists. Pass through Viðarlundin Park, taking note of the sculptures, like the bronze work of Hans Pauli Olsen, tucked between the trees, until you reach the 17,000-square-foot National Art Gallery ($7.50 admission) on the north side. Start by browsing the temporary summer exhibitions before moving into the permanent collection, which holds the largest collection of works by Munch-inspired painter S. Joensen-Mikines, whose work frequently adorns postage stamps, and other important contemporary Faroese artists.
Fly by helicopter to some of the more remote islands in the archipelago, which is surprisingly easy and fast (and cheap, from $20). These rides, subsidized by the government, are akin to ferry service elsewhere. Make a trip to Sandoy, where you can hike along beaches and sand dunes or rappel down 900-foot cliffs, an experience modeled after the traditional Faroese pastime of scaling up and down cliffs to gather seabird eggs. If you'd prefer to travel by water, take a two-hour boat trip along the Vestmanna Bird Cliffs, a seabird nesting site (yes, you'll see puffins) along dramatic 1,500-foot-high sea cliffs, narrow channels, and grottoes ($41).
Listen to Faroese musicians perform live ($68) while floating on a boat in
Klæmints cave, known for its incredible acoustics, on the island Hestur. Though the Faroese music scene is small (and the music itself is often performed a capella, due to a lack of traditional instruments here), the islands' musicians are gaining renown thanks to summer festivals attracting top local and international performers. In late July there's the G! Festival, where thousands descend upon the 400-person village of Syðrugøta, where the stage is set up with a backdrop of green mountains and ocean. In August, the Summer Festival attracts more than 10,000 people for a three-day event, headlined by alternative acts like Danish ghetto-pop group Lukas Graham and Irish folk singers the Dublin Legends. If it's not festival season, drop in to Tórshavn bar Sirkus, which has live music ranging from folk to heavy metal or DJs on most nights; if you're lucky, you'll find famed local artists like Teitur there, who occasionally show up and play unannounced.
Expert's Tips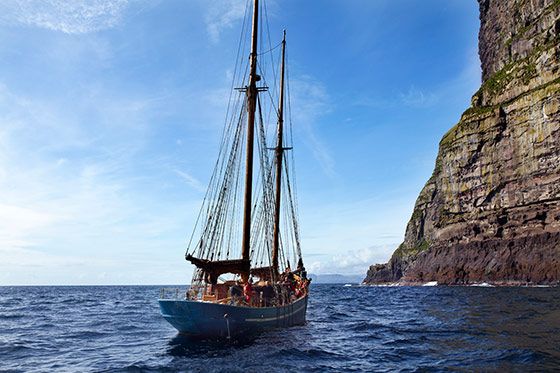 From Teitur, an award-winning Faroese musician, singer-songwriter, and producer.
One of the main reasons why I love living on the Faroe Islands is our different perception of time, spontaneity, and intimacy. Often, all of a sudden you will find yourself in a situation or place you could not have foreseen; this is a natural part of life when you are in remote islands where weather and nature are in control. You have to embrace this and trust that you will be rewarded. Leave your thinking ahead and perfect calendar at the hotel. Use your eyes, ears, gut feeling, and voice. Make sure that you talk to strangers; most folks are great storytellers who are happy to tell you about what you see and don't see. When you spend your whole life on an island, even anonymous rocks or an old shed can tell an epic tale.
Rent a car and go island-hopping, and turn on the radio: mostly Faroese music will be playing. My favorite island is Mykines, which is great for bird-watching. Also Koltur, Sandoy, and Fugloy are special to me. The boat Norðlýsið and captain Birgir Enni (298-218520, birgir@nordlysid.com) will take you out to sea and, in the best Faroese fashion, will find the best thing to do that day according to weather and circumstance; if you're lucky, he'll serve you his notorious fish soup.
In Tórshavn, next to the music-recording studio where I work is Steinprent, a rare lithographic workshop where international and local artists come from all over to work. You can buy prints on location. I have a few in my house from Danish poet Peter Laugesen and Faroese multimedia artist Tóroddur Poulsen. Guðrun & Guðrun make the coolest organic knits I have ever come across, and designer Guðrun is often behind the counter. Be sure to get one of their wool undershirts; they're my most useful travel accessory.
Resources
Suss out the logistics of getting to and around the Faroe Islands from the official tourist information portal

Visit Faroe Islands, which also lists current events and recent news.
Find up-to-date concert listings and album releases from the surprisingly diverse Faroese music scene at web-based music magazine
Music.fo.
Download the crowd-funded, award-winning "Faroe Podcast," now in its seventh season of seeking out local color all over the archipelago.