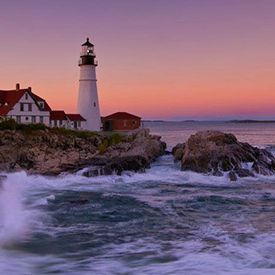 Where to Stay
Rest up at the Press Hotel ($215), the former home of the Portland Press Herald—Maine's largest newspaper, now housed down the street. Just opened this past May, the 110-room downtown spot embraces its journalistic roots: Vintage writer's desks sit in every room, newspaper headlines run along the hallway walls, and the lobby features a wall adorned with actual typewriters. Grab a Summer Scotch ($12, made with Maine Root Ginger Beer) at the hotel's Inkwell Bar, explore the first-floor art gallery spotlighting local woodworkers and textile designers, and end a day spent outdoors at the Press's Union Restaurant, home to some of the state's best lobster rolls.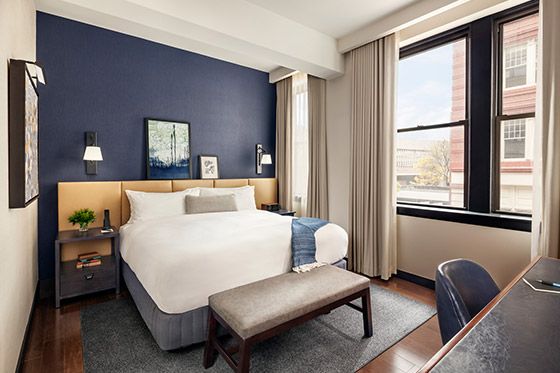 Feel right at home at Pomegranate Inn ($149), a boutique eight-room townhouse located just off the downtown circuit. Ask for a king bedroom with a gas fireplace, and take in the ornate, locally crafted furniture along the stairwells. Stroll the public lounges to see artwork by accomplished local sculptor Leonard Baskin and state landscape artist Eric Hopkins, or battle another guest in a game of Trivial Pursuit in the first-floor living room (while snacking on the freshly baked cookies there). Be sure to take advantage of the complimentary breakfast before heading out for the day, as comforting dishes like homemade coconut pancakes, bacon biscuits, and freshly brewed coffee are the norm.
Live the island life at the Inn at Diamond Cove ($266), a short ferry ride from Portland proper. The 44-room property, just opened in June, offers a daily breakfast (try the baked butter croissant topped with applewood-smoked bacon and cheddar, $9), balcony views, a cozy fire-pit for cool Maine nights, and an outdoor pool with a swim-up cabana bar. Located on the one-and-a-half-mile-long Great Diamond Island, the inn's part of a tight-knit community of roughly 50 year-round inhabitants who get around via golf cart. Be sure to take in a long brunch at the nearby Diamond's Edge Restaurant; crack some lobster legs as you watch boats arrive and depart the nearby marina.
Where to Eat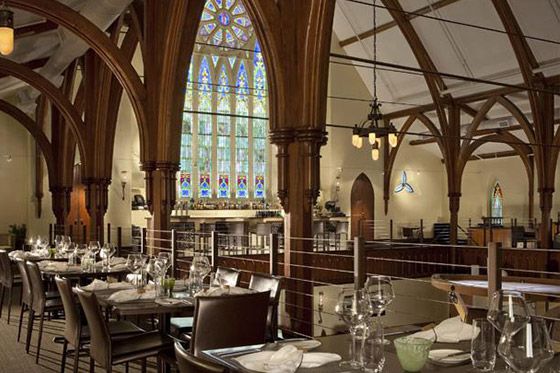 Dine decadently at Grace, an 1850s Gothic-revival church turned restaurant. Step up to the roundabout bar, located under an enormous Holy Trinity symbol, and order a Holier Than Thou: St. Germain and grapefruit juice with a healthy dose of sparkling wine ($10). Request a balcony table for a spectacular view of the 27 original stained-glass windows, the enormous open kitchen (where the altar would be), and another full bar in place of a pipe organ. The menu changes seasonally but might include locally leaning dishes like chilled crab salad ($16); fried Giannone Farms chicken ($26); and Frogmore Stew, made with Maine lobster, mahogany clams, and Laughing Bird shrimp ($35).
Chow down within a former 19th-century tea storehouse at Central Provisions, recently named one of the Best New Restaurants in America by the James Beard Foundation. Order bluefin-tuna crudo ($16) straight from the sea just two blocks away, and watch as the chef makes it right in front of you. Provisions is known for raw platters like littleneck clams and caviar ($8), but don't skip their famous bread and butter ($7), a sourdough served with a farm egg and super-sweet hazelnut butter. Share imaginative plates like ramen carbonara ($15), lobster fritters ($11), and Korean barbecue flank steak with peach kimchi ($17).
Grab a quick bite at the Honey Paw, a newly opened downtown spot focused on noodles from around the globe. The menu crosses cultures with ease: Think internationally influenced bowls like ramen with boat-noodle broth, pork, and veal ($16); pork-sausage ravioli with country-ham brodo, asparagus, pickled ramp, and pea tendrils ($14); and dolsot bibimbap—grilled scallops with bonito, mushroom, egg, and kimchi ($29). Sip on Curieux Ale from the city's nearby Allagash Brewery, and end the afternoon with the housemade honeycomb soft-serve ice cream ($7).
What to Do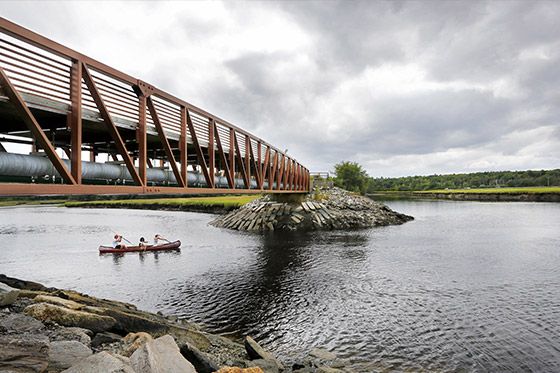 Tie on a rubber apron and catch your own dinner with Lucky Catch Cruises ($30). The Lobster 101 tour leaves about five times a day from Portland proper, lasts 90 minutes, and teaches groups of 15 how to bait a lobster pot, suss out the best spot to drop them in the ocean, and what size qualifies the shellfish to be kept or released. Along the way, you'll learn about the varied Civil War forts on outlying Portland islands, like Fort Gorges, which was later used to store submarine mines during World War II. Take the last boat of the day (around 5:30 p.m.) to get a great glimpse of the sun setting over the city, and remember to pay for one of the caught lobsters ($7) as you're returning to port. Carry the crustacean over to Lucky Catch's Lobster Company, have the chefs cook it up, and enjoy the fruits of your labor while enjoying a view of the water from whence it came.
Take up an oar and canoe through the Scarborough Marsh, just 20 minutes outside the city. Excursions are offered seven days a week to explore beaver dams, osprey nests, and more than 2,000 acres of flower orchards, red spruce, and oak forests. Sunset Tours ($14 per person) take place from 6:30 to 8 p.m., and space nerds can observe the planets and stars with local astronomers during Exploring the Night Sky programs. If you're in town during a full moon, the Audubon Society also offers a Full Moon Tour
($12), an optimal way to seek out the area's nocturnal wildlife, such as night herons, harbor seals, and muskrats.
Work up a sweat while you take in the city on Summer Feet Cycling Adventures. The four-to-five-hour bike tours ($95) depart daily starting at 10 a.m. from the Ocean Gateway Cruise Terminal and head up Portland's historic scenic coastline. You'll visit five different lighthouses along the 10-to-12-mile route, including Bug Light, a structure housed in a nine-acre park that was used for shipbuilding during World War II, and Spring Point Lighthouse, America's only caisson-style lighthouse that visitors can walk into. Shoot a selfie in front of Fort Preble, a stronghold used in four different wars, and walk the mile-long sandy beach at Kettle Cove, your final stop of the day. Relax with a stroll through the beaches' old apple orchard or take a nap in the sand dunes just beyond the reach of the ocean waves.
Expert's Tips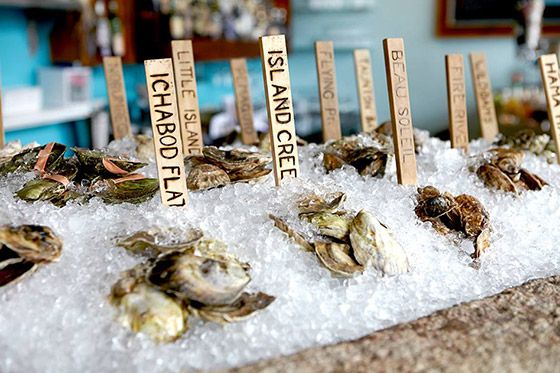 Bill Burke is a head bartender and manager at Liquid Riot, a restaurant, brewery, distillery, and bottling company in downtown Portland.
Portland is a real up-and-comer in the beer world. There are numerous breweries to visit—Rising Tide, Oxbow Blending & Bottling tasting room, Allagash, Bissell Brothers, Austin Street, Bunker Brewing, and Foundation, to name a few. But if you're looking for a place where all these fine craft-beers come together, I have to insist on visiting Novare Res Bier Café. They have an amazing draught list with locally made beers and selections from all around the world. All the local brewers and beer aficionados meet here to talk beer and business.
For great seafood, locals love Eventide Oyster Co. and J's Oyster Bar. Eventide has a wonderful raw bar, and their lobster rolls are to die for. J's is a bit hidden away down one of the wharfs along the waterfront, so it's been a local escape from the tourist crowds for years now; it's a very workmanlike atmosphere, with a traditional Maine lobster roll and sandwiches served with chips and a pickle.
If you want to get out on the water, Casco Bay Lines offers a wide variety of options: ferry rides around the bay, trips out to Peaks Island. Kayaking to the islands and around them is always fun; rent your kayak from Maine Island Kayaks. The islands aren't enormous, and it's kind of impossible to get lost, though if you do, one of the kind homeowners out there will point you back to civilization!
If you're looking to stay a bit off the beaten path, the Inn on Peaks Island is just a 15-minute ferry ride away. It has a wonderful, cozy little restaurant with a welcoming staff and a great sunset view of Portland.
Resources
Find new restaurant reviews and locally crafted recipes from a Portland transplant at The Blueberry Files.
Maine Huts and Trails will tell you where to bike on Peaks Island, which plants are edible along Portland's 375-mile recreational waterway, and which hiking trails might lead you into a family of black bears.
For news of tastings and other happenings around the city's renowned (and crowded) craft-brewery scene, follow the Portland Phoenix's "Food and Booze" column.