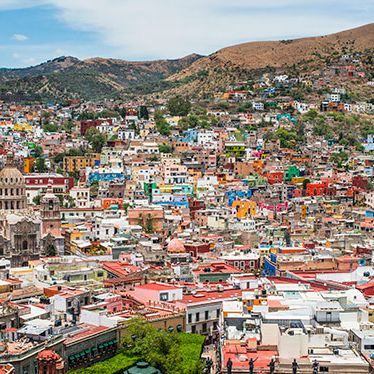 Where to Stay
Stay in the heart of historic Guanajuato at new Hotel Edelmira (from $215). Located on the music-filled, laurel-shaded Jardín de la Unión, the city's main public square, the hotel blends modern comforts with traditional Mexican charm. Guest rooms feel cozy yet chic, with wood floors, writing desks, and soft wool rugs. Order a glass of Casa Madero Cabernet while you float in the aqua-tiled indoor pool or chill on the picturesque rooftop at Terraza Bar, surrounded by spectacular views of the pastel-colored cityscape.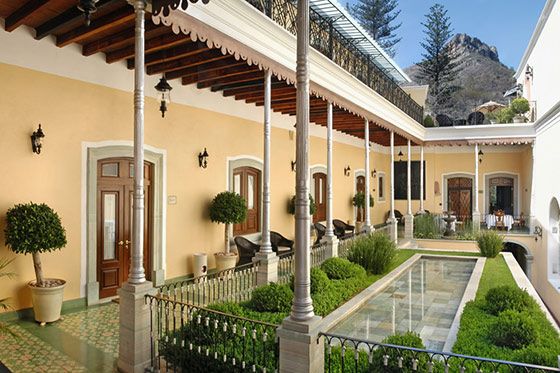 Escape the downtown bustle at Villa Maria Cristina (from $320), an elegant boutique in the residential neighborhood near the city's placid reservoir. Old-fashioned rooms are dressed up in cream-colored French furnishings and adjoined by large marble baths with whirlpool tubs, though guests can also make use of the wood saunas and the Jacuzzi at the onsite spa. Sip a "sacrificio," the house mezcal, at the well-stocked second-floor bar, or take a book to one of the sun-drenched verandas, which overlook the surrounding green hills.
Sleep soundly at Alonso 10 (from $140), a quiet, ultrafriendly boutique hotel that manages to feel intimate despite its rather majestic setting in a restored 18th-century mansion. The ambience is part historic, part modern, with tidy, light-filled guest rooms highlighting the building's towering ceilings and thick stone walls. Top-floor rooms have semi-private terraces with views of the city's domes and spires, and the spacious second-floor accommodations boast Juliet balconies opening onto narrow Alonso Street below. Beat the crowds at the quiet Mexican restaurant downstairs, where a generously served breakfast, like egg-topped chilaquiles, is included in the price of the room.
Where to Eat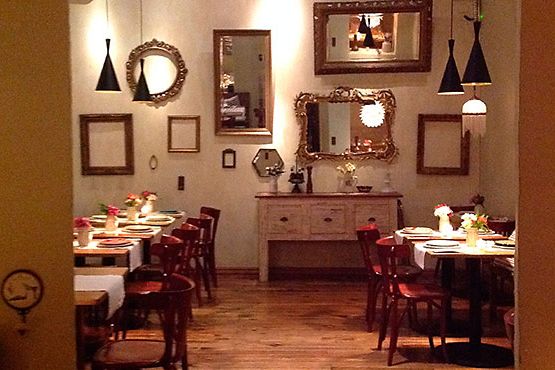 Sip a glass of Rioja at Apunto Restaurante, located on the ground floor of the sophisticated new cultural and culinary center Casa Cuatro. The posh-country ambience is the perfect complement to a day spent peeking into Guanajuato's sandstone chapels and colorful markets: Think low-lit tables set with mismatched china, creaky wood floors, and limeade served in Mason jars. Order grilled eggplant with goat cheese ($7) and the seafood risotto ($15) with scallops, shrimp, and asparagus, and be sure to leave room for the unusual herby-sweet jicama cake ($4.50). Come on Friday evening for live flamenco, jazz, or bossa nova (after 8:30 p.m.).
Try memorable takes on Mexican heirloom recipes at family-run Las Mercedes. Operating out of the living room of the chef's own home, Las Mercedes has the feel of an elegant friend's dinner party, with food that mixes culinary expertise with a comforting, homemade sensibility. If you're feeling adventurous, try the escamoles en mantaquilla de epazote (ant eggs in epazote butter, $12), which are smoked lightly with mesquite and topped with organic flowers. Follow up with the envuelto de chile pasilla relleno de queso ($8), a dried chile pepper stuffed with cheese and seasoned with spices and piloncillo (unrefined sugar). Ask for a Mexican red from Las Mercedes' extensive wine cellar or the mezcal-xoconostle margarita ($6), a house specialty combining a locally made version of the spirit with sour prickly pear.
Bring an appetite to local favorite Mestizo, a new modern-Mexican spot owned and operated by chef Javier Cruz Hernández Vallejo. Son of Guanajuato's celebrated ceramic artist Capelo, Hernández Vallejo turned his father's downtown gallery into a dining room where white-cloth tables are surrounded by shelves of Capelo's signature hand-painted vases and platters. Fittingly, food is served with great artistic flair, though prices are decidedly down-to-earth. Start with an electric-green cream-of-cilantro soup ($2.50), then try filete de res con pesto de cilantro y chile morita ($8), a cut of beef served with cilantro pesto and a notably smoky variety of the chile chipotle.
What to Do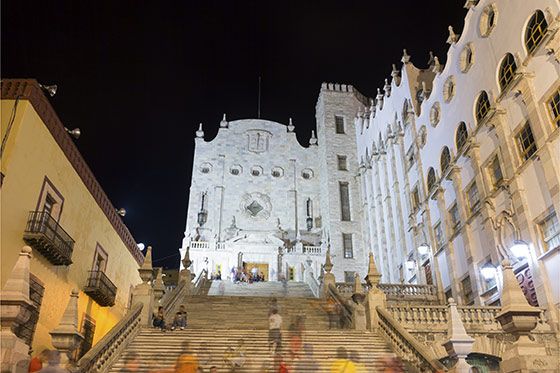 Forget about sleep when Guanajuato becomes the backdrop to the Festival Internacional Cervantino (October 7-25), Mexico's largest and most astonishing performing-arts event. Under the leadership of vanguard novelist and intellectual Jorge Volpi, the 2015 Cervantino lineup is eclectic and imaginative, from a Belgian orchestra's performances of Beethoven's nine symphonies on period instruments to an electric Afro-pop show from Mali to a revue of traditional South American dances from a celebrated Peruvian ensemble. Venues range from the spectacular Moorish-style Teatro Juarez to the Templo de la Compañía, an 18th-century Baroque church in the city center.
Rub elbows with academics at the Universidad de Guanajuato, a prestigious public institution whose unusual neoclassical façade dominates the downtown landscape. Bookshops, cheap cantinas, and bohemian cafés proliferate in the blocks around the college, where you'll also find galleries, museums, and performance spaces operated by UG's active cultural-extension program. This fall, Galería Polivalente (Lascurain de Retana 5), a spacious modern gallery on the central campus, is hosting a special exhibit by Oaxacan master Francisco Toledo (October 7-25), while gallery El Atrio (Lascurain de Retana 5) presents "La Mirada de lo Invisible" (October 7-25), a collective exhibit of graphic work in tribute to poet Octavio Paz. Just down the street, the Orquesta Sinfónica de la Universidad de Guanajuato performs every Friday at the Teatro Principal (Cantarranas 1, $6).
Delve into Guanajuato's long history in the arts at the Museo del Pueblo de Guanajuato, which showcases Colonial-era art and artifacts alongside rotating exhibits of contemporary artwork of principally Mexican provenance. Following recent shows by Mexico City sensation Pedro Reyes and Guadalajara native Gabriel Macotela, the museum will be exhibiting a selection of contemporary German photography (October 7-25) in collaboration with the Instituto Goethe and the Ost Kreuz Agentur der Fotografen in Berlin. From the Museo del Pueblo, follow Positos Street west to the Museo Casa Diego Rivera, the childhood home of the celebrated muralist and painter, containing a fine collection of his largely unknown early work.
Expert's Tips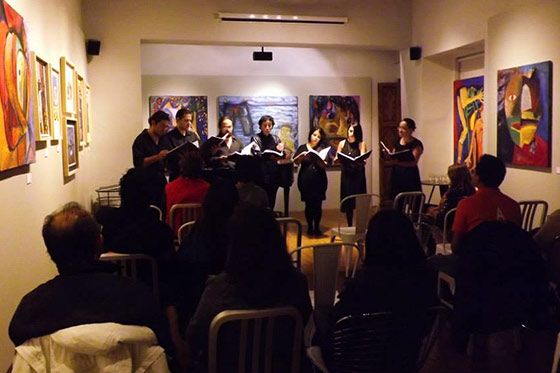 Guanajuato native Hugo Anaya is an artist, a print-maker, and an art teacher; associate of the gallery Monotipo (Calle del Sol 4, 473-733-5423); and owner of the bed-and-breakfast Alma del Sol.
In terms of art in Guanajuato, I really like the space Maza+hua in the Casa Cuatro. They hold concerts on Thursdays and Saturdays, and they give classes in yoga, drawing, and other topics, open to anyone in the community.
I like the cantina La Clave Azul (2da. de Cantaritos 31, 473-732-1561) at midday, when they bring you traditional Mexican botanas (free snacks) with your drink. It's a hidden place and very intimate; no one bothers you. Generally, lots of Guanajuato families go there. It's a place where you go to play dominoes, cards, or chess, with no pretension at all. And the decoration was inspired by Juan Yanes, the set designer for the filmmaker Luis Buñuel.
In the small town of Santa Rosa in the Sierra de Guanajuato, just 10 minutes outside the city, I like to go to Restaurante de la Sierra (Carretera Guanajuato–Dolores Hidalgo Km.14, Santa Rosa, 473-102-5036) on the weekends. It's a pleasant place, very festive, with lots of color—and inexpensive. There's always mariachi. They have a house mezcal, which they make with cured orange, and they serve an unusual, sweet type of mole. While in Santa Rosa, you can also visit the women's cooperative Conservas Santa Rosa, where they make jams with prickly-pear cactus or local fruits and sell them to support educational projects for women living in the sierra.
Resources
Produced by the University of Guanajuato's cultural extension, the monthly magazine Polen provides comprehensive coverage of the numerous concerts, film screenings, exhibitions, and other special events produced by the university, in addition to essays on the arts.
Guanajuato expat and writer Rochelle Cashdan's arts-oriented blog Mexiguana covers concerts, special events, and other Guanajuato happenings, with lots of coverage of classical music and the Cervantino festival.
Coverage of the City of Guanajuato in the statewide newspaper Correo often focuses arts and literary events in town, in addition to civic news (in Spanish).