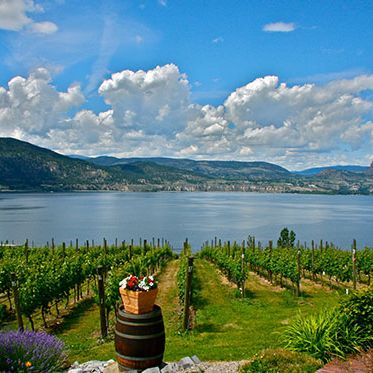 Photo: Courtesy of Bench 1775
Where to Stay
Soak up the sunset from your own private patio at one of six Mediterranean-style villas at Hester Creek Estate winery (from $177). The Spanish tile roofs, stone fountain in the courtyard, and desert-rock accents create subtle harmony with the Okanagan's high desert landscape. Within each villa, get cozy in front of your own fireplace or in your cushy Stearns & Foster bed, but be sure to rouse yourself for dinner at on-site Terrafina, a Mediterranean-inspired restaurant regarded as one of the best in the region. Tuck into hearty dishes like braised pork cheek tagliatelle ($20.50) or whole roasted arctic char with basil gnocchi ($25).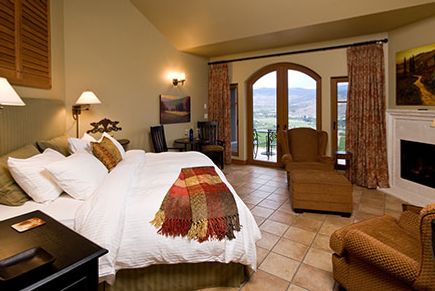 Imagine you're in the south of France at one of the ten tranquil
guesthouses at the Burrowing Owl winery (from $128 in the off-season). Start the day with some laps in the Olympic-size swimming pool or a hike through the vines and rugged mountains nearby, followed by some low-key lounging on your own private patio or balcony (with a glass of B.C. wine in hand from the welcome bottle in your room). Nibble European-leaning dishes like tuna carpaccio with crème fraîche ($15) and duck confit with potato gratin ($23) at the Sonora Room, the on-site restaurant that's popular with locals as well.
Wake up with morning vinyasa along the shores of Lake Osoyoos at the Watermark Beach Resort, a lakeside property ideal for active types: miles of running and biking trails weave alongside the waterfront. Cozy earth-tone rooms (from $99 in the winter off-season) make ideal home bases, with amenities like well-stocked kitchens, and washers and dryers in studios. Take a seat under the flower-draped pergola to tuck into Okanagan-inspired small plates like sockeye salmon with spring pea purée ($9) and warm roasted cauliflower salad with quinoa ($11). Soon to come: a vertical wine-tasting highlighting local and international vintners.
Where to Eat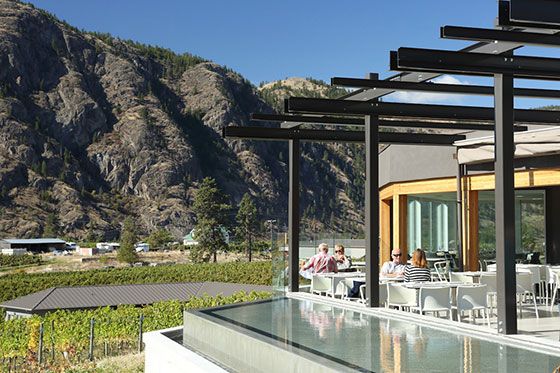 Admire the artwork — like a giant sphere made from reclaimed wood and a towering dandelion crafted from aluminum — at Liquidity, a winery that recently opened a bistro on its 4,000-square-foot complex. Settle in for lunch in the sleek white dining area, where Instagram-worthy views of mountains and vineyards through floor-to-ceiling windows steal the show. Local and Pacific Northwest flavors are the focus here: think foraged mushroom flatbread with hazelnut gremolata and truffle oil ($13), braised short rib grilled cheese ($13), and, of course, the winery's excellent vino — the medium-bodied Pinot Gris ($7) pairs exceptionally well with most dishes on the menu.
Belly up to the bar amid kitchy décor (look up at the eggbeater mobile) at
Dolci Socialhaus. The former deli has recently been reimagined as an inventive tapas joint serving up a changing menu of globally inspired dishes like beer-and-bacon-cheese fondue ($11), housemade spaetzle ($11), and a Swiss-inspired specialty called chrut capuns, a fluffy round of dough topped with prosciutto, salami, cheese, Swiss chard, and caramelized onion ($14). A small but well-rounded wine menu showcases Okanagan winemakers, with a few Eurocentric varietals sprinkled in.
Savor the flavors of the Okanagan at Miradoro, the Mediterranean-inspired restaurant at Tinhorn Creek winery. Dig into locally sourced creations by chef Jeff Van Geest like wild boar carbonara ($20), albacore tuna puttanesca ($22), or pork belly with scallops from British Columbia and served with pickled peach, fried polenta, and beet purée, paired with wines from all over the valley. Snag a spot on the open-air patio if possible, but there's no bad seat in the house: Each table gets a killer view of the bucolic surroundings through floor-to-ceiling windows.
What to Do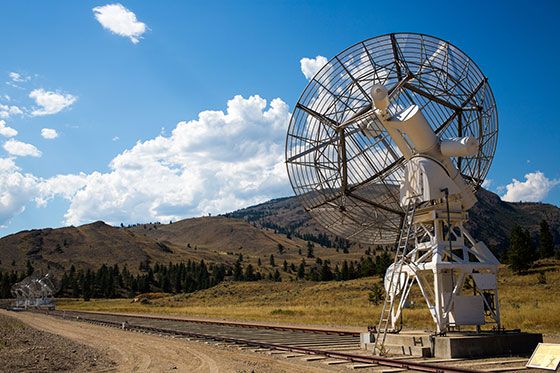 Pack comfortable shoes for an active afternoon at

Covert Farms, a 650-acre working farm and winery near the town of Oliver. Pile into the back of the property's cherry-red 1952 Mercury pickup for a tour ($40) through rows of vineyards alongside resident Scottish Highland cattle. Take a rigorous hike up McIntyre Bluff, a rugged overlook and iconic Okanagan landmark that's right on the property. Afterward, if you have any energy left, grab a basket and pick your own seasonal produce like strawberries, table grapes, and tomatoes to take home. End your visit with a well-deserved glass of the vineyard's organic wine: the Covert Farms Family Estate 2012 Grand Reserve Zinfandel ($12) is a fruity showstopper highlighting the property's Zinfandel grapes, an unusual varietal for Canada.
Geek out on the diverse geography of the South Okanagan region. At the
Dominion Radio Astrophysical Observatory, you'll have to turn your cell phone off so as not to disturb the radio-silence environment for such massive telescopes as the recently built CHIME, a new rock star in astronomy circles that looks like a skateboarding half-pipe. Explore the 67 acres of wilderness at the

Osoyoos Desert Centre (admission $5), a fascinating spot where visitors can spot wildlife such as snakes, rabbits, and deer; night tours, offered during the summer, let visitors enjoy the Okanagan's night sky while trying to catch a glimpse of nocturnal creatures like owls and bats.
Transport yourself to Tuscany with a sip-and-cycle bike tour through the Naramata Bench, one of the most visually spectacular sub-regions of the Okanagan Valley, known for its boutique wineries and magnificent views of Lake Okanagan. The Kettle Valley Railway, which is part of the beloved-among-cyclists Trans Canada Trail, passes more than 30 wineries. Along the east side of the lake, be sure to stop at Bench 1775 Winery, which serves up delectable homemade breads along with its wines; Laughing Stock Vineyards, an appointment-only winery known for its Bordeaux-style grapes; and Perseus, a newly opened spot with a contemporary lakeside tasting room (and an excellent flagship red).
Expert's Tips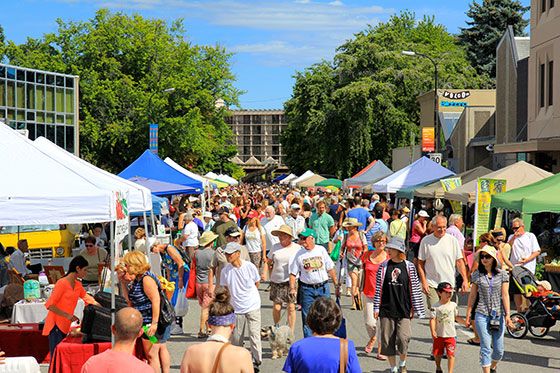 Chef Chris Van Hooydonk owns Backyard Farm Chef's Table, which produces farm-to-table dinners, and hosts cooking classes from his home-based kitchen and orchard farm.
The Penticton Farmers' Market is one of the best going. It's got everything: arts, crafts, farmers, suppliers, musicians. There are probably 20 different food trucks, too, and you can also taste some great wines there. In just a few years, it's grown so much; it runs from May through the end of October and there are some winter markets, too.
One of my favorite spots to eat is this tiny little Mexican restaurant just outside Oliver called El Sabor de Marina. I can't drive past there without stopping. There are three little ladies who produce purely authentic Mexican food from a flywood shack built onto a market. They make pupusas by hand, and you can't go wrong with their pork burritos or pozole.
It's called a hardware store, but Home Hardware in Osoyoos literally sells everything — kitchen gadgets, preserves, spices, pet supplies, floaties, flip-flops. You'll go in there for something that you need and leave with a dozen things that you don't. It also offers cooking classes once a month in the off-season (from about $20).
Rustico is a tasting room that's set up like an old Western saloon, full of fascinating memorabilia and antiques and history about the area. I like the fact that [owner] Bruce [Fuller] makes wine really fun and approachable. People love it there because he's such a character.
Tickleberry's is a road-trip staple, for sure: a pretty cool conceptual little ice-cream-and-sweets shop located right off the highway between Osoyoos and Penticton. It's a perfect place to get stop with the kids for some ice cream or fudge. It brings you back in time a little bit.
Resources
Soak up insider intel on the wine industry in Okanagan and the rest of British Columbia via #BCWineChat, where winemakers and wine lovers dish on events, openings, and tips.
Get inspired by B.C.-based writers and photographers with B.C. Living, an online lifestyle publication.
Plan a wine-centric trip with the help of maps, suggested itineraries, and detailed info on vineyards, all curated by the British Columbia Wine Institute, a volunteer trade association that oversees the province's wine industry.
The Penticton and Area Cycling Association is a local cycling group whose website, Bike Penticton, is a wealth of resources on route maps and bike-centric events in the Central and South Okanagan regions.