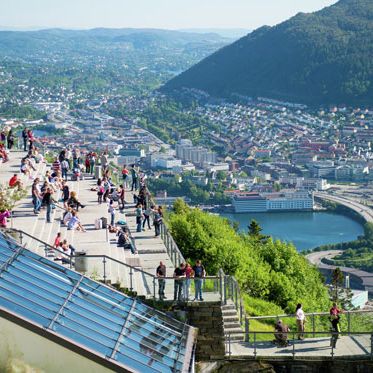 Where to Stay
Sleep just across from Bergen's picturesque harbor at the Hanseatic Hotel. The boutique property is situated within a beautifully preserved early-15th-century building once used as a trading house for German merchants. The hotel started with just 16 rooms (from $152) in 2006 and recently expanded to include 21 more, each with a completely different layout and décor, ranging from timbered walls with stately black furniture to luminous wallpaper and plush bedding; many boast traditional beamed ceilings and clawfoot bathtubs. For dinner, pop down to the attached FG Restaurant & Bar for steamed mussels ($17) or a juicy steak ($36).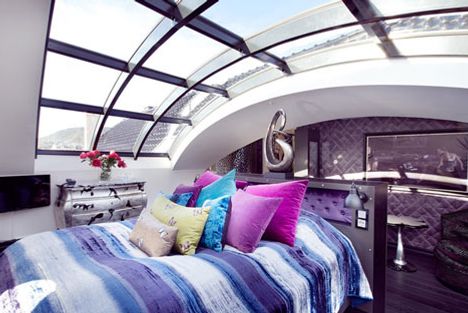 Bunk like a local at To Søstre Guesthouse, run by two sisters in Bergen's Old Town. The three homey rooms within the traditional Norwegian clapboard house (from $129 in the summer, $83 in the winter) are decorated in pastel tones; there's a pink room with a canopy-draped bed or a simpler loft room with timbered walls and a black-and-white-patterned duvet. A hearty breakfast is included and could feature scrambled eggs, pancakes, smoked salmon, and fresh smoothies. If the house is full, don't worry — the sisters also rent two apartments around the corner at the Carbiner House Apartment (from $142 in the winter, $170 in the summer).
Stay central at Clarion Collection Hotel No. 13 (from $204). The brightly modish rooms get pops of jewel-toned color from oversize artwork hanging on the white walls and plush, velvet pillows resting on the beds; ask for one with a balcony with French doors that open right onto the city's main shopping street. Suites on the top floor have curved-glass ceilings for easy viewing of the midnight sun during early summer. Before a night out, sip a citrusy Nøgne Ø saison beer brewed in the Norwegian city of Grimstad ($11) while admiring the soaring stained-glass ceiling at Bare Pa 13, the lively bar and restaurant located within the lobby.
Where to Eat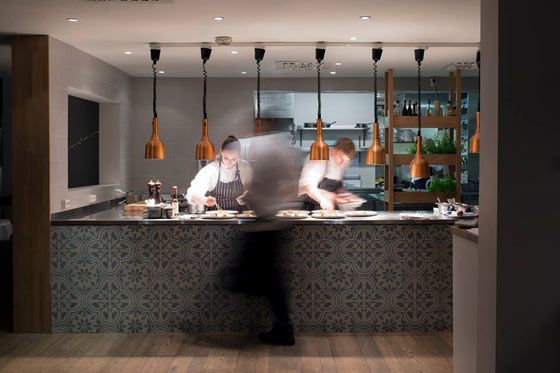 Sample Neo-Fjordic cuisine at Lysverket, located within an Art Deco building that's now part of the KODE museum complex. The rustic yet polished décor — handmade Danish wood furniture, booths upholstered in Norwegian textiles and wild sheepskin — matches chef Christopher Haatuft's modern takes on classic Norwegian fare. Select the four- ($76) or seven-course ($100) tasting menu, which might include dishes like crisped mussels with charred-tomato broth and rye croutons or charcoal-grilled mackerel with squid ink and zucchini prepared three ways. Those with smaller appetites can order à la carte dishes like a modern take on creamy Bergen fish soup with cod ($16) from the bar menu while sipping a "Head in the Clouds" cocktail ($16) made with gin and cloudberry cordial.
Make a night of it at Cornelius, a high-end seafood spot evocatively set right on the water on the small island of Holmen. The restaurant sends a boat to pick up dinner guests with reservations at 6 p.m. and returns them at 10:30 p.m. If it's warm enough, wander the deck when you disembark to check out tanks full of live scallops and langoustines; then settle in for either the three- ($100) or five-course ($125) "meteorological menus" that are always tweaked to reflect the weather of the day. Dinner could start with a duo of male and female horse mussels garnished with salsify followed by a buttery cod fillet with garlicky potato purée. The wine cellar, with a natural rock wall, contains between 5,000 and 6,000 bottles with an emphasis on red Bordeaux (Norwegians' preferred quaff with cod).
Keep it casual at Colonialen Brasserie inside the renovated 19th-century House of Literature building. Minimalist pendant lamps add to the natural light that pours into the airy space through large windows overlooking the street. Try updated Nordic classics like an open-faced sandwich of herring on rye with egg and sour cream ($16) at lunch or branch out with flaky tusk fish served with lightly pickled kale, oysters, cucumber, and leek butter ($31) at dinner. Between meals, the space serves as a coffee shop and bar where guests seated at rustic wooden tables type away on laptops.
What to Do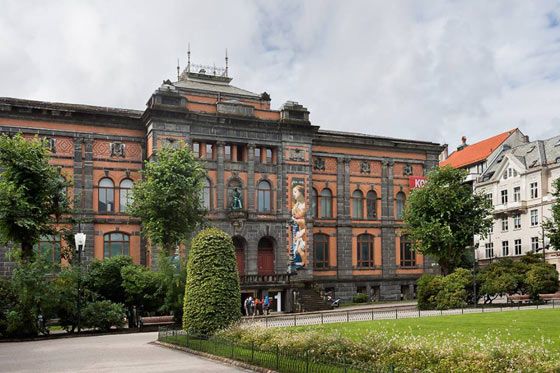 Admire the well-curated collection of Norwegian and international art at the KODE Museum.
Explore the wealth of street art around town. Artist collective BART has worked to decorate the walls of the city's buildings with mostly stencil artworks with the support of the Bergen City Council, which sees the effort as a way to combat destructive tagging. Start scoping the scene at the corner of Domkirkegaten and Østre Skostredet, walking north toward the harbor past several houses. Look behind to your right to spot a giant mural of an old man's face popping out of a cloud of rainbow colors on the wall of a traditional home; the iron gate below is covered in whimsical drawings of women and children. Turn right onto Skostredet and you'll come upon a storefront painted in a pink-and-orange tropical theme. Next door, there's a huge mural of a gentleman in a tuxedo seated on a wooden chair. Walk to the end of the street and turn right on Kong Oscars Gate; as you walk down the street, look for the giant mural of cat in the alley on your right.
Browse the galleries and boutiques of Skostredet and its side streets near the harbor, which have lately become home base for Bergen's creatives. Start at Lot333 on Kong Oscars Gate, specializing in chic streetwear by Scandinavian labels like Black Lily, Dagmar, and Norse Projects; it's rumored that the owner opened the shop with money he earned from selling a few Banksy paintings. Check out Boogaloo for retro-inspired women's fashions like tea dress and mod-inspired raincoats, and nearby, designer T-Michael sells impeccably tailored menswear (his raincoats have a cult following). Taking a left on Østre Skostredet, stop by the Lydgalleriet, an audio gallery featuring experimental sound exhibits by the likes of Swiss visual artist and composer Christian Marclay and Peter Vogel, a German artist known for electronic sculptures. At the end of the street, peruse the collection of vinyl, prints, and T-shirts screened with artists' sketches at Robotbutikken.
Expert's Tips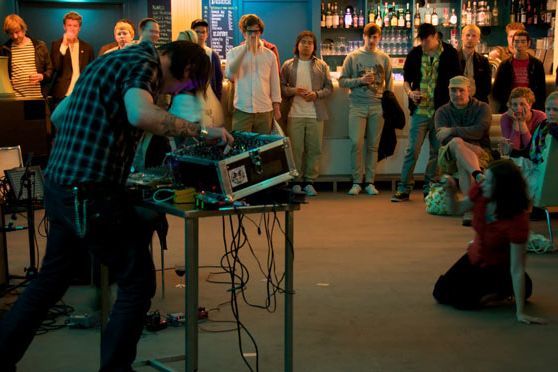 From Fredrik Saroea, Bergen native/resident and lead singer of Norwegian electronic rock band Datarock.
Bergen is a city surrounded by seven mountains, and it's pretty far south on the west coast of Norway, so it doesn't get too cold — but it rains 230 days a year. That might sound terrible, but good things come from being forced to focus on indoor activities. There's a lot of exciting innovation, entrepreneurship, and culture developing here.
For coffee and a bite to eat, I'd go to Christie Café at the Natural History Museum in the Botanical Garden. They serve organic coffee, and it's operated by a local company called Godt Brød, which is known for their simple, delicious sandwiches on fresh-baked breads and rolls.
For a casual dinner, go to Bien Bar at Danmarksplass. It's a bar, all right, but with a killer kitchen! It's housed inside an old pharmacy from the 1930s, and the glass containers and vials are still displayed on the built-in wooden shelves and counter. Try the fresh fish of the day or the housemade sausages with lentils.
Go to Ujevnt near the KODE museum for cocktails. The small menu changes seasonally, so the drinks are always a surprise. But they often use such unique ingredients as lapsang souchong and chai teas. They also regularly host DJ sets, and all the bartenders are stellar guys!
My favorite club is the alternative and experimental Landmark inside the Bergen Kunsthall. There's such a varied program and just about always something great, or at least interesting, going on! Experimental filmmaker Greg Pope just did a collaborative performance there with electronic musician John Hegre, and this summer Unknown Mortal Orchestra played.
For Nordic clothing and garments by Acne Studios, Norse Projects, and other European labels, go to Pepper. The store has specialized in modern streetwear for men and women since it opened in 1995. Owner Vegard Moberg Nilsen even sometimes invites bands and DJs to play in the store.
Resources
Follow BART's Facebook page to stay up to date on Bergen's newest street-art projects.
Keep up with the latest local news on Studvest, a newspaper for Bergen's students. They have an English-language site.
Read designer Charles Ravndal's blog to learn about everyday life in Bergen.