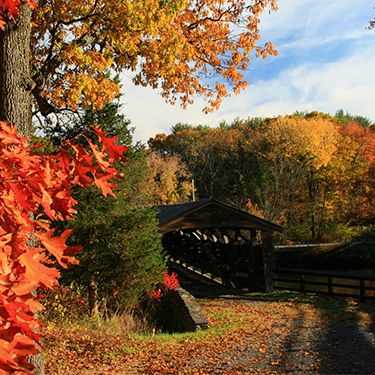 Photo: Colin Young/Getty Images
Where to Stay
Hang with locals at the Arnold House (from $139), a revamp of an historic rooming house run by Catskills native Sims Foster (plus his wife, Kirsten, and their bulldog, Addie). The inn's nine rooms and one suite pair antiques and original details (including 1950s-era bathrooms with pale-pink fixtures) with modern improvements (Sferra towels, Malin & Goetz toiletries, Pine Cone linens). Cozy up with a Pendleton blanket and a dog-eared book in one of the common room's leather loungers, or settle into one of the Scandinavian armchairs for a game of Scrabble. In the downstairs stone- and taxidermy-clad tavern, strike up a conversation with regulars over a game of pool and a standout trout dip ($10).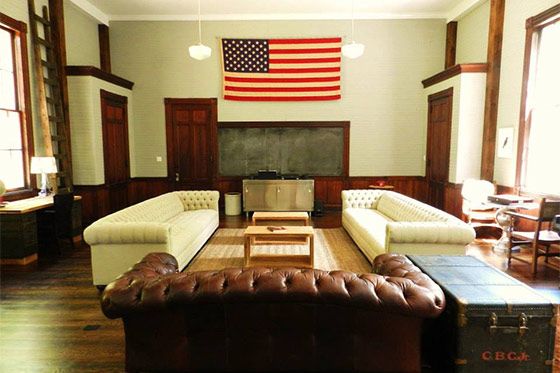 Fulfill your upstate-homeowner fantasies with Red Cottage Inc., a vacation rental company with designed-focused properties like Bully Hill Vista ($175 per night, 3 night minimum) and Hemlock House (from $200 per night, three-night minimum). The former is a shipping-container-esque property with two bedrooms, a spare, Scandinavian aesthetic, and a cantilevered deck with Adirondack chairs for taking in the views; the latter is a low-slung cabin with concrete floors, sliding barn doors, and a spectacular glass dining room.
Take a piece of the Catskills home with you at Hillside Schoolhouse (from $225, two night minimum). Originally a one-room eight-grade schoolhouse (and later a church), the building has been converted into a contemporary-meets-classic hideaway, where nearly everything is for sale, including upcycled furnishings made by owner Bronson Bigelow. The 1,400-square-foot main floor, with Douglas fir floors and slate chalkboards, is anchored by a pair of white Chesterfield sofas; the two bright, airy guestrooms (located in what was the attic) have king-size beds and white bathrooms with stag-print wallpaper and C.O. Bigelow toiletries.
Where to Eat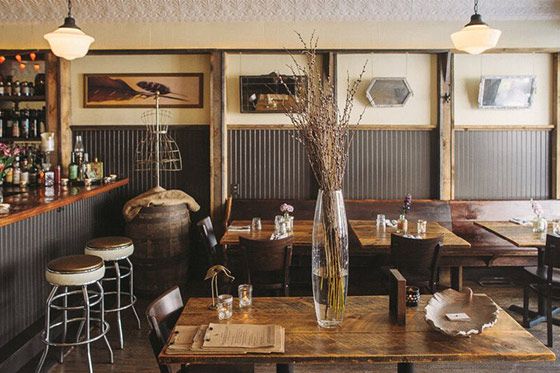 Pull up to the vintage 1940s carved wood bar at the Bar Room and Restaurant at the North Branch Inn. The vibe is updated Americana in what was once a bowling alley; note the industrial lamps and, on the walls, found portraits of sailors and soldiers in oval frames. The concise, changing menu winks at the past with "blue plate specials," though the hyperlocal fare—warm wheatberry salad with charred onions, kale, and a sunny-side egg ($12), beef brisket with fingerling hash ($29), pork belly with spiced carrot puree ($24)—is very of-the-moment. Post-dinner, guests can still handset pins and throw a frame or two, or just watch from the sidelines in red velvet theater seats salvaged from Radio City Music Hall.
Pair farm-to-table comfort food with New York State hard ciders at The Heron. At brunch, tuck into hangover-curing dishes like crispy (local) eggs with jalapeño-cheddar grits ($12) or buttermilk-fried chicken with flakey homemade biscuits ($18); at dinner, a bottle of Wayside Cider's Catskill Flagship goes pretty well with everything from Moroccan olive and locust honey deviled eggs ($8) to roasted bone marrow with Luxardo cherry and onion marmalade ($16) or andouille-sausage-laced mac-and-cheese ($19). Check the restaurant's website for guest-chef dinners in the subterranean Emerald Ballroom, a moody bar and special event space.
Drop into Northern Farmhouse Pasta on Friday and Saturday nights for family-style, home-cooked Italian suppers. Bob and Jennifer Eckert opened the shop in 2011 to sell their pastas, made using locally milled New York wheat and filled with seasonal ingredients like pumpkin and roasted garlic and spinach. The restaurant was added earlier this summer and serves the kind of bone-sticking fare nonna would make; think smoked pork with ricotta cavatelli ($17), whole crispy trout with butternut-squash mash ($17) and pork-and-broccoli-rabe-stuffed ravioli in cream sauce ($17).
What to Do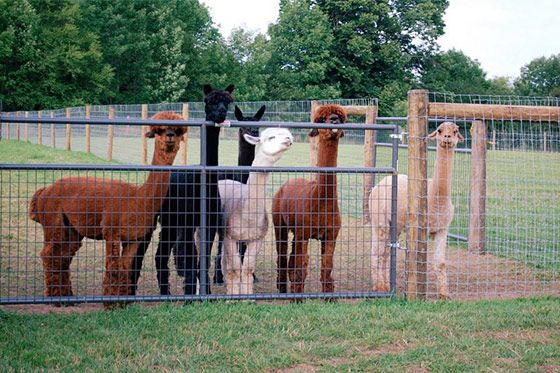 Peruse the indie design shops of downtown Narrowsburg, a tiny hamlet on the Delaware that feels like Soho in the Catskills. Start at Nest, a spacious lifestyle boutique stocked with far-flung finds, like a wood-and-cowhide chair from owner Anna Bern's native Brazil, cow-fur eskimo boots from Canadian brand NAKIUK, and Beekman 1802 goat-milk bath products. Cross the alleyway to Madame Fortuna, an artist's studio/vintage shop opened earlier this year by jewelry designer Allison Ward, who has produced eclectic-glam collections for Madewell and Anthropologie (as well as pieces for celebs like Michelle Williams and Julianne Moore). This season, she's collaborating with Pamela Mayer (the clothing designer behind Mayer Wasner) on an artisanal holiday market (Dec. 12-13 and 19-22). Wander further down Main Street to Boregaard, the chic atelier of German-born artist Pedro Boregaard, who designed for Tiffany before launching his own label and is known for his bold, luxurious, and immaculately crafted gemstone-and-precious metal pieces.
Cozy up with fluffy, award-winning yearlings at Buck Brook Alpacas, one of a spate of alpaca farms (including Imagine Alpacas and Rosehaven Alpacas) to open in Sullivan County in recent years. Call in advance to schedule a free tour, which includes a history of alpacas, some insights into why their fur is so in fashion right now, and, of course, hands-on petting with the sixty-strong herd. On the way out, drop by the farm store to browse super-soft alpaca mittens, hats, and socks.
Take yourself on a tour of the Catskills' burgeoning craft booze scene. Start at Catskills Distilling Company: located across the street from the 1969 Woodstock festival, the micro-distillery has a groovy vibe and offbeat offerings, like One and Only Buckwheat, a whiskey-style spirit made with 80 percent buckwheat; Wicked White Whiskey, a smooth and sophisticated moonshine; and Peace Vodka, made from local red winter wheat. Get a behind-the-scenes look at the process, which uses custom German-made copper-pot stills and an accelerated maturation, then sample the wares at the Art Deco bar in the tasting room. If your tastes run more to suds, bring you growler to Catskills Brewery, which opened its LEED-certified facility in Livingston Manor in August 2014 and specializes in fresh ales and lagers. Brews range from the bright and hoppy Floodwatch to the dark and chocolatey Baltic Porter (plus, there's good—and free—popcorn served with the drinks). Cider geeks will want to talk pomological terroir with Andy Brennan and Polly Giragosian, the husband-wife duo behind the Wurtsboro-based Aaron Burr Cidery, at the farmer's market in Calicoon. The family-run business doesn't have formal tours, but visits to the farm can sometimes be arranged for enthusiasts (call in advance).
Expert's Tips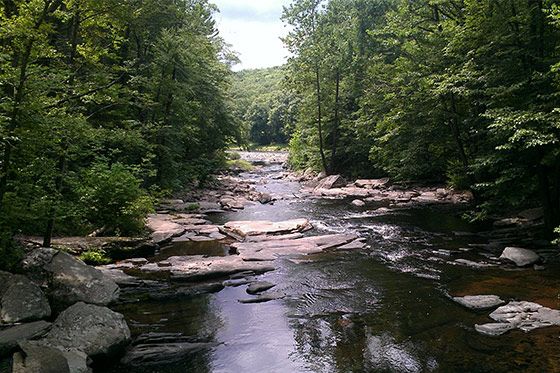 From Laura Silverman, writer, cook, mixologist and naturalist; along with Juliette Hermant, of Maison Bergogne, she is slated to open Fish & Bicycle, a bar/café in Narrowsburg, in May 2016.
I live in a tiny 1935 cedar-shingle cottage, so I send all my would-be houseguests to Barryville's chic and comfortable Stickett Inn. The rooms provide different experiences—one has a kitchen, another a wet bar—but the hot tub is available to all. The inn's owners live in a beautiful old church on the property and often invite guests over for cocktails. Hiking trails, antique shops, river rafting, and the local swimming hole are within walking distance.
I love to forage for wild mushrooms and edible plants, and I've learned so much on walks with local herbalist and wildcrafter Nathaniel Whitmore, a.k.a. Mushroom Man. To join one of his tours of the fields and forests of Sullivan County, or to arrange your own, visit his website. Expect to come away with a taste for nettles and a passion for the fungus among us.
Order local trout at Henning's Local in Cochecton; if their sashimi preparation is on the menu, don't miss it! And the complimentary popovers with radish butter are irresistible.
The hike up Tusten Mountain at Ten Mile River has scenic views of the Delaware (my husband proposed to me at the summit). It's also a great spot for wildlife sightings, including deer, eagle, turkey, bear, and porcupine. In the winter, Willowemoc Wild Forest has excellent trails for snowshoeing and cross-country skiing.
Resources
Keep abreast of the Catskills cultural scene by reading DV8 Magazine, a local publication founded by Nhi Mundy, the chef at Ba & Me Vietnamese Eatery.
Tune into WJFF, the public radio station in Jeffersonville, for country-living programming like the Farm & Country show on Saturday mornings, which features interviews with and recipes from local farmers and chefs.
Expand your horizons with AndNorth.com, a beautifully curated guide to upstate New York, with picks for where to eat, shop, stay, and explore.