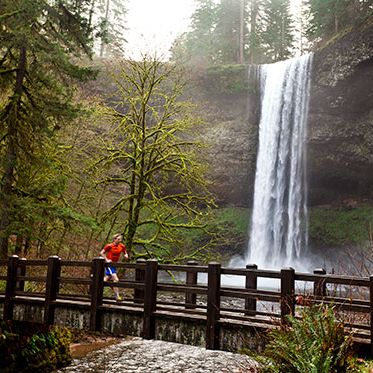 Photo: Jordan Siemens/Getty Images
Where to Stay
Try (tiny) alternative lodging at the Little House (from $85 on Airbnb), which began its life in the 1930s as a single-car garage and has since been renovated into a sleeping loft over a low-ceilinged kitchen and bathroom with plenty of natural light. Nestled in woodland, the property has recycled fir and redwood ceilings and countertops, and wainscoting from the 1920s Eugene Dairy Cooperative. For a larger retreat, this recently remodeled country cottage (from $85) can sleep four and has a walk-in tile shower, granite countertops, and a kitchen for serious gourmands.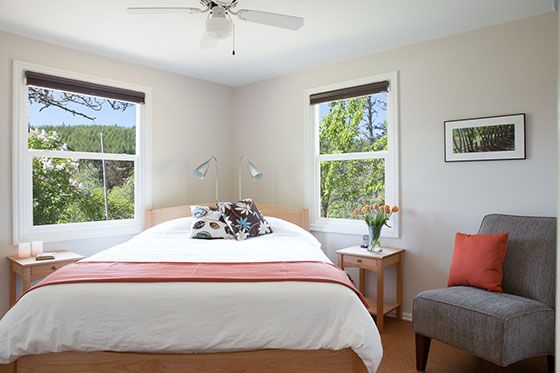 Leave a light footprint by sleeping at Velo (from $135; cyclists get a 10 percent discount), a B&B two miles southwest of Eugene whose owners have a predilection for cycling and all things local and ecofriendly. The two en-suite rooms have sustainably built furniture, organic bedding, and towels, plus attached living-dining spaces. Enjoy gourmet vegan or vegetarian breakfasts (think waffles with strawberries and coconut cream, or vegetarian omelettes made with produce from the property's garden) on a private patio surrounded by cherry, plum, and apple trees before setting off on the property's own small hiking circuit or pedaling to a nearby winery: There are 11 within 15 miles.
Relax in luxe fashion at the boutique Inn at the Fifth (from $179), located in the heart of the city's historic district. The walls of the hotel are covered in local art—several paintings are by Brian Obie, the hotel's owner—and a maple tree that once occupied the property has been repurposed into a large lobby coffee table and several smaller end tables in bedrooms. The fireplaces, too, hint at the history of the space: Before the inn was built, the property was home to the original Nike store, and the laminated shoe racks from the shop have been reborn as mantels. Guest rooms and suites boast walk-in showers, Italian linens, and reading nooks; choose your favorite place to rest your head from the "pillow menu."
Where to Eat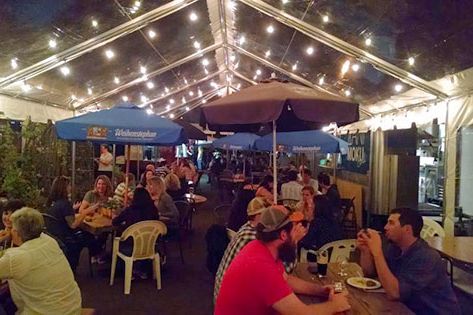 Indulge your Miami vices at Membrillo Latin Kitchen, the brainchild of Florida native and chef Corey Wisun. Sip a glass of 2010 Eguren Ugarte Cabernet Sauvignon ($9) at one of the sleek wood tables while you peruse the rotating seasonal menu, ranging from Basque-style tapas to Cuban plates: think soft duck egg pintxos with parsley salad ($4), confit and fried pork shoulder mofongo with plantain mash and rum-butter sauce ($13), and wild Pacific halibut with black lentils ($19). Save room for the custard, pumpkin, horchata, and salted-caramel riff on traditional flan ($7).
Travel the culinary world at Beergarden, where you can sample fare from rotating food trucks at an indoor-outdoor space comprising a bar, old booths, bar stools, chairs, and oak façades once part of a Marie Callender's pie restaurant. Take a tasting journey to spots like Hawaii (Kalua pig from Lani Moku Grill, $7), Italy (pasta with marinara and handcrafted sausage from Mondo Forcello, $6), and Bavaria (schnitzel from the Zingaro, $8), and wash it all down with a quaff from one of the over 40 available taps of craft beer, cider, wine, mead, and kombucha.
Sample sleekly presented bites at Board, an August 2015 addition to Eugene's dining scene, set within a former dive-bar space. The upscale transformation shows. Grab a stool at the copper-toned bar and nibble artisanal small plates like hazelnut mac 'n' cheese ($6) and smoked pork with pickled plums and goat cheese ($8), or opt for something heartier, like shrimp nestled in cheesy popcorn grits made with Tillamook white cheddar and topped with cilantro butter ($8). Either way, your wallet will thank you: No dish here is more than $12.
What to Do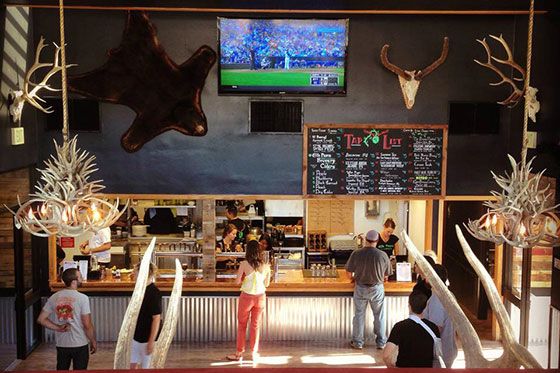 To learn about "Brewgene," follow the Eugene Ale Trail, an initiative connecting and highlighting local breweries that began in 2014. In addition to touring and tasting at any of the 14 associated breweries, you can take in local art at Ninkasi, which showcases a different Eugene artist in its tasting room each month, and listen to free live music every Thursday, Friday, and Saturday night at Sam Bond's Brewing. Around town, sip limited fall releases from labels like Claim 52 and WildCraft Cider Works, who participated this summer in Beers Made by Walking, an initiative that invites brewers to make beer inspired by organized nature hikes and urban walks. To escape the city, head to the farm at Agrarian Ales, where you can wander among hops and taste their transformation in a rotating selection of 12 taps.
Hit the town on two wheels. By day, explore Eugene by riding its 46 miles of shared-use paths and 187 miles of on-street bicycle lanes, or take your wheels into the country for longer rides. Go the distance along a
Pedaling for Pinot trail, where you can loop through rolling hills and wind down at wineries including the world-renowned King Estate and the Pfeiffer Winery, which crafted the Pinot Noir that President Obama chose for his pre-inauguration dinner. By night, celebrate Eugene's bicycling culture by riding a nine-mile loop under the light of a full moon with hundreds of other riders at a Moonlight Mash.
Get into the Oregonian outdoors. Venture into the forest to learn about mushroom picking with the Cascade Mycological Society, who sponsor fungi-foraging forays for those interested in learning what they can—and can't—eat. Step into a pair of waders and take a crash course in fly-fishing fundamentals with Two Dudes Fly Fishing. Attend a Star Party hosted by the Eugene Astronomical Society and look through free telescopes into galaxies far, far away. Or step into the shoes of an arborist, taking a tour of tree canopies in the temperate rainforest some 150 feet above ground with the Pacific Tree Climbing Institute—the more intrepid can even opt to spend the night aloft in an old-growth Douglas fir.
Expert's Tips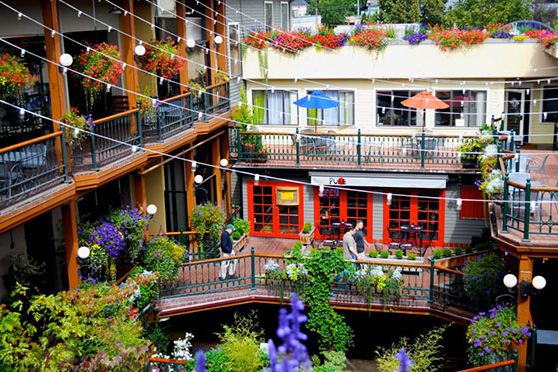 Bill Bezuk owns and operates Eugene's first urban-farming supply store, the Eugene Backyard Farmer.
Visit the 5th Street Public Market for small, local, eclectic stores. A newly expanded Provisions Market Hall features a year-round farmers' market including local wines, cheeses, meats, and fish—look for chicken and eggs from Deck Family Farms and free-range beef from Knee Deep Cattle Company. If you're hungry, grab something to go from Blackboard café; I like to get a slice of wood-fired margherita pizza, and, if I'm feeling indulgent, a couple of slices of prosciutto.
For the best view of the city, make the easy two-mile round-trip hike to Spencer Butte. Just a few minutes south of the Eugene city limits is the trailhead. Start by hiking through Douglas fir, ferns, and vine maples on the established trail. When you get to the timberline, the trail will include recently installed stone steps to help avoid erosion due to overuse. Once on the summit, you'll have 360-degree views of the Willamette Valley, the Coast and Cascade ranges, and Autzen Stadium.
I like to roam around the heart of downtown at Broadway and Willamette. I'll visit one of the many international food trucks located in Kesey Square, watch an independent film at the Bijou Metro Theater, and then stop for something sweet at Voodoo Doughnut Tres, which is right next door.
The Jordan Schnitzer Museum of Art on the University of Oregon campus is one of these museums with both an incredible collection of art and classic architecture, plus a breathtaking courtyard. There are a bunch of cool sculptures of famous historic figures, and it's a great place for a date—it worked for me!
Resources
Pick up a free copy of Eugene Weekly, an alternative published every Thursday that includes local listings, events, and exhibits in the area.
Download the new app My City Bikes Eugene and use it as pocket-size inspiration to find local cycling routes for sightseeing, transportation, road biking, and mountain biking.
Read up on anything from the best pizza in Eugene to international human rights in Ethos, a free, award-winning magazine produced by students at the University of Oregon.