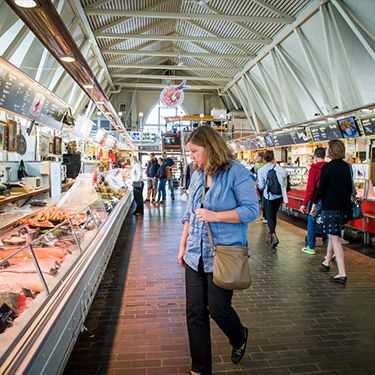 Photo: Lola Akinmade Åkerström
Where to Stay
Sleep within a historic post office at the now-chic Clarion Hotel Post (from $165). Built in imposing neoclassical style in 1925, the Post is right next to the Central Railway Station but maintains an air of exclusivity, with plush rooms and a stunning rooftop pool. On Fridays, mingle with Gothenburg's young professionals at the popular "Post Work" events held in its bars — Norda Bar and Post Bar — with house cocktails, Oregon wines, and its own Dugges Post Lager microbrew.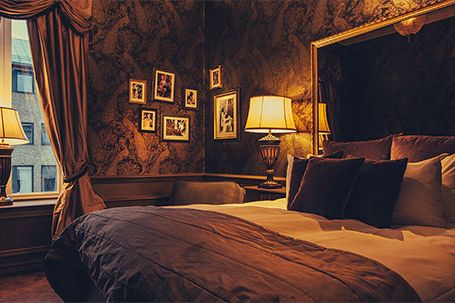 Travel back in time at French-inspired boutique Hotel Pigalle (from $295), set in a historic 1700s building (with easy-on-the-eyes male staff in suspenders and tattoos, to boot). Flamboyantly decked-out rooms lean toward heavy velvets, floral-patterned wallpaper, and gold trimmings reminiscent of Parisian boudoirs. Stop in for dinner at on-site Atelier, known for its use of locally sourced ingredients within a space that feels like a cozy private den, with book-lined walls, leather armchairs, and floral-print sofas.
Balance your inner chi at Avalon Hotel (from $115), which blends Nordic design with feng shui Zen principles within its 101 rooms. Design lovers will dig the minimalist rooms with angular Arne Jacobsen chairs and the hotel's extensive art collection, with vintage photos and original paintings and photography by Swedish artists. In warm weather, take a dip in the rooftop's wall-free swimming pool, and be sure to look down for the underwater city views.
Where to Eat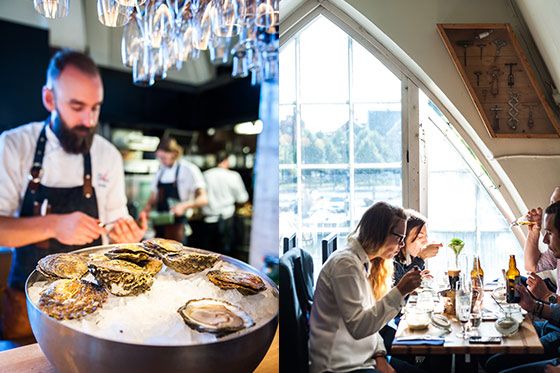 Slurp up the freshest Grebbestad oysters at family-owned Restaurang Gabriel. Chef Johan Malm, the current Nordic oyster-shucking champion, cracks open the shells from a pulpit-like position inside Gothenburg's iconic Feskekörka ("fish church") seafood market. Take a seat within its cozy modest space with arched church windows and priest-like views overlooking fishmongers selling seafood and choose from among the fresh oysters on the shell (daily price); then tuck into the hearty house fisksoppa (or fish soup, $20), or gravad lax (cured salmon) with creamy dill potatoes ($20).
Taste a bit of Japan in Sweden at vRÅ, where chefs Frida Ronge and Sofia B. Olsson apply Japanese cooking techniques to West Sweden's seafood. The modest, spalike space makes the perfect backdrop to the three-course menu ($58), which might include dishes like salted cod sashimi with soy-sesame emulsion, trout roe, and pickled shiitake mushrooms; a variety of seafood maki and sushi; and teriyaki deer with pickled cloudberries and creamy celery root.
Prepare for an exquisite multicourse meal at newly transformed KOKA, run by well-known Gothenburg restaurateur Björn Persson. Formerly known as Kock & Vin, KOKA received its first Michelin star in 2015 only a year after opening and its popular seven-course dinner (a reasonable $103) influenced by traditional Swedish flavors using seasonal local ingredients; think pristinely constructed plates like King crab with black garlic and buckwheat; cuttlefish with beetroot and walnuts; free range pork with cabbage and chokeberry; and desserts made with wild berries, fennel seeds, and sour cream.
What to Do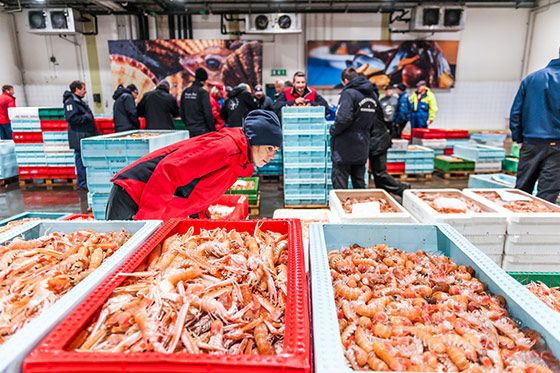 Snack your way through Gothenburg's historic city center and trendy Linné and Haga districts on a three-hour-long food tour with Matvandring ($70 per person). You'll make six to eight stops at local spots like Hugo Ericson Ost, for artisanal cheeses; Flickorna Kanold, for homemade chocolate; the Strömmingsluckan truck, for street-food herring; and the Hebbe Lelle café, for colossal cinnamon buns. You'll also visit the Feskekôrka fish market and Saluhallen market hall. If a caffeine fix is what you're after, try a one-and-a-half-hour coffee-tasting class at da Matteo Roastery ($60 per person) and learn more about Sweden's coffee culture and traditional "fika," daily coffee-and-baked-good breaks.
Learn to cook like a Swedish gourmet at a bespoke class blending modern-Nordic gastronomy with traditional fare called husmanskost (think Sweden's equivalent of American soul food). Swedish Taste (from $175 per person) organizes highly specialized cooking experiences, like preparing four-course seasonal menus with winter root vegetables and reindeer meat; learning proper Skrei-cod- and haddock-filleting techniques; cooking mussels; and grilling and glazing tips. While you learn, you'll be provided with a welcome drink like wine, plus cheese and other snacks. If you're feeling inspired after your class, look into Swedish Taste's extensive other offerings, like educational food evenings dedicated to specific ingredients, wine courses, and walking dinners.
Rise and shine with the fishmongers at Sweden's largest fish auction, Göteborgs Fiskauktion. Watch traders haggle over the daily catch, then venture out into the waters whence it came, with a half-day island hop onboard the 1960s fishing boat Solbris, jetting around Gothenburg's archipelago and the fishing communities of Hönö and Vinga. Test your own trawling chops on a crayfish or lobster safari with Burfiskarna, based on archipelago island Vrångö, or venture farther out on an hour-and-a-half drive to the highly Instagrammable fishing village of Smögen, well worth the detour to pull up giant langoustines from the depths with Smögens Fiske & Skärgårdsturer. Back in town, finish off your local-shellfish journey at Heaven 23 at Gothia Towers: Order its legendary räksmörgås, an appetite-satiating sandwich piled high with hand-peeled shrimp, boiled eggs, and Bleak-fish roe ($26).
Expert's Tips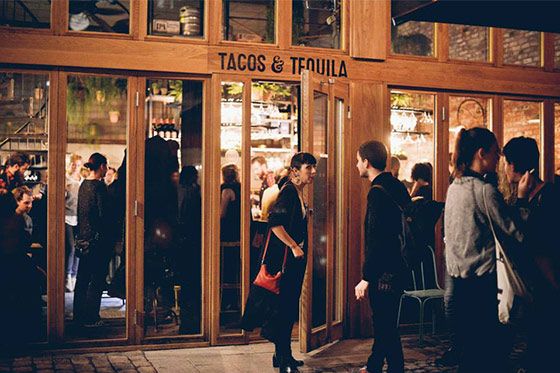 From bartender and current World Cocktail Champion Dosa Ivanov, of Marcus Samuelsson's Norda Bar & Grill.
Tredje Långgatan is one of four streets in the old docklands, which has now become the city's most vibrant area. The street is old but so beautiful, with industrial architecture that has recently been refurbished.
A brick portal along Tredje Långgatan leads to a cozy courtyard with infrared heating, where you'll find Tacos & Tequila, serving classic Mexican food. I'll go here to listen to happy folk and Mexican tunes and get some Central American inspiration. They have a notable beer- and tequila-based drink menu and fair-priced, high-quality tacos and quesadillas.
Located on Grönsakstorget next to the canal is the little gem Pixbar. The bar is built in two stories like glass-cubed shipping containers, and on warm summer nights its second-floor porch is perfect for hanging with good company. They serve pintxos, a twist on Spanish tapas, and there's no set menu or ordering involved — just grab a plate and help yourself to its ever-changing selection. At the end of the evening, you count your toothpicks and pay for the number of pins. Pixbar is decorated by Inkie, one of the world's coolest street artists.
Resources
Gothenburg Coffee guides you through the city's coffee culture, specialty cafés, and roasteries.
Get local news and significant happenings in English through Göteborg Daily.
Consult Gothenburg's ultimate guide to food trucks, and learn where to chase them around town.