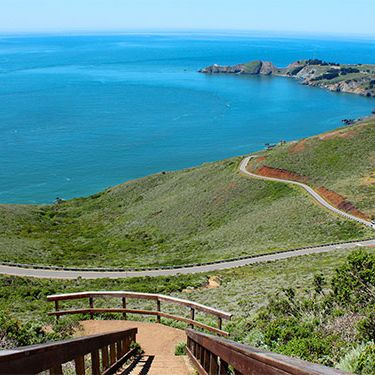 Photo: Courtesy of Marin Visitors Bureau
Where to Stay
Find inner peace at Ten Inverness Way, a stylish year-old bed-and-breakfast sitting near the trailhead of some of the best walks in the area. After a brisk hike, return to the comfort of one of the inn's five rooms (from $140), decorated in pristine whites and creams. A small backyard vegetable garden and chicken run yield most of what goes into two-course breakfasts, like hearty avocado toasts topped with fresh eggs or rich frittatas. Partake of nightly wine-and-cheese spreads, play board games, or read the New York Times beside the fireplace in the lodgelike sitting room. If it's chilly, grab a mug of coffee from San Francisco–based roasting company
De La Paz, and enjoy the fire pit outside.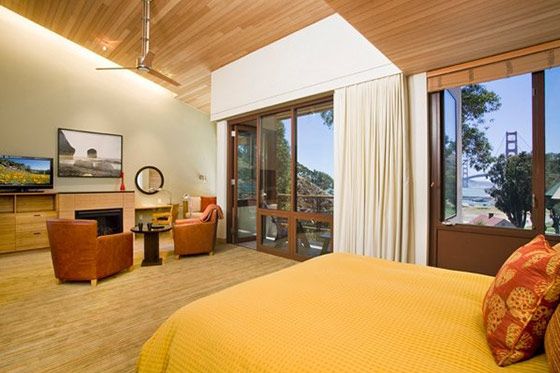 Stay centered at ecofriendly Cavallo Point. The former Army post is situated on the grounds of the Golden Gate National Park; rooms (from $349) are divided between historic cottages (once officers' residences) and ultramodern two-story structures outfitted with floor-to-ceiling windows (many with views of the San Francisco skyline) and radiant-heat floors, and some have private patios (most have gas fireplaces). Head to the spa and immerse yourself in the warm meditation pool, then try a session in acupuncture, reiki, or herbal therapy (from $160).
Start on the path to enlightenment at Green Gulch Zen Center. The guest house, built in a traditional Japanese style using interlocking wooden planks and no nails, boasts 16 modestly decorated rooms (from $90, including three organic vegetarian meals made with vegetables from the garden), but you'll be more focused on what you're doing outside: daily meditation sessions in the on-site Zendo; tending to the rows of veggie and flowers at the onsite working farm; meandering through the manicured gardens or directly onto hiking trails that lead to the beach or up into the hills and to the edge of Muir Woods. When you're ready to relax, detox in an infrared sauna, or, on Sundays, sign up for Japanese-tea-ceremony instruction in the tea house.
Where to Eat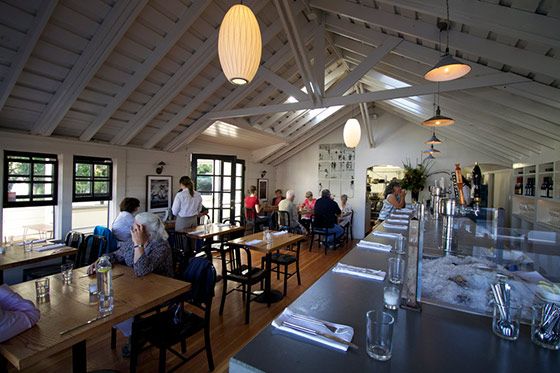 Sample exquisitely fresh sushi at Sushi Ran in Sausalito. Okinawa-born restaurateur Yoshi Tome and his team plate fish hand-picked from the Tsukiji market in Tokyo as well as the best of the local sustainable catch. Try an inventive appetizer like sautéed morning glory ($9), then get the moriawase — a plate of six of the choicest cuts — which at dinner might include bright-orange trout with shiso leaf and a piece of blow-torched barracuda ($24). Be sure to peruse the diverse beverage list, ranging from dry, potent Narutotai sake ($16) to California wines like Honig's Sauvignon Blanc with hints of grapefruit, from Napa ($35).
Jam out to the soundtrack of vinyl tunes at Molina. Chef Todd Shoberg's quaint new Mill Valley spot is centered on a magnificent wood-burning oven, where the changing-by-the-day farm-fresh plates are cooked: Think game hen with Warren pears, Point Reyes blue cheese and coal-charred jalapeños ($24) and thick-cut Kennebec potatoes served with a seasonal aïoli ($9). Like many Marin spots, Molina is beer and wine only, but its selections, like glasses of Cabernet Sauvignon from Napa Valley's Ultraviolet ($13) are far from boring. On the way out, ask for a peek in the cold storage, where Shoberg cures his own pancetta, bacon, and other treats.
Feel like a local at Saltwater, a beloved neighborhood spot steps from Tomales Bay. The simply elegant room, with its whitewashed, peaked barn ceiling and overflowing flower arrangements, makes a fitting backdrop to Saltwater's ultrafresh oyster bounty, hauled from nearby Point Reyes and Hog Island. Two varieties are always available broiled each night, using flavors like green-tomato jam or house-fermented chile; sample both ($16) with a delicate glass of Country Line rosé, on tap ($10). Venture beyond bivalves with starters like truffled chicories with Parmesan or a salad of grilled persimmon and arugula (from $11), then dig into a leg of roasted lamb from Pozzi Ranch ($31) or Bolinas rockfish with last-of-the-summer tomatoes ($30.) Desserts are seasonal too, but if it's on the menu, get the water-buffalo-milk gelato from Sonoma's acclaimed Double 8 Dairy.
What to Do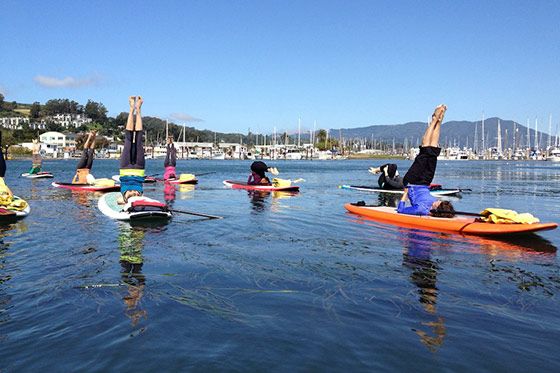 Rethink what "Namaste" can mean in one of the area's imaginative new yoga classes. At OnBoardSUP Yoga, you'll perfect your Crow pose while bobbing in the San Francisco Bay: Instructors challenge your sense of balance by leading classes on a stand-up paddle board ($30; go for a night session on a full moon). Dangle from the ceiling of Embrace Yoga, a white-washed new studio at the vanguard of aerial yoga ($25), in which students hang from soft jersey hammocks and twist and bend into poses; for a relaxing session, attend its two-hour candlelight "yin yoga" class, in which all floor poses are held for three to five minutes to emphasize deep breathing and tension release. For more action, take M.C. Yogi's Saturday-morning class at Yoga Toes Studio ($15). The hip-hop artist and yoga instructor sets his quick-moving flow sessions to an upbeat playlist of songs by the likes of Matisyahu and Miike Snow, then posts his mix on Spotify.
Experience the placid sensation of sensory deprivation at Conscious Drift. Submerge yourself in a tank of super-buoyant saltwater and float perfectly still in the dark, feeling nothing: An hour of this is said to relax the mind and body as much as four hours of deep sleep ($68). As you're floating, you'll reap the health benefits of nontoxic magnesium sulfate (used instead of actual salt, so you won't prune), as well as a boost to serotonin production. You might even leave with a new outlook on life: Choose from a menu of subliminal messages (e.g., creativity, weight loss, lucid dreaming) that can be piped into the tank under white noise.
Quiet your mind with silent meditation at Spirit Rock. At this newly expanded, shrine-inspired complex in the hills of Lagunitas, the focus is on the practice of mindfulness meditation, using breathing to reveal patterns of thought and awareness of mental and physical idiosyncrasies. Learn the basics at a half-day workshop or commit to a full-day retreat (from $55). Created in the early '80s on land donated by the Nature Conservancy, Spirit Rock runs almost entirely on solar energy; a sprawling new building opens in January and will bring an enhanced schedule.
Expert's Tips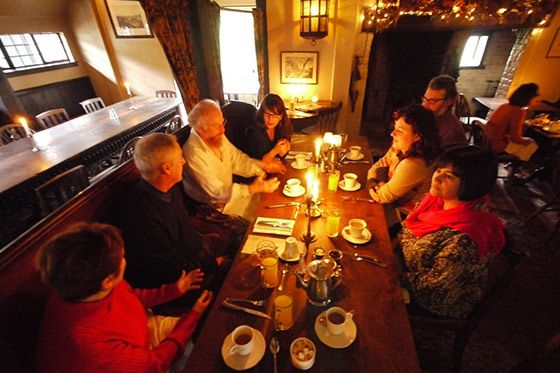 From Nicki Clark, founder of Marin Outdoor Adventure, where she and her guides incorporate meditation and yoga into hiking, biking, and surfing adventures.
I love to follow up an inspiring West Coast sunset on the Muir Beach shore with a dinner of British-tavern-style fare at the Pelican Inn nearby. The Prince Edward Island ale-steamed mussels are my favorite but you can't go wrong with their fish and chips.
I find myself craving the bone broth and rare teas at the Wu Wei Tea Temple in Fairfax. The broth is locally sourced out of Sebastopol, and I notice many benefits of drinking it, including a strengthened immune system and sleeping better.
I always try to work my schedule around taking yoga classes with Eric Monkhouse at the new Harmonia Wellness and Social Club in Sausalito. He offers blindfolds and the deep vibrations of electronic music, didgeridoo, and harmonium to turn students' attention inward.
My favorite evenings are spent singing along at Local Soul Adventures' Soulful Beach BBQ and Acoustic Music Jam — a sunset, organic picnic set to the sounds of communal music-making. They provide some great street musicians as well as a few guitars and bucket drums, so you can join in.
When I am looking for ideas I get lost at the sprawling Open Secret Bookstore in San Rafael where over 800,000 new and used books are for sale in addition to paintings and sculptures on spiritual and metaphysical subjects. They are said to have the largest collections of Tibetan Thanghka wall hangings in America, and their café offers a great housemade chai.
Resources
Scan the listings at the back of Common Ground Magazine for yoga and meditation classes and events. Publisher Rob Sidon is based in Marin County and covers topics such as conscious aging and how to grow from disappointment.
Stay current (and present) with Mountain Sangha, which curates meditation news and offers anti-anxiety meditation tips.
Track the progress of Amanda Giacomini's Ten Thousand Buddhas project on her blog. The Marin County–based yoga instructor has earned a deep following over 15 years of teaching spirited weekly classes. As an artist, she is duplicating the Buddha's image 10,000 times (she's up to 6,300) in spray paint, gold leaf, and other media; in large-scale murals and in miniature on paper.