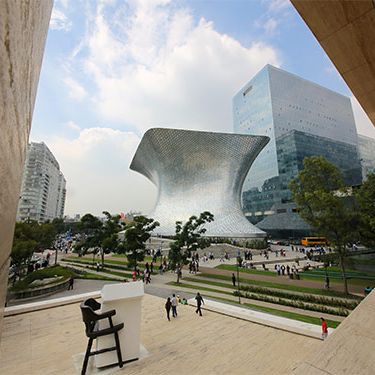 Photo: Romana Lilic/Getty Images
Where to Stay
Take note of the details at Hotel Carlota (from $200), opened in the spring of 2015. What was once a family-friendly budget hotel has been transformed into a showcase of contemporary Mexican design, with architecture and interiors by well-known Mexico City collectives and original commissioned artwork in every bedroom by artists including Tomás Díaz Cedeño, Luis Nava, and Omar Barquet. Downstairs, browse Mexican-produced clothes, accessories, and housewares at in-house boutique Taxonomía or have dinner at critically beloved (and, like the hotel, pet-friendly!) Carlota, where a glass-walled dining room overlooks the hotel's attractive central pool and patio.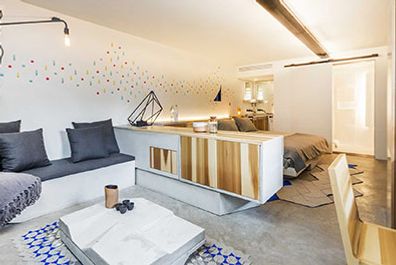 Sip your morning coffee while watching the crowds mill through Mexico City's oldest urban park at Chaya (from $100), a new bed-and-breakfast located on the top floor of a 1920s Art Deco building. Set around an outdoor terrace, the bedrooms are simply stylish, with polished-concrete floors and writing desks; most have striking views of the urban landscape, though ask for one of the two front-facing suites for the best people-watching in the park below. Before you check out, stop in to the Museo Mural Diego Rivera, just a few doors down, to see Diego Rivera's mural Dream of a Sunday Afternoon in the Alameda Central.
See another side of Mexico City at El Patio 77 (from $82), a bed-and-breakfast within a magnificent 19th-century mansion in the bustling, rough-around-the-edges San Rafael neighborhood. Each high-ceilinged guestroom is decorated with a romantic mix of antiques, traditional Mexican crafts, and unique accessories, some created at nearby
Taller Lu'um, an ecofriendly design collective (of which one of El Patio's owners is an associate). Ecoconscious travelers can rest easy here: The hotel captures rainwater, recycles gray water, and heats the showers with solar power.
Where to Eat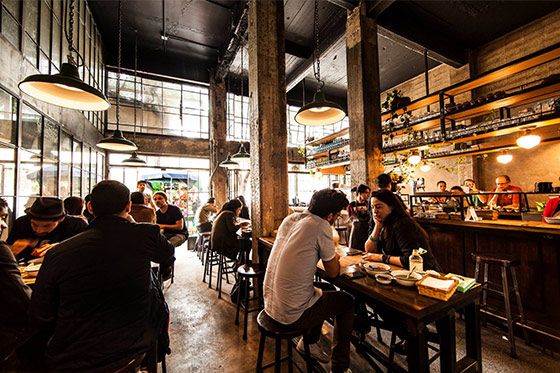 Sample Mexican cooking at Fonda Mayora, a low-key spot serving traditional dishes with a touch of chef-driven sophistication. At breakfast, ask for a mug of hot Oaxacan chocolate (order it made with water rather than milk, as is traditional in many parts of Mexico), housemade breads, and a plate of chilaquiles drenched in a rich mole negro. At lunch, start with bone-marrow-topped sopes ($4.50) or a mushroom ceviche ($4.50), then follow up with octopus à la antigua, ($11) an 18th-century veracruzano recipe updated by chef Gerardo Vázquez Lugo. The perfectly chewy corn tortillas, made on-site and accompanying every meal, are worth the visit alone.
Grab a barstool at Bravo Loncherías de Mexico and order a bottle of housemade cucumber-mint agua fresca ($1.50). This relaxed eatery — a contemporary take on a classic Mexican lunch counter — has an industrial-chic atmosphere and a menu largely dedicated to creative tortas, traditional Mexican sandwiches: Try the marlin-stuffed-chile-relleño torta ($6), or the gooey huauzontle (a Mexican green) and cheese ($5).
Find respite from the city at Huset, an elegant country-inspired restaurant set in the picturesque courtyard of a Colonia Roma mansion. Drawing a fashionable crowd since its August 2015 opening, the restaurant often feels like a posh garden party, and the constantly changing menu, built around high-quality seasonal ingredients, evokes a fresh-from-the-farm feeling. Gnocchi with lemon cream and Parmesan ($7) is melt-in-your-mouth comfort food, while dishes like sea bass with sweet-potato purée ($10) gain complex smokiness in the kitchen's wood-fired oven.
What to Do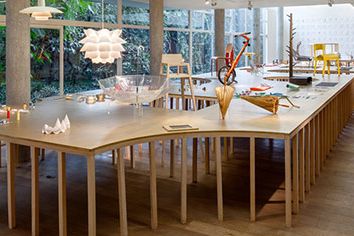 Check out the new art and design projects cropping up in Mexico City's centro histórico, starting with the area around the Alameda Central. Push past the throngs and busy taco stands on your way to the
Centro de la Imagen, a public photography gallery that reopened in October 2015 after a three-year renovation. A few blocks north, snack and shop at Barrio Alameda, a beautifully renovated Art Deco building filled with restaurants, a yoga studio, a barbershop, and several galleries and boutiques, including Utilitario Mexicano, a smartly curated shop specializing in simple but beautifully designed Mexican home goods, from lime juicers and enamel teapots to wide-brimmed sombreros. Head to the nearby Museo de Arte Popular, to see the astonishing range of handcrafts produced by Mexico's diverse artisan communities, or head east to the Museo Mexicano de Diseño (a.k.a. MUMEDI), a tiny museum that often showcases work by young designers and artists; the gift shop is a must-stop for graphic tees, colorful wallets, and Mexican design magazines.
Visit markets old and new in the Colonia Roma while cruising around the neighborhood on a cherry-red bike from Ecobici, Mexico City's still-expanding bicycle-share program (7-day membership, $17). Park your wheels near Mercado Roma, an architect-designed food court and market, where you can grab a Wagyu taco and a beet juice, or make an afternoon of it with an artisanal beer at the rooftop biergarten. On Saturdays, stop by the Roma's ecofriendly
Mercado el 100, a tiny market focusing on products from within 100 kilometers of the city. After stocking up on spirulina powder and dried mango, head to the Jardín Dr. Ignacio Chávez for the weekly Mercado de Cuauhtémoc, one of the cheapest, funkiest, and least-visited vintage markets in the city, where keen-eyed bargain hunters will find everything from old typewriters to retro toys and mid-century furniture.
Get to know the pioneers of modern-day Mexican design. Start at the Casa Luis Barragan ($11, reservation required), the former home of one of the country's most influential 20th-century architects and a touchstone for almost every designer in Mexico today. Right next door, the lesser-known Archivo Diseño y Arquitectura, located in a lushly landscaped mid-century home, holds an impressive collection of more than 2,500 industrial-design pieces from around the world. Just across the street, ring the doorbell of the large unmarked turquoise building, and you'll be buzzed in to contemporary gallery Labor. Representing a range of international artists, including Mexican star Pedro Reyes, Labor is currently showing multidisciplinary new work by New York–based Terence Gower (though March 18). From there, it's a short walk to the San Miguel Chapultepec, a tree-filled, pedestrian-friendly district that is home to numerous well-known galleries, notably Kurimanzutto, where Mexican greats including Abraham Cruzvillegas and Gabriel Orozco will have work in this month's collective exhibit "Xylañynu" (February 6, 2016–March 19, 2016).
Expert's Tips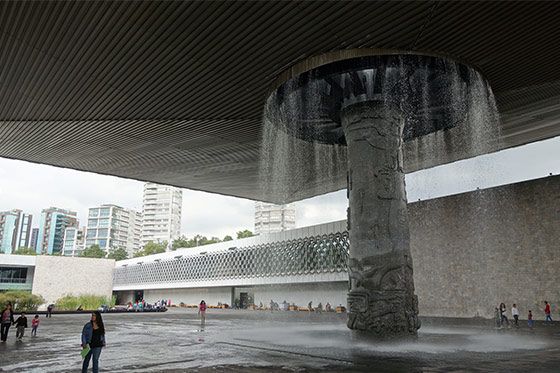 Carla Fernández is the founder and creative director of her eponymous fashion label, which draws much of its inspiration from traditional Mexican textiles and design.
I love to visit the recently remodeled salas de etnografía (ethnography rooms) on the second floor of the Museo Nacional de Antropología. There's a wonderful room dedicated to Huichol culture, which talks about the ritual journey of peyote, god's eyes, and Huichol dance, as well as a beautiful section dedicated to the cultures of Puebla.
For shopping, you can find traditional Mexican crafts at the Bazaar Sábado (Saturday market), in San Ángel. The market has recently opened up space for a number of new booths, and now you'll find some new fashion and designers at the market. I also love to go to the Mercado de Jamaica, a flower market south of the centro, to buy flowers and fruit.
I really like the new Museo Jumex for contemporary art, and it has workshops for children on the weekends. On Mondays and Fridays, there is a small, traditional market just outside the museum, where you can have something to eat, like a fava-bean-stuffed tlacoyo, before going inside.
I love to visit the canals in the Xochimilco neighborhood — not the touristy section, but rather the canals where people actually live, and you can see how they grow food on the chinampas (floating gardens). You take a boat from the regular tourist dock, but direct them to the canales virgenes. Go in the morning, and there is almost no one else there. When people from the museums I work with are visiting Mexico, I often take them there.
Resources
Culture, food and lifestyle blog Mexico City Streets has excellent insider tips and engaging stories about the city from Lydia Carey, an expat living in the Colonia Roma.
Longtime Mexico City resident Jim Johnston offers travel tips, city news, and photographs of the city and beyond on his blog (and related print guidebook) Mexico City: An Opinionated Guide.
A mind-boggling collection of listings on food, drink, nightlife, galleries, and every other event imaginable, Chilango is a go-to resource for capital residents trying to keep track of the city's many happenings (in Spanish).
David Lida, author of First Stop in the New World, a book of essays about contemporary life in the capital city, shares witty observations and insights about life in Mexico City on his blog.
Find news, opinion, and reviews, in Spanish, of art exhibitions, architecture, design, fashion, and film at the excellent Revista Codigo.