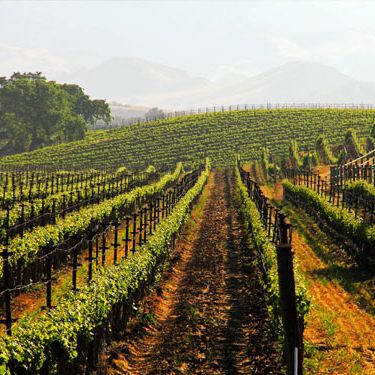 Photo: David Epperson/Ocean/Corbis
Where to Stay
Take in the ocean view from one of the only rooftop decks in town at the Canary (from $299). Pour yourself a gratis Arnold Palmer in the Moroccan-tiled lobby, then head up to your light-filled room; all come with a pair of binoculars for bird-watching or stargazing. With big windows, white linens, and accents like painted ceramic tile in the bathrooms, the hotel's boudoirs feel imported from the Italian Riviera; upgrade to a small suite for a soaking tub. Even in cooler temperatures, the rooftop Jacuzzi is a tempting spot to sip a "Delayed Flight" (vodka, grapefruit, and Aperol, $12), or head downstairs to the onsite restaurant, Finch and Fork, for hearty fare like fresh cavatelli with pistachio salsa ($20).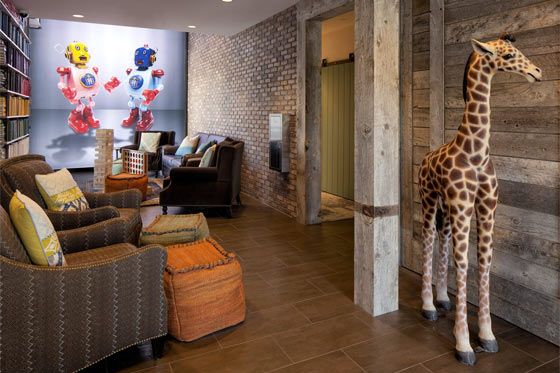 Get cozy at The Wayfarer (from $49). What the part hostel (bunk-bed dormers), part boutique (private micro-rooms) lacks in space it makes up for in character, with jaunty mermaid wallpaper, bright-yellow lamps, and faux-fur throws. Book a first-floor room on the courtyard to snag your own poolside patio, and repair to the comfy sitting area in the lobby, which feels more like a grown-up rec room, to play Jenga and Connect Four with fellow travelers.
Stay close to both tasting rooms and the beach at this architect's open-plan studio (from $245). With concrete floors, massive hinged windows, and design-friendly touches like a Marcel Breuer leather chair, the space blends industrial edge with a sunny vibe. In the morning, take your coffee on the 200-square-foot deck, and at night warm up by the double-sided fireplace. Or choose this recently remodeled one-bedroom cottage (from $167); though it's centrally located downtown, you'll find its placid neutral tones, skylights, and airy layout make for a serene oasis, as does the secluded outdoor space with wood walls and weatherproof couches, perfect for a DIY alfresco wine-tasting.
Where to Eat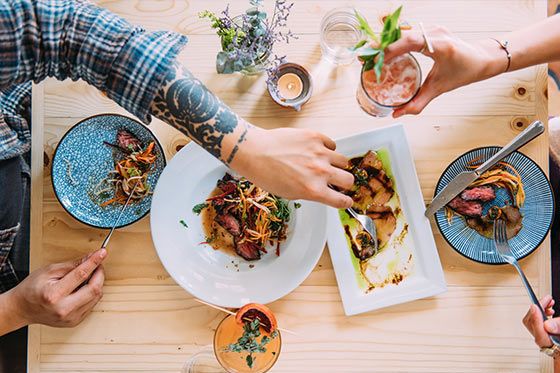 Find funky Indonesian fare at Sama Sama, where a locavore outlook meets far-flung inspiration. Chef Ryan Simorangkir spent three years cooking in Bali, and here he tailors traditional dishes like mie goring (essentially fried noodles) to California palates, in this case with shiitake mushrooms and artfully scrambled eggs ($12). The menu tends toward small plates like soy-and-tamarind chicken wings ($15) mini tempeh tacos ($11) and pepes ikan — essentially Asian-style fish tamales ($19). Larger-format offerings change frequently but might include crispy duck cooked with Balinese spices (from $32) or an organic-hanger-steak papaya salad ($26.)
Eat clean at Mesa Verde, where chef Greg Arnold makes artful, robust meals from a strictly vegetarian, mostly vegan, 100 percent organic pantry. You'll want to Instagram his color-riot dishes, like a beet-and-avocado salad with beetroot tahini ($14), a messy strawberry sundae with chocolate cake, goji jam, and fig caramel ($14), or one of the elaborately composed mains like a "pulled" smoked mushroom with dried-jalapeño powder and Pink Lady apples ($15). End your meal with an herbal coffee; chicory root, dandelion root, and other barks go into this non-caffeinated hot drink served with nut milk and raw honey ($4.50).
Pull up a chair in Wildwood Kitchen's reclaimed-wood-fenced courtyard and dig into southern barbecue. Start with a bag of Frito pie laden with chili ($13) or artichoke hearts on toast ($10), then opt for the sampler of three house-smoked meats ($30); the ribs and tri-tip are musts, but look out for specials like porchetta, and be sure to order one of the twists-on-a-classic sides, like grilled carrots with pepita pesto ($7) or honey-poppy-seed coleslaw. Top off your meal with a draft of whatever Pure Order brew's on tap ($5.50); the family brewery is less than four blocks away.
What to Do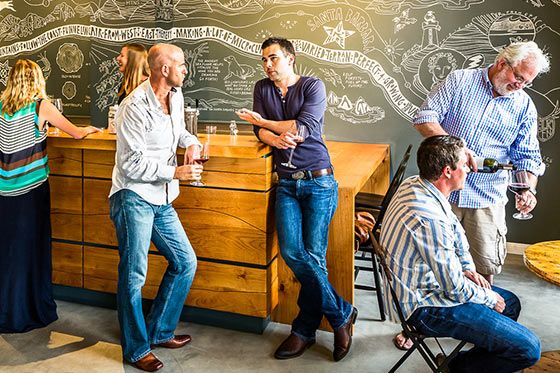 Tasting-room-hop in Santa Barbara's "Funk Zone," an industrial neighborhood turned oenophile mecca. Get a thorough introduction to the terroir of the region at The Valley Project, which offers tastings alongside explainers on the microclimates, seams of limestone, sun exposure, and other elements that contribute to ideal growing conditions for different grapes ($12). Starting in March, 90-minute classes ($25) will be on offer, teaching the basics of the area's varietals. Pop around the corner to try co-owner Seth Kunin's effervescent Chenin Blanc ($12) at his stand-alone tasting room. Head across the street to hunker down at the Santa Barbara Wine Collective, located in a former fish-packing plant, and sample the wares of five local winemakers like Notary Public's Cabernet Sauvignon made with grapes from nearby Happy Canyon.
Hike through the grapes at 220-acre Stolpman Vineyards. Trial lawyer Tom Stolpman was among the pioneer growers of the region back in 1992; join him or his son, Peter, for two-hour hikes up and down the hills of their vineyard ($20), each offering exposure to different grapes, growing practices (like dry-farming, which weens the Stolpman vines off irrigation), and stunning vistas. End the tour with a tasting of the wines made on the premises, including a rare Roussanne.
Gallop through the Santa Ynez valley with Vino Vaqueros. Former polo player Peter Ganibi and his wife, Jaye, offer 90-minute private rides on sweet-tempered quarter-horses to small groups ($125). You'll learn details of the winemaking process and take in views of the Santa Ynez Mountains as you wend through the craggy terrain of Estelle Vineyard. Cap off the day here with a bring-your-own picnic and a complimentary glass of small-batch Grenache made from Estelle grapes.
Expert's Tips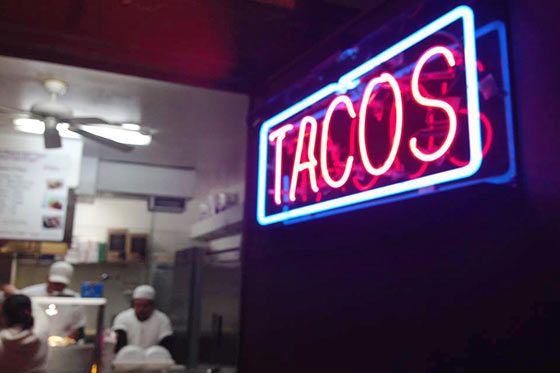 From Santa Barbara–based winemaker Rajat Parr, the James Beard Award–winning co-author of Secrets of the Sommeliers: How to Think and Drink Like the World's Top Wine Professionals.
Most people stop by La Super Rica taquería when they visit Santa Barbara, partially because it's great and partially because it is said to have been Julia Child's favored taco joint. But I prefer Lily's Tacos. The beef-tongue tacos are great, and you don't have to wait on line.
If I need a pick-me-up, I'll grab a macchiato from Handlebar Coffee. It's owned by a husband and wife who used to race bikes and now make a pretty perfect espresso.
My go-to hike in the area is the Gaviota Peak Trail. It can be challenging and gets quite steep, especially toward the end. But the view of the ocean is reward enough for me. On the way down, I take the extra mile spur that leads to a hot spring for a moment of repose and reflection.
Santa Barbara has more than its fair share of great places to sip some vino, but Les Marchands Wine Bar is a stand-out. Their wine list is unimpeachable (full disclosure: Some of my wines are on the menu), and their charcuterie plates are top flight with many items like duck-liver mousse and salami cotto di asti (3 for $18) made in-house.
Resources
Get oriented with Santa Barbara Vintners. You'll find descriptions of each year's vintages going back to 2002 and lists of varietals, wineries, and vineyards, along with suggested wine-tasting routes.
Follow the meanderings of Hana Lee, a Santa Barbara–based wine and travel blogger, at Wander & Wine; the site started as a place to collate winery-hopping advice for friends, so many posts focus on winemakers close to home.
Take your eating and drinking cues from Relish Santa Barbara, a local blog that thoughtfully chronicles the eating and drinking news of the area and gives detailed recommendations on favorites.