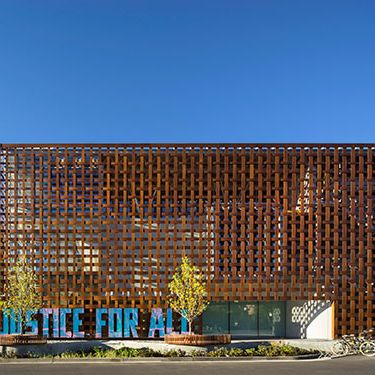 Photo: Nic Lehoux/VIEW/Corbis
Where to Stay
Cozy up in rustic-chic digs at the boutique Hotel Jerome (from $365), just a few blocks from the galleries, boutiques, and restaurants of downtown Aspen. Décor here blends elements of a glamorous après-ski lounge (the common areas have dark paneled walls, library shelves, and huge fireplaces) with Wild West touches (pony-hair chairs and burnished-leather headboards in the 93 rooms and suites). Wall art everywhere celebrates the history of both the property — which dates to 1889 — and the town. Chat with the dedicated walking concierge, who'll direct you on a stroll ending at the Aspen Art Museum.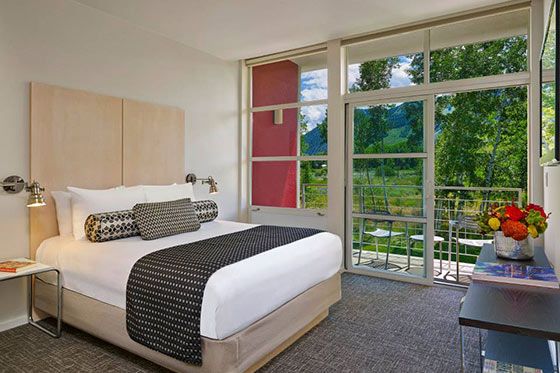 Retreat to a sweeping 40-acre "campus" surrounded by snowy peaks at the Aspen Meadows Resort (from $159). As well as being home to the Aspen Institute, an educational and policy-studies think tank that hosts the Aspen Ideas Festival every summer (this year, June 23 through July 2), the property is a trove of angular Bauhaus-style architecture, with design touches like modular furnishings and floor-to-ceiling windows in all 98 guest suites. The compound is also home to more than a dozen large-scale outdoor sculptures by artists like Herbert Bayer, Buckminster Fuller, and Andy Goldsworthy — all of which you can take in with a self-guided walking tour.
Beam yourself back to the Gilded Age at the St. Regis Aspen (from $379). There's plenty to please an aesthete here — plush rooms with custom Ralph Lauren furnishings and marble baths, unique photos and prints from Western-state artists; plus, nightly live-music shows featuring local bands at the hotel's Shadow Mountain Lounge. Every summer, the St. Regis also partners with the Aspen Music Festival to bring chamber-music ensembles to the property.
Where to Eat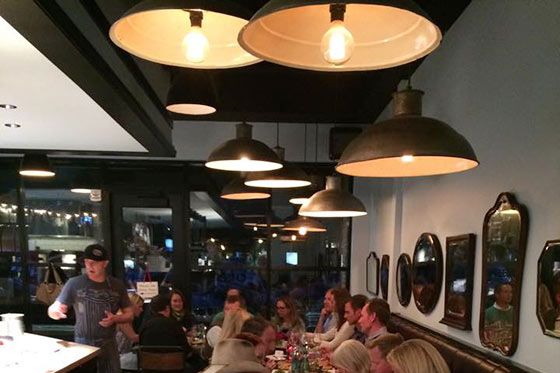 Dine decadently at recent dining-scene addition The Monarch — a swankily low-lit steakhouse that feels like an exclusive lower-Manhattan speakeasy. In addition to the expected high-roller filets and rib eyes, the menu offers more rarefied choices like braised rabbit poutine ($18), brûlée bone marrow ($17), and fettucine carbonara with lobster ($38). Cap off your meal with a luscious sticky toffee pudding with medjool dates and mascarpone ice cream ($13) — or better yet, a dessert cocktail like the Candied Apple, made with port, apple whiskey, ginger liqueur, and a sprinkling of cinnamon ($14).
Buck tradition in this meat-centric Rocky Mountain town at The Grey Lady — a seafood spot that's been one of Aspen's hottest tables since it opened in early 2015. The coastal-inspired menu puts an imaginative spin on seafood freshly flown in from the eastern seaboard: try cast-iron dayboat scallops ($37), caramelized octopus tostaditos ($16), Thai shrimp corn cakes ($15), and even an "Aspen Clambake" made with mussels, littleneck clams, lobster, and shrimp ($42). It's all served up in a stylish brick-walled space with tufted banquettes and reclaimed wood tables; kick back with one of the on-tap cocktails, like the Escobar Mule, made with locally distilled vodka and housemade ginger beer ($14).
Satisfy your locavore cravings with a trip to Meat & Cheese Aspen, where the cuisine incorporates the artisanal cheeses, cured meats, and regional produce sold in its adjacent farm shop. Lunchtime choices include stellar charcuterie boards — which might include housemade goat and pork sausages ($16) and chicken-liver pâte ($18) — and sandwiches made with porchetta and Chinese barbecue-style brisket (both $14). At dinnertime, the menu expands to include dishes like five-spice confit duck leg ($28) and bo ssäm Korean pork for two ($42), which pair well with craft cocktails like the Shrubbery, made with pear-and-ginger-infused gin, Chinese celery som, lavender bitters, and soda ($14).
What to Do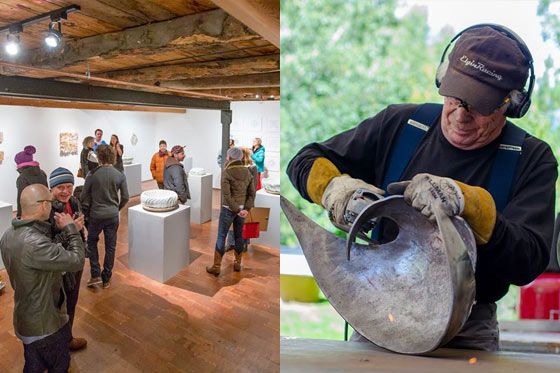 Immerse yourself in modern art at Aspen's Aspen Art Museum (free), which in late 2014 moved into a stunning new building by Pritzker Prize–winning architect Shigeru Ban. The 33,000-square-foot space includes three levels of galleries displaying contemporary works by artists like Takashi Murakami and Cy Twombly; there's also a must-see rooftop sculpture garden with views over neighboring Ajax Mountain and Independence Pass. Current visiting exhibits include the mixed-media sculptures of self-taught artist Judith Scott (through July 10) and a series of working, sculptural water fountains created by Lynda Benglis (through October 30). Free guided tours of the collection are offered every Wednesday and Saturday at 1 p.m.
Create some of your own art at one of the 150-plus summer workshops offered at Anderson Ranch Arts Center (from $250), a bucolic five-acre property set right in Snowmass Village. Most of these hands-on courses, which are weeklong and open to all applicants, are held in the Ranch's cluster of spacious, light-filled indoor-outdoor studio buildings (many participants elect to stay on the property in dorm-style lodgings during their workshops). Renowned guest artists teach everything from wood-fired ceramic sculpture and portrait photography to reclaimed-material furniture-making and laser mono-printing.
Browse the best local work, and meet the artists themselves, at some of Aspen's top art festivals. During the annual, free Red Brick Plein Air Festival (August 7–14 of this year), about two-dozen jury-selected artists from around Colorado station themselves to paint both downtown and at various nature trails and parks around Aspen; visitors can chat them up, rub shoulders with them at evening events, and attend a final exhibition and sale of all the Aspen-themed works created during the week. Serious art collectors can peruse works from notable galleries around the country at ArtAspen (held August 4–7 this year; tickets from $20); less deep-pocketed enthusiasts can check out the artwork and crafts of dozens of local artisans at the free, downtown Aspen Arts Festival (July 23–24).
Expert's Tips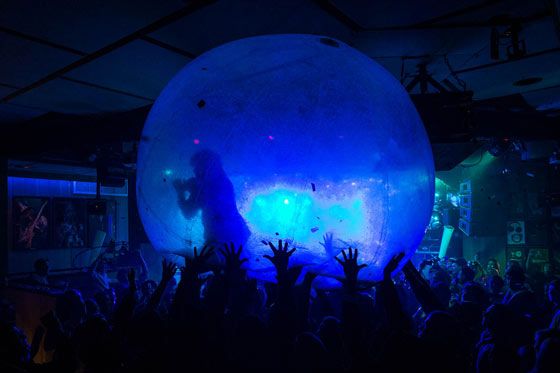 From Aspen art collector, author, and gallery owner D.J. Watkins, whose Gonzo Gallery focuses on radical art from the 1960s and '70s, including works by Hunter S. Thompson, William S. Burroughs, and Ralph Steadman.
The low seasons in Aspen are some of my favorite times of the year. In springtime — we call it the "mud season" — the town clears out and the only ones left are all the real characters who live here year round. As a friend once said, Aspen is really only 500 people, the rest are just extras.
The best local place for checking out live music is definitely Belly Up. It's a really intimate environment for seeing world-class performers like Lyle Lovett and Robert Earl Keen.
My favorite Aspen shop to browse in is Explore Booksellers — which I think is one of the last great local bookstores in the country. It's set in a beautiful, small Victorian house right on Main Street in Aspen, and both locals and tourists interact there, especially at the regular readings and book-release parties.
I like to walk along the Rio Grande Trail — an extensive trail network that follows alongside the Roaring Fork River. You can access it right downtown, and a connector trail that runs into the Aspen Institute takes you past lots of beautiful meadow and mountain views.
Resources
For insider tips as well as video interviews with local personalities, check out Aspen Real Life, a blog run by Aspenite writer Jillian Livingston.
At Aspen Spin, check out the latest reviews (and, more important, party photos) from cultural events like music concerts, comedy, and food festivals.
For a small town, Aspen has a dizzying number of restaurants; the reviews at Edible Aspen will help you navigate the culinary maze.