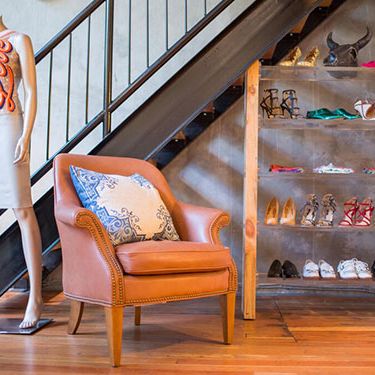 Photo: Courtesy of Wardrobe Apparel
Where to Stay
Sleep in a former motor inn at The Burrard (from $72), a 72-room throwback downtown. Originally opened in 1956, the hotel has been completely spiffed up, with chic midcentury-style furnishings in the rooms and pop-surrealist photographs by Vancouver artist Dina Goldstein. Rooms circle a lush hidden courtyard, where you can lounge under palm trees in 1970s Solair chairs, play Ping-Pong, or have a beer by the fireplace. Sip your morning latte at in-house café Container Coffee, which serves gluten-free pastries and Matchstick roasts, then grab one of the free Brodie cruiser bikes on hand to explore the nearby Seawall waterside path.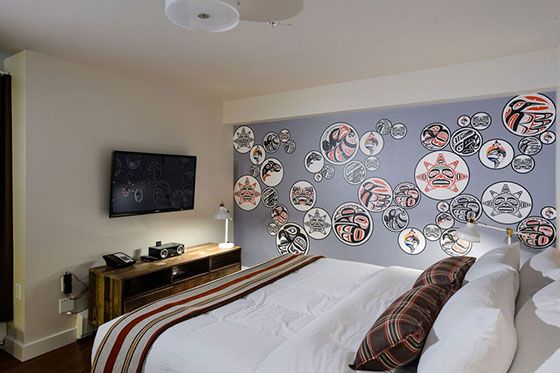 Get in touch with British Columbia's First Nations culture at Skwachàys Lodge (from $93), a social enterprise and hotel at the edge of Gastown. Aboriginal artists, whose work is for sale in the ground-floor gallery, designed the 18 unique rooms with cedar headboards, water motifs, and animal paintings. Though Skwachàys is fitted with standard contemporary comforts (Bluetooth sound systems, Hypnos beds), guests can also tap into its traditional side by participating in a purification ceremony called smudging, led by tribal elders in a dedicated room on site.
Flash back to the Jazz Age at the elegant Hotel Georgia (from $350), a downtown fixture since 1927 that recently opened one of the most stylish bars in the city, Prohibition (prohibitionrhg.com). With an ornate Macassar-ebony ceiling and oversize chandelier, the subterranean lounge exudes a louche glamour, so it feels appropriate to gather friends around the absinthe fountain ($28 per person) to compare French and Okanagan varieties. Upstairs, the 156 guest rooms are similarly swank, with Italian linens, graphic-patterned floors and walls, and heated marble floors; an excellent modern Canadian art collection fills the common areas.
Where to Eat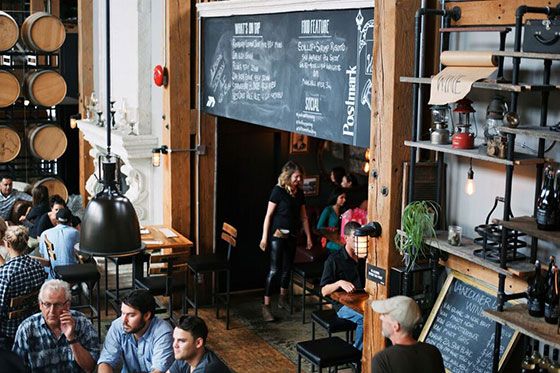 While away an afternoon at the Belgard Kitchen, an airy space in gentrifying industrial Railtown. The restaurant shares its location with Postmark Brewing, whose mash tubs and growler-filling station occupy one side of the building, and Vancouver Urban Winery, which keeps 36 British Columbia wines on tap. Their drinks are yours to pair with Belgard's unexpected combinations of fresh local ingredients, like a sockeye gravlax, beet, and Parmesan cream hash ($11), or scallops and pork belly with celeriac purée and pickled enoki mushrooms ($13.50).
Sample refined Pacific Northwest cuisine at AnnaLena, an elevated neighborhood joint in Kitsilano that has become a local destination since opening in March 2015. The black-and-white room is sparse but playful, dotted with small teddy-bear sculptures, and the service relaxed. Chef Michael Robbins, who named the restaurant for his two grandmothers, gives British Columbian ingredients a global spin, topping an oyster with shaved foie gras and jalapeño ($3) or dressing radishes in ginger tahini ($9.50). Don't skip dessert: Even the humblest option, a chocolate-covered fried-chicken skin ($1.50), is something special.
Book ahead for a weekend table at Torafuku, a lively pan-Asian canteen on Main Street born out of the popular Le Tigre food truck. Though stark, the waxed-cement space is softened with leather accents, cork stools, and handmade ceramic tableware; blue blankets on the wall muffle the sound of the many happy diners tucking into Chinese-Canadian chef Clement Chan's cheekily subversive, locally focused dishes. Share plates of Humboldt-squid calamari with arugula and litchi ($7); "kickass rice" topped with torched pork belly ($7); and addictive rye-and-gochujang-marinated chicken wings ($8.50) served with ramen crumble and mango glaze.
What to Do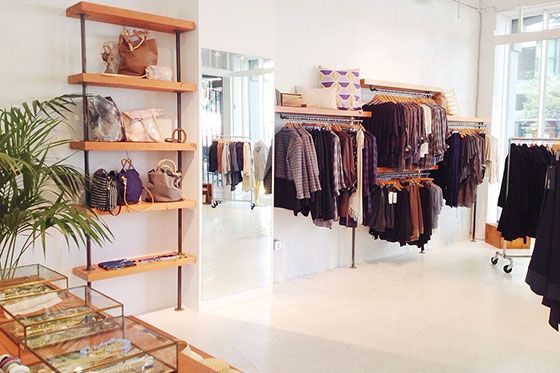 Get the most out of your dollar in Gastown, where the cobblestone streets are lined with Victorian lamps and independent boutiques highlighting local designers. At Nicole Bridger's warm new flagship on Water Street, find chic, sustainable threads like plaid organic-cotton tunics ($53) or a short ruched skirt ($75), most of which are made in Vancouver. Try on distinctive wool toques at Cappelleria Bertacchi, an Italian milliner that opened its first international outpost here last year, stacking hundreds of handmade styles, like a popular wide-brimmed fedora ($70). A block away, browse vintage items made of natural materials (leather mules, linen shirts) at Hey Jude, a peaceful shop that also carries new wares by local designers like Evan Ducharme and ceramicist Rachel Saunders. On the high end, Wardrobe Apparel sells sophisticated brands like Toronto's Greta Constantine and Turrath, a Vancouver label that makes head-turning use of leather, Mongolian cashmere, and Indian motifs.
Stroll through the Flats, a growing arts community southeast of downtown, where zoning changes have spurred a recent influx of galleries. Start at the pioneering Catriona Jeffries, which represents the likes of Janice Kerbel, a 2015 Turner Prize nominee, and has shepherded Vancouver artists to international acclaim. On the same block, Winsor Gallery exhibits both established and emerging talents, from British surrealist Patrick Hughes to young hometown painter Andy Dixon, whose bright, engaging canvases will be exhibited in May. The adjacent Gallery Jones, a relative newcomer to the 'hood, regularly tours art fairs and shows locals like Danny Singer and James Nizam. At the neighborhood's eastern end, check out Equinox Gallery's massive warehouse, which hosts large collaborative shows and retrospectives. Finish your tour with a pint at Red Truck Beer, one of several microbreweries in the area and the watering hole of choice for Flats creatives.
Spend an evening in the emerging nightlife district of Chinatown, where cocktails are becoming as common as green tea. At sleek newcomer
Juniper, graze on Sarah Stewart's artful Cascadian dishes (think grilled beets, fish charcuterie, boar bacon) while sampling photogenic libations like a radish gin and tonic laced with pink peppercorns ($8.50). Find an eclectic mix of live jazz and cabaret shows at the Emerald Supper Club, a relaxed lounge evoking 1960s Vegas with gold-leaf walls, midcentury lamps, and leather couches. Late night, party at the Fortune Sound Club for Happy Ending Fridays, hosting everything from electronic music and DJs to zine fairs, fashion shows, and art openings, including installations throughout the 6,000-square-foot space.
Expert's Tips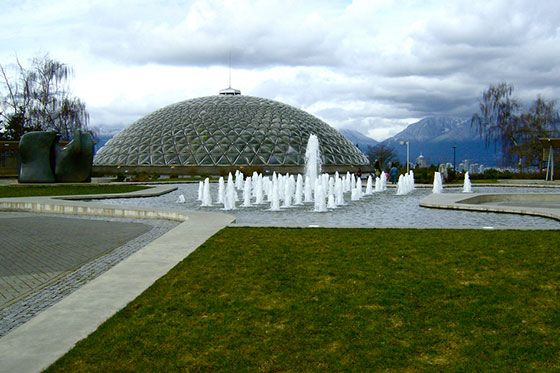 From Karen La, a jewelry designer and Vancouver native.
My studio is on Main Street in Mount Pleasant, a great area to walk around. When I have visitors I always take them to Gene Coffee. It's at a triangular intersection and has big windows, so it's good for people-watching. And
Don't Argue! Pizzeria is a laid-back spot for a quick bite. Everyone who works there is rad and the potato mash pizza ($10.50) is actually to die for.
Mount Pleasant also has a lot of great small stores. Umeboshi is predominately a shoe store but it also carries other items by some of my favorite local designers, like Muraco Wolfe jewelry and Strathcona Stockings. Across the street is a boutique called Eugene Choo that sells Canadian and international designers. Nearby is a little general store called
Le Marché St. George. It's very quaint and lovely—the epitome of Vancouver—and sells housewares, textiles, and amazing coffee.
When it's cold and rainy, it's really nice to go to the Bloedel Conservatory, a bio dome filled with tropical plants and exotic birds. It's on a hill with a great view of downtown. But when it's sunny, the Seawall is beautiful. It's touristy, but there's one manmade peninsula in False Creek, nicknamed beer island, that's enclosed and quieter. On a warm evening, a friend and I will go there with a growler from 33 Acres, a well-designed brewery off Main Street, to sit and chat.
One of my favorite places for dinner is Ask for Luigi, an Italian spot that's quite small, so there's usually a crazy wait. Plan to leave your name and go have a drink nearby at a place like Six Acres.
Resources
Hip Scout Magazine surveys anticipated restaurant openings, weekend events, neighborhood guides, and anything Vancouverites are excited about at the moment.
Get the pulse of the city in alt weekly The Georgia Straight, whose lifestyle and entertainment coverage includes opinion pieces, offbeat getaways, fashion news, theater schedules, and an annual best-of-Vancouver list.
Vancity Buzz has detailed food articles, nightlife and arts listings, and local news.