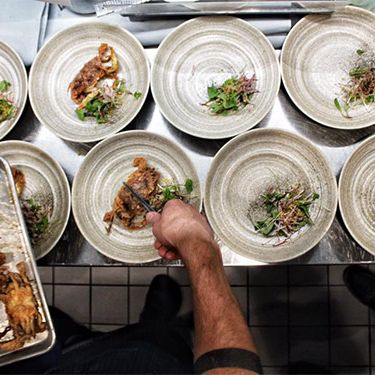 Photo: Courtesy of Upton 43
Where to Stay
Curl up with a good read at the Commons Hotel (from $139), where the sprawling lobby abounds with inviting nooks and the amenities include in-room novel delivery by a staff book butler. Once a bland Radisson, the University of Minnesota–adjacent property received an extensive makeover in 2013; now, in a nod to its collegiate neighbor, the décor is playfully preppy, with argyle-accented walls, tacked leather upholstery, and vintage UM football reels looping over gilt-framed common-area monitors. Attention, aspiring mixologists: At the onsite Beacon Public House, the barkeep offers lessons in how to make the seasonal cocktail special.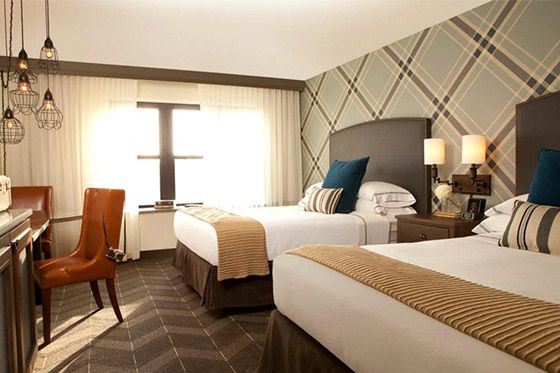 Seek sanctuary at Hotel Ivy (from $379), a former church that's been reinvented as a 136-room high-rise. Last year, high-ceilinged guest rooms were refreshed with a sophisticated neutral palette, luxurious soaking tubs, and tech niceties like Netflix-enabled TVs. Commune with the spirit world at Constantine, the hotel's dimly lit subterranean bar. Wrought-iron candelabrum, Renaissance portraits, and pointed archways reference the building's origins, while kitschy drinks like the Jeffrey ($13), a White Russian dressed up with orgeat and almond milk, merrily blaspheme the commandments of cocktail-bar cool.
Go country without leaving the city at this spacious Airbnb rental (sleeps six; from $150), a private first-floor apartment in a Victorian home perched on the banks of the Mississippi. Mid-century design elements mingle with homey details, like a Malm wood-burning fireplace in cheerful cobalt, campy Japanese monster-flick prints, and a mod rear solarium. Or round up nine of your closest friends for a stay at this colossal Uptown loft ($195), 2,500 square feet of fresh white walls, concrete floors, and exposed support beams. For a cheap and cheerful lunch, hit up nearby Nicollet Avenue, nicknamed Eat Street for its profusion of phô slingers, taquerías, and doughnut shops.
Where to Eat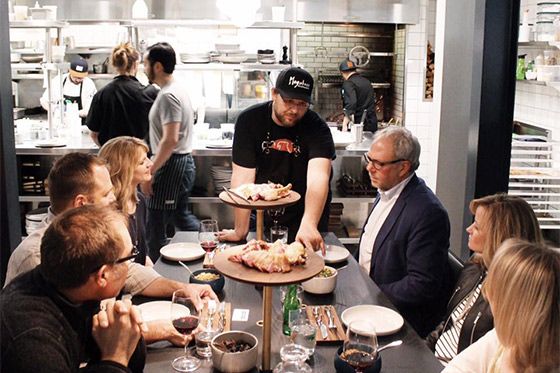 Sample Nordic-meets-midwestern cuisine at Upton 43. At dinner, unexpected briny and fire-cooked flavors pop up, as in a salad of charred cabbage, hazelnut, bacon, and soured marrow butter ($12) and a hay-roasted pork chop dressed with carrots, burnt onion, walnut, and nasturtium ($28). The all-day brunch is no afterthought, either; expect Swedish pancakes drizzled with orange honey ($11), gravlax, egg butter, and truffle smørrebrød ($14), and a refreshing cocktail of beer and fermented tomato ($8) — not to mention lots of natural light that brings out the whitewashed plank walls, creating an inviting cabin-at-midsommar ambience.
Discover beer's refined side at Brewer's Table, a year-old fine-dining oasis tucked above the colossal and boisterous Surly Brewing taproom. Request a seat at the rear counter for a view of the open kitchen, where chef Jorge Guzman and his team turn out prettily composed dishes informed by the house brews as well as by the flavors of his native Yucatán. Offerings like a delicate tamale with squash mole, mushrooms, and pickled aji dulce ($17) and fragrant sopa de lima ($15) are available à la carte — but at $70 including tailored pairings from Surly's roster of excellent beers, the four-course tasting menu is a worthy splurge.
Make yourself at home at Birdie, a 14-seat tasting-menu spot with a convivial dinner-party atmosphere thanks to communal tables and an eclectic vinyl soundtrack (ticket required, $100; optional wine flight, $50, or non-alcoholic beverage pairing, $25). Launched in late 2015, it's the latest project from Landon Schoenefeld, whose creative-comfort-fare mecca Haute Dish helped put the city's dining scene on the national radar. Settle into the snug space — tucked inside the kitchen of Schoenefeld's nouveau diner, Nighthawks — for 10 to 12 courses of ebullient seasonal fare that might run the gamut from a terrine of multicolored carrots to frog-leg tinga.
What to Do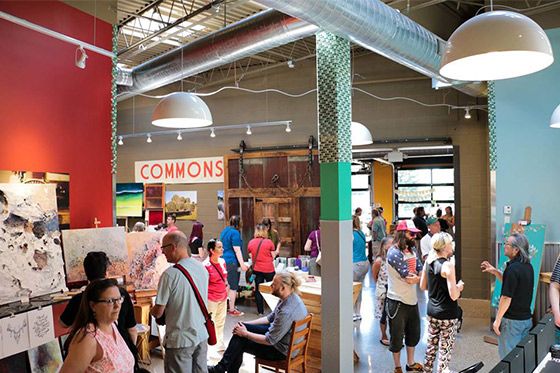 Explore the city's Scandinavian heritage at the American Swedish Institute ($10), an impressive 1908 mansion turned museum built by newspaper publisher Swan Turnblad (something like a Swedish-American William Randolph Hearst). No mere period piece, the house found its modern side with the 2012 addition of the Nelson Cultural Center, an airy gallery space and café. Now, a rotating program of exhibits — like this summer's show of acclaimed chef Magnus Nilsson's chilly Nordic landscapes — connects it firmly to contemporary Sweden. After your visit, stop by
Ingebretsen's, Minneapolis's Scandi general store, for tinned herring, cozy knits, and minimalist tableware.
Taste your way through Minneapolis's coolest markets, beginning with a self-guided tour of the recently launched Food Building, which brings together a trio of producers — The Lone Grazer Creamery, Red Table Meat Co, and miller-breadmaker Baker's Field — that go together like the elements of a good charcuterie plate. Next, head to Midtown Global Market, a bustling assemblage of more than 50 vendors founded in part to establish opportunities for the surrounding neighborhood's diverse immigrant population. Sample the flaky viennoiserie from James Beard nom Michelle Gayer at Salty Tart, and browse the best of the Upper Midwest, like freshwater fish pâté from Duluth's Northern Waters Smokehaus and pickles from local outfit Pucker Up, at Grass Roots Gourmet. Finally, hone your skills at Kitchen in the Market, a teaching space offering a range of engaging classes like the Chef's Night Off series ($130), led by visiting chefs from the area's buzziest restaurants.
Hop a cruiser from bicycle-sharing program Nice Ride ($10 for a three-day pass with unlimited 30-minute rides) and enjoy two of the area's greatest assets: bike friendliness and beer. For a slew of taprooms within spitting distance of each other, take a spin up to the Northeast Minneapolis Arts District, a sprawl of rehabbed warehouses that's home to popular outfits like Dangerous Man, Sociable Cider Werks, and the cooperatively owned Fair State. For a brew scene with more of a scrappy vibe, zip to St. Paul; sip a flight on the patio at Minnesota's first female-helmed brewery,
Urban Growler, and then pop across the parking lot to the repurposed grain silo that houses its neighbor, Bang Brewing. Head east to trendy Lowertown to finish up at Tin Whiskers, where brews like Wheatstone Bridge and Tiny Circuit Coffee Stout pun on the founders' previous lives as electrical engineers.
Expert's Tips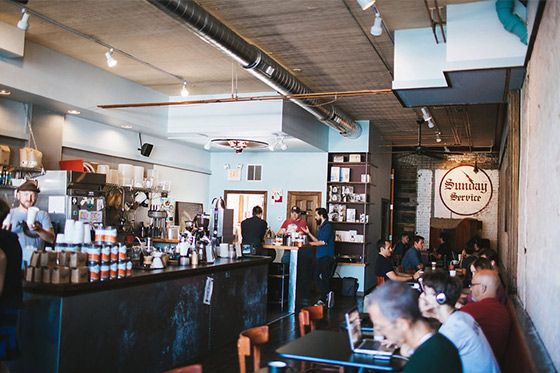 From Dan Oskey, founder of Tattersall Distilling.
Five Watt Coffee is, hands down, my favorite coffee place in town. Whether you want traditional or inventive, they've got it, without any posturing. Also a great space if you want to buckle down and get some work done.
Electric Fetus is a Minneapolis staple for vinyl. While analog has come, gone, and come again, the Fetus has held on strong, appealing to any music lover no matter what the preferred genre is. I can spend hours here, and I always look forward to the banter at the checkout counter.
I love a summer stroll alongside the Minnehaha Creek to Sea Salt Eatery in the pavilion at Minnehaha Falls; on summer evenings, I'll grab a local brew and calamari tacos there. It gets busy on really beautiful days, but whether you're on a date or with friends, just think of the wait as quality time with the people you adore.
Magers & Quinn Booksellers is easily my favorite bookstore, especially when I have no idea what it is I'm looking for. They have such a great selection of books both new and used, plus a floor plan of fragmented aisles and scattered nooks, making it really hard to get out in under an hour.
Resources
Brush up on the Twin Cities' brewing scene with the latest issue of The Growler, a craft-beer mag produced by local aficionados.
Get help planning your eating itinerary by browsing MPLS St. Paul Magazine's thoughtful dining reviews.
Pick up alt-weekly City Pages to suss out the best local events, including festivals, concerts, gallery openings, and theater.
Pay tribute to the Purple One with Nice Ride's self-guided Prince for a Day bike tour.