Where to Stay
Stay central at the year-old Casa Lum (from $107 per night), an eight-room boutique hotel within a circa-1900 family home on the Andador de Guadalupe, one of San Cristóbal's main streets. Split-level suites blend original touches like open-beam adobe construction with modern, ecoconscious features like solar panels and sustainably heated floors. Lounge next to your own private reflecting pool in the interior garden rooms or take in views of the vegetable garden from a standard room. Shop for textiles produced in nearby communities in the tiny on-site boutique, and take in the sunset from the mini rooftop terrace, which offers 360-degree views of the city's red-tiled rooftops and church cupolas and the mist-shrouded mountains beyond.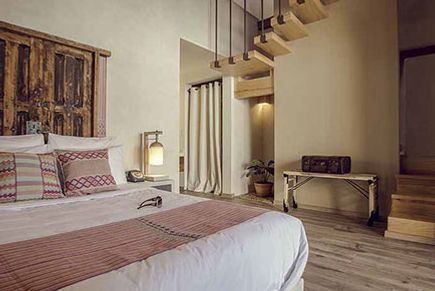 Make yourself at home at Roberta ($86 per night), a pet-friendly six-room B&B just a ten-minute walk from the downtown action. Book the spacious upstairs loft, where you'll sleep in cushy comfort under 450-thread-count sheets on a bed made from up-cycled wood as natural light streams in through the skylight in the pitched roof. A traditional Mexican breakfast of eggs or chilaquiles is included and served in the homey communal kitchen or in the garden when the weather's nice. By evening, curl up by the fireplace with a glass of wine as you flip through design magazines, listen to the vinyl records on hand, or play board games with your fellow guests.
Tune in to the elements at Hotel Bo (from $215 per night), a mid-century-modern-design hotel inspired by earth, wind, water, and fire. Stroll past begonias in the lush torch-lit garden; then, after sipping a welcome cocktail made with pox (a local liquor distilled from corn), head to your room, where bright-striped bedspreads and wool textiles add punch to a soothing neutral palette. Upstairs, the lobby-view library is ideal for browsing art books or people-watching. At dinner, head down to the on-site Lum restaurant and sample modern twists on the regional cuisine (like chicharrón-and-tongue tacos); then end the night chilling on the cozy couches of the "family room."
Where to Eat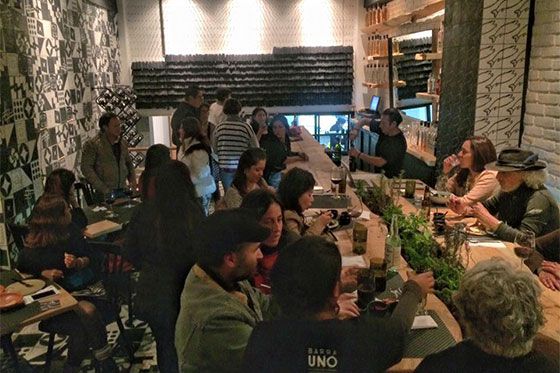 Start your day at Frontera, part of a compound of businesses sharing a sunny central courtyard frequented by a diverse crowd ranging from locals to backpackers. Grab a seat at a table made from a repurposed door to sip a fresh-pressed beet-and-guayaba juice ($1.50) while you wait for your eggs with artisanal chorizo ($3) and Chemex of shade-grown highland coffee ($1.35). Wander over to Kukulpan bakery for a savory take on a cinnamon roll made with blue cheese and nuts ($1) and come back in the afternoon for a bottle of locally brewed Tzotzil ($3) at the craft beer bar La Internacional.
Satisfy your appetite and conscience at Tierra y Cielo, where chef Marta Zepeda works with ancestral ingredients while employing socially inclusive policies to benefit the people of the region. Start with the short-rib chalupas, made with tortillas ground from heritage corn by a Mayan womens' collective. Order the seven-course tasting menu (a steal at about $37), which might include a soup of wild chipilín leaves with tiny blue-corn dumplings, and, for dessert, the textures of tascalate — elegant variations on a traditional drink made from chocolate and corn. For a more casual approach to Chef Marta's food, swing by her cheerful lunch spot Achiote, where the short menu spotlights cochinita pibil, Yucatan-style slow-roasted pork, in a few simple yet tasty preparations ($1).
Taste refined takes on traditional Mexican fare at newly opened, design-forward Barra Uno. Watch the buskers and pedestrians of the Andador from a patio table, or take a seat inside at the sculptural wood-slab bar and sip a crisp Acrata Tacha, a rosé made in France by Mexican winemakers ($4). Admire the graphic black-and-white floor tiles and the textured installation along the back wall made entirely of slender black church candles, then chow down on tuna tostadas with pressed chicharrón ($9) or rib eye in winged-ant salsa ($13) while '90s alternative plays on the stereo.
What to Do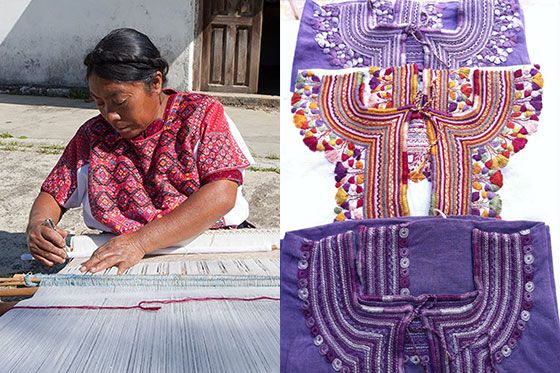 Browse the open-air crafts market surrounding the Iglesia Santo Domingo, but save your pesos for Sna Jolobil, a co-op of some 1,000 women weavers from nearby villages, located just behind the church. Find traditional huipiles, shawls, blouses, pillowcases, table runners, bags, change purses, and more, in pastel shades that showcase each community's unique style of weaving. Shop more contemporary designs at El Camino de Los Altos, a nonprofit pairing Maya weavers with professional designers to craft modern home furnishings using age-old techniques. At nearby Inter Vino, check out Raku's handcrafted leather shoes, made by a Japanese transplant to Chiapas who finds inspiration in classic East Asian styles ($100 to $140).
Take a day trip to the village of San Juan Chamula, where residents practice a fascinating syncretic religion blending Mayan rituals with a devotion to Catholic saints (church entry, $1). Go on Sunday, market day, to browse the stalls selling anything from huipiles to live roosters, or sign up for an art-themed excursion with Galeria Muy, which showcases the work of self-taught indigenous painters and photographers. Learn about the art, politics, and worldview of the communities from a Chamula-born artist during the five-hour small-group outing, which includes visits to two nearby villages, plus lunch and a walking tour of San Cristóbal street art ($27 per person; sign up in advance for an English-speaking guide).
Tap into the politically aware nightlife scene in San Cris, where the spirit of the mid-'90s Zapatista rebellion lives on. Start the evening with a screening of a lefty documentary at Kinoki, a cultural center that's also got a balcony overlooking the Andador, perfect for sipping a Bohemia ($1.75) while paging through The Zapatista Reader. Discuss the perils of globalization with new friends at Puro Mexicano Mezcalería, a shoebox of a mezcal bar dressed head-to-toe in Mexican kitsch (electric teal walls, glass hearts suspended from the ceiling, cheese graters turned into lamps). Then head for Arteria, an artist workspace and gallery that hosts occasional receptions and performances, before winding up at Dada Club, an intimate red-curtained nightspot where you can sip a $3 Acid Jazz cocktail, made with mezcal and tamarind, while listening to live vocal and instrumental jams.
Expert's Tips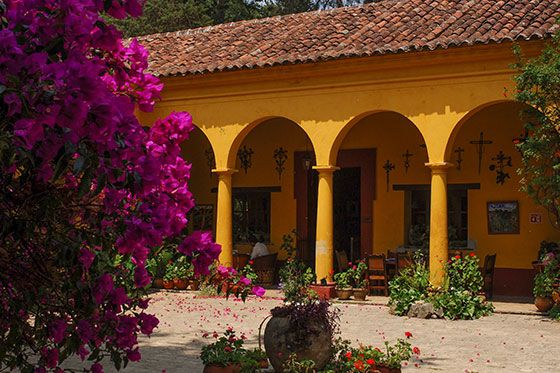 Ernesto Ledesma is a journalist and coordinator of Tierradentro, a socially conscious café and cultural center.
Visiting Mercado Tielemans gives you a great feel for the customs of Chiapas. There are stalls offering tamales de mumu, de chipilin, de mole. The sounds, the aromas, the people—it's crazy.
People who know Chiapas know that when you're in San Cristóbal, you go to El Caldero. It has all kinds of caldos (broths) prepared with high-quality ingredients: chicken, garbanzo, mushroom.
Cafeteria Maya Vinic, a co-op that belongs to the Abejas de Acteal, has a café in front of the Museo del Carmen with excellent coffee; it's even started to export to the U.S. and Europe.
One of the best museums in San Cristóbal is the Museo Na Bolom. You'll find the history of the Maya peoples, from the lacandones to the choles. The Museo Jtatik is also really worth a visit. It's a historical place where you can learn the story of Don Samuel Ruiz Garcia, the bishop emeritus of San Cristóbal de las Casas, who was called "Jtatik." It explains the story of Chiapas through documents and historical images. And there's no better museum to explain traditional Maya medicine than the Museo de la Medicina Maya (Museo Omiech).
Resources
Get lost in the colors of this oh-so-photogenic city and its street art.
Find essential visitors' info at the city's official tourism site, Vive San Cristobal.
Bone up on your Zapatista history with The Zapatista Reader, edited by Tom Hayden and featuring essays by Octavio Paz, Gabriel García Márquez, and journalist Alma Guillermoprieto, among others.